10 Piece Perfect Home Bartender Shaker Set With Black Bamboo Stand

3 reviews
VOLUME:
23.7 oz (700ML) / 20.3 oz (600ML)
$ 42.99
Bartender Kit: 10 Piece Home Bartender Shaker Set includes: 1 Bamboo Stand, 2 pourers, 1 Drinks Shaker(Volume: 23.7 oz (700ML) / 20.3 oz (600ML),1 Muddler, 1 Ice Tongs, 1 Mixing Spoon, 1 Corkscrew, 1 Strainer,1 Double Jigger (1/2 oz & 1 oz).

Food Grade Material: This bar shaker set is made of food-grade 304 stainless steel and is completely safe to use. At the same time, such materials are not easy to rust and shine, and easy to clean.

Coolest Way To Store And Display Your Bar Tools: Elegant bamboo stand , carefully designed to keep your barware tools organized and accessible at all times -> No more clutter in your kitchen drawers and cabinets. Show off your gorgeous bartender kit with the unique genuine storage stand. You will definitely win your guest's attention.

Professional Choice: This is a suit most essential bartending tools in this bartender kit, You are easy to prepare and mix all types of drinks, from high end mixology recipe drinks to a simple martini or margarita, to impress your friends, impress your lovers, try to impress yourself as you drink alone.

Incredibly Great Gift: Every holiday you go to spend time with family which is usually drinking or cruising and want something to compliment the festivities, this bartender shaker kit is great addition,make juice or fancy drinks. Of course, it was sent as a gift by you.

Bartender Kit for All Your Cocktail Mixing Needs!
Bartender Kit Bar Tool Set: 10-Piece Bar Tool Set with Bamboo Stand Perfect Home or Bar Bartending Kit.

Advantages Of 10-Piece Bar Tool Set at Barhomevip
Top-quality 304 stainless steel material, ergonomic design, easy to grasp and clean.
No leaking, Watertight seal provides great leak-proof quality.
Luxurious & Elegant packaging, which can be a perfect gift for your family and friends.
Stable Bamboo stand, which is a stylish design, full of modern art.
Exclusive recipe guide, which makes it easier to use for beginners.
Great for home, restaurants, hotels, bars, parties, places of entertainment.
The Barhomevip 10-Piece Bar Tool Set is The Ideal Piece for You!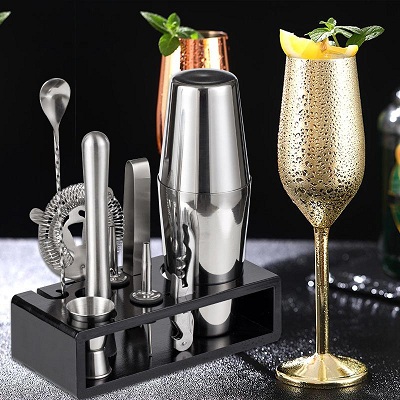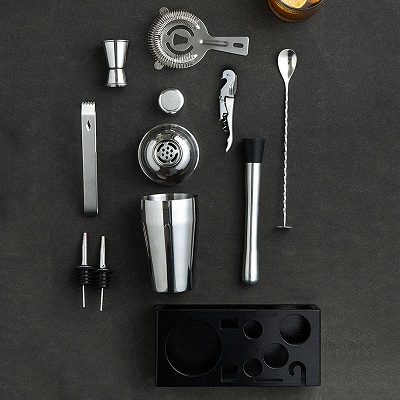 10 Piece Home Bartender Shaker Set With Bamboo Stand Includes:
1x Bamboo Stand
1x Muddler
1x Drinks Shaker(Volume: 23.7 oz (700ML) / 20.3 oz (600ML)
2x Pourers
1x Strainer
1x Mixing Spoon
1x Corkscrew
1x Double Jigger (1/2 oz & 1 oz)
1x Ice tongs
Show from Customer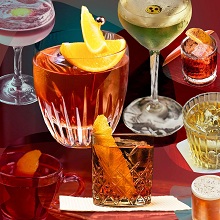 Number 1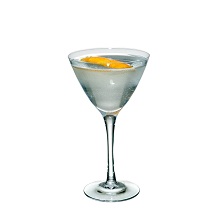 Number 2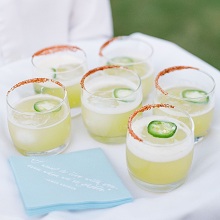 Number 3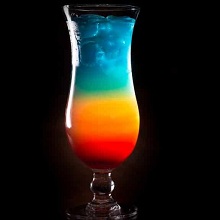 Number 4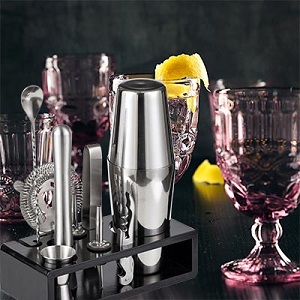 Bar Quality Bamboo Stand
Bamboo Essentials! professional grade bartender tools all have a real heft to them and are made to last while dripping beauty, quality, and functionality. This entire bar accessories kit is made of the highest quality stainless steel alloy.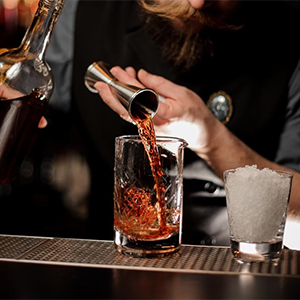 Double Sided Jigger
Calibrated marks include 15ml(1/2oz), 30ml(1oz).You'll have all of the measures you need for a world of classic and contemporary drinks.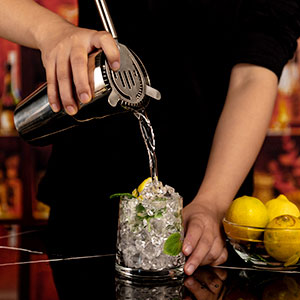 Make Wonderful Drinks For Your Friends
Now You can do it with a beautiful set of bartender accessories in this bartender kit with stand. Everything you need to make professional drinks and to turn any evening into a party.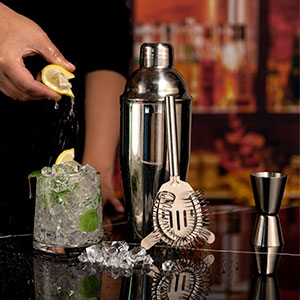 Home Bar Gadgets
Provide the whole set of Bartender Tool. The spoon straw works great for stirring drinks up and then drinking from them. You can also use it as a bar-spoon measurement, which is meant for a small dose of syrup for an Old Fashioned, or a couple of spoons of Worcestershire sauce to make the Bloody Mary.
Fantastic Drinks Show
Whatever your favorite mix: Martini, Mojito, daiquiri or other - no experience is necessary. These are the best tools for your home bar. Guaranteed rust proof and leak proof, you'll be using this for a very long time.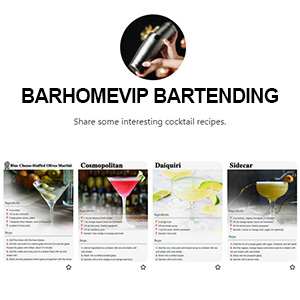 Barhomevip Unique Recipes
Get to the barhomevip website , and browse different cocktail recipes anytime, anywhere. We are here to share cocktail or mocktail recipes for various occasions.
If you are a bartender beginner, owning it, you can quickly learn to make your favorite mixed drinks!
If you are a professional bartender, owning it, you will make you more professional!
Designed for home bars and parties, it will definitely take any party to the next level.
Amateur or experienced Bartender - this cocktail set is perfect for you!
THANKS FOR COMING TO Barhomevip
WRITE YOUR OWN REVIEW
YOU'RE REVIEWING: 10 Piece Perfect Home Bartender Shaker Set With Black Bamboo Stand
HOW DO YOU RATE THIS PRODUCT?
---
tnt794

14 Aug 2022

good tools for new comers

Because my girlfriend and I like to drink some cocktails, so I bought this, which is very suitable for beginners to learn how to mix drinks.

Eric

02 Aug 2022

Looks expensive

The quality of this is great. It's well made and would make a great gift for anyone who looked to make mixed drinks. The shaker stays closed so you don't have to make sure it's locked, like lost over used. This comes with everything you need for any drink. It's very affordable for either a beginner or more advanced drink specialist.

Jen

10 May 2022

Everything you need

This kit has everything you need if you are starting from scratch with a Home bar.