16 Pieces Warded and Wafer Lock Pick Set

7 reviews
$ 14.99
Warded locks are still sold by all the big box hardware stores and are often seen on lockers and access panels. To pick these locks you need a special set of picks and the Warded picks tools are designed to pick both modern and older Warded Locks.
16 Pieces Warded and Wafer Lock Pick Set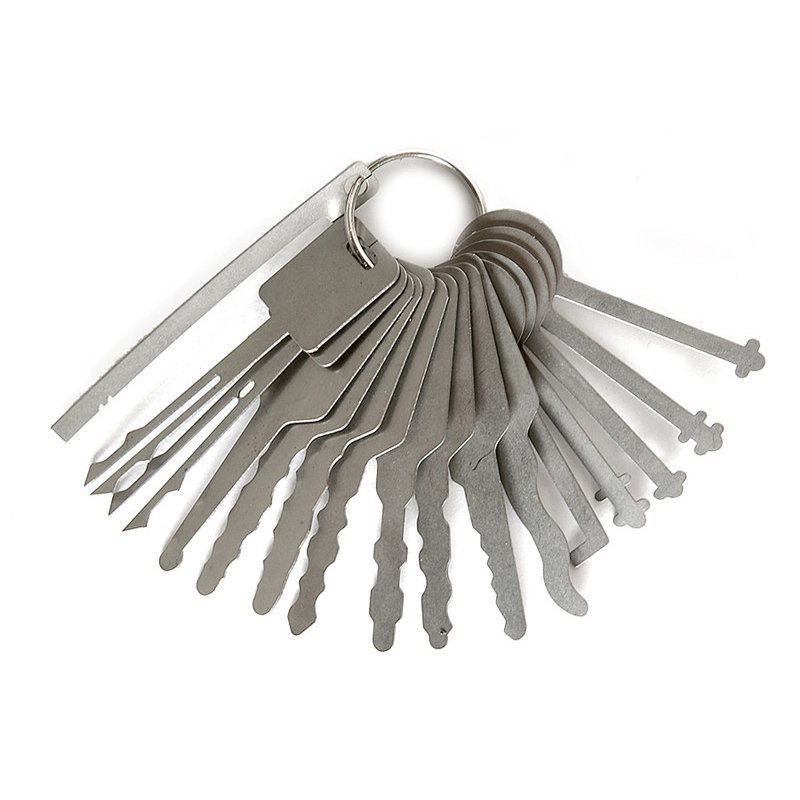 Made from the same professional steel as our standard picks, this Warded set of lock picks will withstand the torsion needed to open even weathered locks. To use the picks simply try each one as a standard key and one of them will be able to bypass the internals opening the lock.

Wafer Picks are a great addition to any lock pick set. Wafer locks are often found on cabinets, tool boxes and jewelry cases. Unlike the standard pin tumbler lock a wafer lock consists of single piece wafers that must be arranged to proper heights allowing for the plug to turn. This is very different than a pin tumbler lock where the pin is in two sections requiring it to be lifted and set at the sheer line inside the lock. Due to these differences a different style of lock pick is need to pick these locks.
THANKS FOR COMING TO Barhomevip
WRITE YOUR OWN REVIEW
YOU'RE REVIEWING: 16 Pieces Warded and Wafer Lock Pick Set
HOW DO YOU RATE THIS PRODUCT?
---
Hannah

11 Mar 2023

good quality pick tool

This 16 pieces wafer picks are portable to carry outside, so I can use them to complete my lockpicking job fast.

cahermorens

20 Feb 2023

good tool

I like this 16 pieces warded and wafer lock pick set. All tools are useful and well-made. Good locksmiths tool.

Ian thompson

01 Feb 2023

nice wafer lock pick set

This warded and wafer lock pick set includes different and useful picks, they are widely used in the process of picking wafer locks.

jack gelder

15 Jan 2023

good wafer picks for me

This wafer lock pick set helps me a lot when I am learning how to pick warded and wafer locks. They are made of good materials and easy to use.

Debbie

09 Jan 2023

good item

This 16 pieces wafer lock pick set is a good locksmith tool, which helps me learn how to pick wafer locks quickly.

Chloe Duncan

21 Dec 2022

good wafer lock pick set

I am happy to find this good warded and wafer lock pick set, which helps me pick my warded and wafer locks easily with these good tools.

Felix Williams

13 Nov 2022

Useful lock pick set

These different kinds of lock pick tools can be used to pick various warded or wafer locks. All of tools are made of good material. I like this tool set.
You May Also Like Disc Detainer Transparent Practice Lock

4 Review(s) Jackknife Lock Pick Tool with Credit Card Lock Pick Set, Useful Locksmith Tools

5 Review(s)