3 PCS 7 Pins Stainless Steel Adjustable Tubular Picks Lock Tool with Transparent 7 Pins Tubular Lock

11 reviews
$ 32.99
Ideal 7 Pin Tubular Lock Pick Tool Set: This package contains 3 Pieces Locksmith Practice Openers (7.00mm ,7.5mm, 7.8mm) and 8 piece auxiliary means, a Transparent 7 Pins Tubular Training Lock.

3 Pieces Adjustable Tubular Lock Pick Tools: The 7 mm/ 7.5 mm / 7.8 mm pin tubular lock pick ideal for open most vending machine Kit including safe box, coin-operated washers & dryers, coin boxes, candy, soda and snack machines.

Transparent Tubular Lock: 7 pins Tubular lock allows you to see all the moving parts how it work. You can see clearly that how the pins work when a key is inserted. You actually can see the pins moving up and down as the key slides into and out of the lock in perfect smooth working condition with no loose parts or pins will come out.
Guidance About How to Use the Adjustable Tubular Lock Pick Tool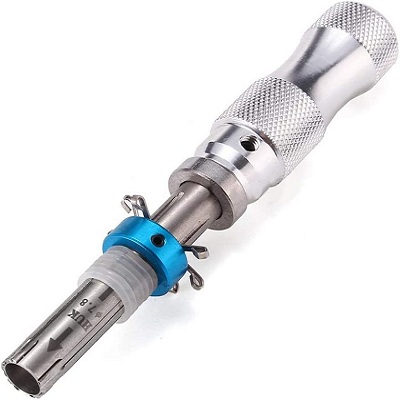 Quick Users Guide:
1.First select the appropriate tool by lock size. The tool has three specifications, Diameter: 7mm/7.5mm/7.8mm.
2.After selecting the tool, First reset the stainless steel plum blossom needle with the reset piece, Let the stainless steel plum blossom needle exceed the front end of the tube by 1mm, Align the direction of the arrow with the position of the lock cylinder without beads, Gently insert it, Rotate the tool handle.

There are two ways to adjust the lock that is difficult to open.
1.Reduce the number of elastic plastic rings.
2.Pull all stainless steel plum blossoms up and close to the reset piece, Insert lock holes one by one.Try slowly to open the lock.
Main Accessories of 3 PCS 7 Pin Adjustable Tubular Pick Tool with Transparent Tubular Lock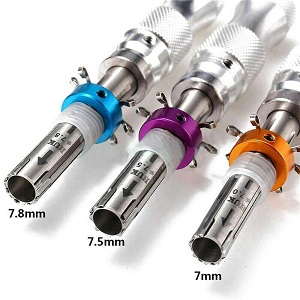 3 Pieces Tubular Lock Pick Tools
Brand new
Material: stainless steel
Length: approx.117mm
Quantity: 3pcs (7.0mm 7.5mm 7.8mm)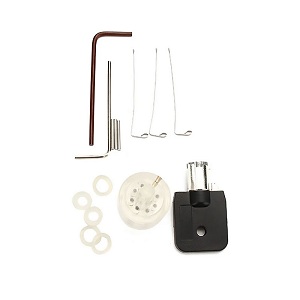 Eight Pieces Auxiliary Means
Quantity: 8PCS
Color: Silver
Material: plastic & metal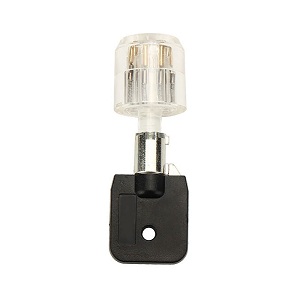 Transparent Tubular Lock with Black Key
Material: Metal + Plastic Lock
Color: Transparent
Key Color: Black
THANKS FOR COMING TO Barhomevip
WRITE YOUR OWN REVIEW
YOU'RE REVIEWING: 3 PCS 7 Pins Stainless Steel Adjustable Tubular Picks Lock Tool with Transparent 7 Pins Tubular Lock
HOW DO YOU RATE THIS PRODUCT?
---
Petra

26 Jun 2023

good tools

These tubular lock picks are worth every penny. The stainless steel construction is robust, and the transparent lock helps refine your picking skills.

Ada

13 Jun 2023

good lock pick set

If you're serious about tubular lock picking, these picks are a must-have. The adjustable feature and transparent lock provide an excellent learning experience.

Veronika Jordan

09 May 2023

good tools

These stainless steel tubular lock picks are fantastic. The adjustable pins offer flexibility, and the transparent lock is a helpful visual aid.

AyJay

15 Apr 2023

useful tubular picks

I highly recommend these tubular lock picks. The adjustable pins allow for precise picking, and the transparent lock is great for learning and practice.

Jessica

10 Mar 2023

good tubular pick set

All 7 pins tubular picks and practice lock are well-made. I can learn how to pick tubular locks well with these useful tools.

Sarah Oliveira

16 Feb 2023

good quality tubular picks

These 3 pieces 7 pins stainless steel tubular picks are made of good material. They are good picks for me to learn picking tubular locks.

Sakshi Gaur

05 Jan 2023

good product

I like these 3 pieces 7 pins adjustable tubular picks. They are good quality picks. And I can use them to pick the tubular locks easily.

bill oakham

15 Dec 2022

useful tubular lock pick set

Different sizes of tubular lock picks tool are easy to use according to the related locks. They are well-made and placed well in the box. I am happy to receive them.

Lissa Louise

09 Nov 2022

good tubular pick tools set

These adjustable tubular pick tools help me a lot in the process of picking different sizes of tubular locks. The tools are easy to use as well.

Wendy Westerman

13 Oct 2022

good tubular pick tools

Different sizes of tubular lock pick tools can be used to pick various locks. I don't need to buy extra pick tools. It saves me extra money. And the tools are made of good quality.