29 Pieces Lock Pick Set, Locksmith Lockpick Tools

19 reviews
$ 39.99
29 Pieces Lock Pick Set includes 29 pieces of lock pick tools. Every piece is numbered for easy identification. It is a good lock pick set for beginners or professional locksmiths.

Package Includes:
1 x Pick – Rake
1 x Pick – Diamond
1 x Pick – Rake
1 x Pick – Triple Wave Rake
1 x Pick – Hook
1 x Pick – Small Hook
1 x Pick – Double Ball
1 x Pick – Two Wave Rake
1 x Pick – Slim Wave Rake
1 x Pick – Big Wave Rake
1 x Pick – Small Wave Rake
1 x Pick – Triple Ball Rake
1 x Pick – Incline Double Bard
1 x Pick – Special Wave Rake
1 x Pick – Long Diamond
1 x Pick – Half Ball Rake
1 x Broken Key Extractor
1 x Slim Wafer Pick
1 x Auto Tension Tool
1 x Double-Sided Tension Wrench
1 x Professional Auto Tension Tool
1 x Spring Tension Tool
1 x Tension Wrench – Thickness 3.0mm
1 x Double-Sided Spring Tension Tool
1 x Convenient Tension Tool
1 x Double Sided "Y" Tension Wrench
3 x Pick – Computer Key Rake
29 Pieces Lock Pick Set, Locksmith Lockpick Tools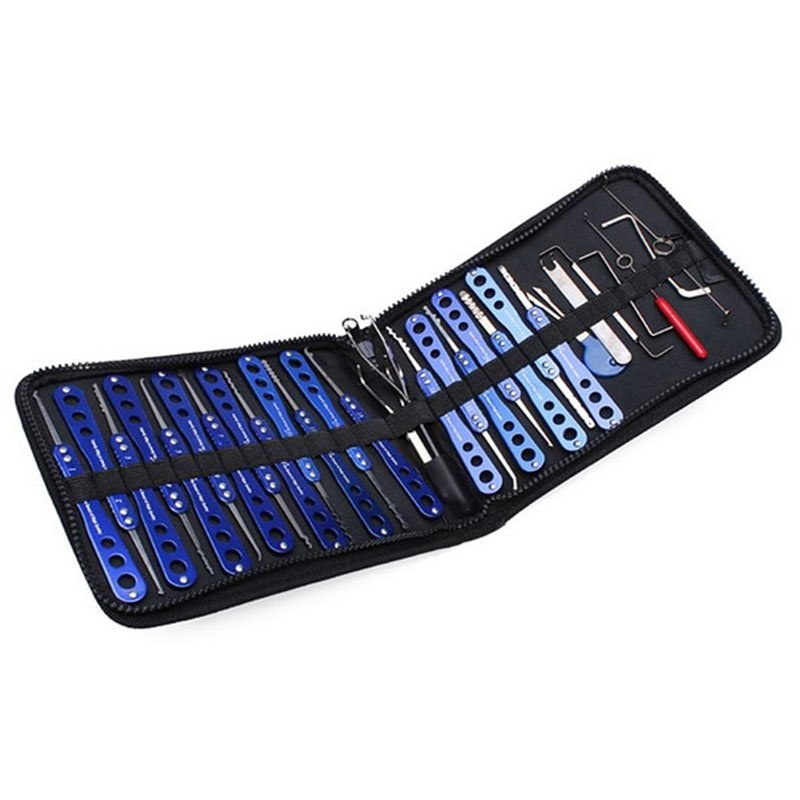 The lock pick set contains 29 pieces of lock picking tools. Every piece is numbered for easy identification. A must-have lock pick set for professional locksmiths.

Features:
All pick tools are made of high quality aluminum alloy + high quality stainless steel.
The 29 pieces lock pick set is very durable in using.
Complete with an easy to carry case.
The lock pick set can be used to open many different types of lock.
THANKS FOR COMING TO Barhomevip
WRITE YOUR OWN REVIEW
YOU'RE REVIEWING: 29 Pieces Lock Pick Set, Locksmith Lockpick Tools
HOW DO YOU RATE THIS PRODUCT?
---
Linda

22 Jul 2023

Reliable

I'm impressed with the quality of this lock pick set. The picks are sturdy and well-made, allowing for precise and smooth operation. It's a great value for the price.

Shane

16 Jul 2023

Efficient lock pick set

As a professional locksmith, I find this 29 pieces lock pick set to be a reliable and versatile toolset. The picks are durable and comfortable to use, making lock picking a breeze.

Esther Fisher Cook

09 Jul 2023

High-quality

This 29 pieces lock pick set is a comprehensive collection of locksmith tools. It has all the essential picks and tension wrenches needed for various lock types. Highly recommended!

Hofman

26 Jun 2023

good product

I've tried several lock pick sets, and this 29 Pieces Lock Pick Set stands out. The tools are well-designed, and the set comes in a convenient carrying case for easy organization.

Jean Arnold

18 Jun 2023

Versatile lock picks

The 29 pieces lock pick set is perfect for hobbyists and professionals alike. The tools are durable, precise, and provide exceptional feedback. I'm very satisfied with my purchase.

Tadas

09 Jun 2023

useful lock pick set

This Lock Pick Set exceeded my expectations. It has a wide range of picks and tension tools, ensuring that I have the right tool for every lock. The quality is outstanding!

laura

25 May 2023

nice lock pick set

I'm a beginner locksmith, and this Lock Pick Set has been incredibly helpful in developing my skills. The variety of picks and the clear instruction guide provided are excellent.

Dair

19 May 2023

Value for money

This lock pick set is a game-changer! It has a fantastic selection of picks, suitable for a wide range of locks. Whether you're a beginner or an experienced locksmith, this set won't disappoint.

antiduffy

12 May 2023

good lock pick set

As a professional locksmith, I rely on a high-quality lock pick set. This 29-piece set has become my go-to choice. It offers versatility, durability, and precision.

Robert Robinson

07 May 2023

useful lock pick set

The variety of picks in this 29-piece set is fantastic. It covers different lock types and sizes, making it a versatile and comprehensive option for lock picking enthusiasts.