7 Pin and 8 Pin Haoshi Tubular Lock Pick Tools With Decoder Key

13 reviews
$ 76.99
Two Pieces Tubular Lock Pick Tools Set: This set includes 7 pin and 8 Pin Tubular Lock Pick and Decoder Tools. The tubular lock picks allow adjustment of picking needle pressure, giving them the versatility to pick even tubular locks with higher spring pressures.

Comfortable Rubber Handle: The tubular pick tool has a comfortable, slip resistant rubber handle and is available in 7 pin and 8 pin configuration. The pick has a locking collar which is unlike many of the tubular picks available.

Easy to Use: The Tubular Lock Pick Tool features a hard steel body with smooth-sliding picking needles. It is exactly the right size for you to get a good grip so you can work with a steady hand.

Attention: When using these tools, never use force which will certainly break the center pin.

Features:
Color : Black + Silver
Material : Stainless steel
Outer diameter : 9.6mm
Inner diameter : 8mm
Dimensions : 4.13 x 1.10 x 1.10 inch (10.5 x 2.8 x 2.8 cm)
Weight : 3.49 oz (99 g)
7 Pin and 8 Pin Tubular Lock Pick and Decoder Tools Set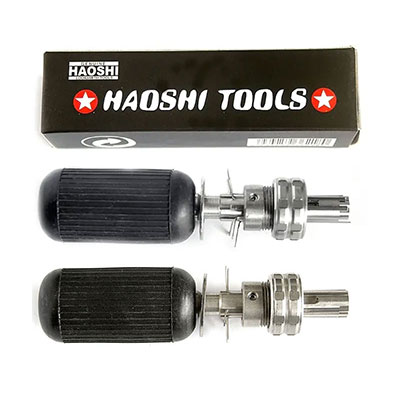 A tubular lock pick is, quite appropriately, used to pick a tubular lock. Tubular lock picks are one of those lock pick tools that belong in every enthusiast's toolbox, perfectly designed to reach each and every pin in a tubular lock so you can pick it quickly and easily. Out of all the tools you need as a locksmith or a lock picking enthusiast, a tubular lock pick tool is essential!

How to Use the 7 Pin or 8 Pin Tubular Lock Pick Tool:
1. Press lock pick on a flat surface to ensure the 'blades' are all level
2. Insert lock pick into the lock
3. Gently push while lightly turning left and right
4. The lock opens!
Selection of Tubular Lock Pick Tools According to Locks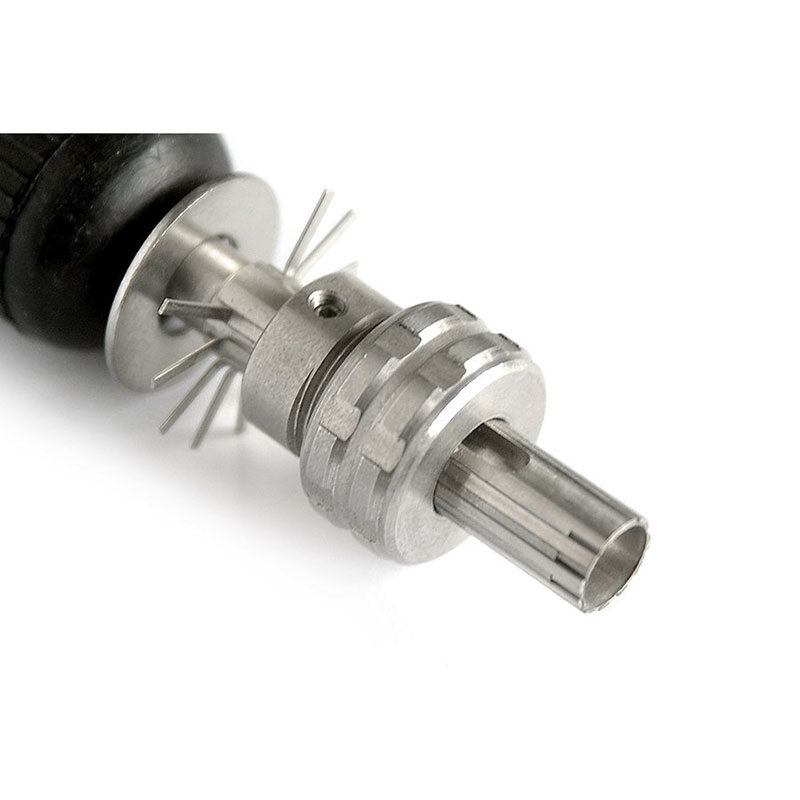 7-, 8-, and 10-pin tubular locks have the same keyway size, but a different number of pins. Even though the keyways are all the same size, the spacing of the pins is different. This is why you'll need different tubular lock picks to handle different locks.
The 7 Pin tubular lock pick is a tube with several blades around the outside, each corresponding to a pin in the lock. When inserted into the 7-pin tubular lock, the pins cause a resistance, causing the blades to set at different levels. When fully inserted into the lock, the different levels of the blades will look exactly like the correct key.
This 8 Pin tubular lock pick will function on 8-Pin locks as well as 7-Pin Offset Right and Offset Left locks. It will not work on 7-Pin Center.The center pin of most tubular lock picks is very delicate. When using these tools, never use force which will certainly break the center pin.
THANKS FOR COMING TO Barhomevip
WRITE YOUR OWN REVIEW
YOU'RE REVIEWING: 7 Pin and 8 Pin Haoshi Tubular Lock Pick Tools With Decoder Key
HOW DO YOU RATE THIS PRODUCT?
---
James C

19 Jun 2023

good value

This Haoshi tubular lock pick set has exceeded my expectations. The picks are well-made, and the 7-pin and 8-pin options offer great flexibility. It's a reliable set that has helped me tackle challenging tubular locks.

P. J. Downes

08 Jun 2023

good haoshi tubular picks

I've used other tubular lock pick sets before, but this Haoshi set is on another level. The picks are durable and offer great versatility with the 7-pin and 8-pin options. A must-have for locksmiths!

mikem

25 May 2023

good product

The 7-pin and 8-pin Haoshi tubular lock pick tool set is outstanding! The picks are well-crafted and provide excellent feedback. They have helped me open tubular locks of various pin configurations. Highly recommended!

Rod

18 May 2023

good tubular picks

I've tried various lock pick sets, but this Haoshi set stands out. The quality and performance are exceptional. The 7-pin and 8-pin options provide versatility, making it easier to tackle different tubular locks.

julie

08 May 2023

useful tubular picks

I was initially skeptical about this Haoshi tubular lock pick tool set, but it has proven its worth. The picks are precise and fit snugly into the locks. They have become my go-to tools for tubular locks.

Calintza

21 Apr 2023

useful tubular pick set

As a locksmith, I rely on high-quality tools, and this Haoshi tubular lock pick set delivers. The picks are well-designed and have helped me provide efficient service to my clients. The inclusion of both 7-pin and 8-pin options is a bonus.

Phil Steadman

13 Apr 2023

good product

I've had these Haoshi tubular lock picks for a while now, and they have consistently performed exceptionally well. The tools are robust and offer a reliable solution for opening tubular locks.

Jacqui S.

26 Mar 2023

good tubular lock pick set

I'm impressed with the craftsmanship of this Haoshi tubular lock pick tool set. The picks are sturdy and offer precise control. The set covers a wide range of pin configurations, making it a reliable choice for professionals.

H Jackson

18 Mar 2023

good tubular picks

I'm relatively new to lock picking, and these Haoshi tools have been a game-changer in my learning journey. They are user-friendly and have helped me develop my skills with tubular locks.

Diane Nightingale

17 Feb 2023

good tubular picks

It is a cheap price to get these two premium tubular lock picks. The pins of tubular picks are correct and they are easy to use.