7 Pin Tubular Decoder Lock Pick Set 7.0mm 7.5mm 7.8mm

21 reviews
$ 36.99
7 Pin Tubular Decoder Lock Pick Set comes with 3 pieces which emulates the three typical sizes of locks. The three sizes that this set comes with 7.0mm, 7.5mm, and 7.8mm.

Each pick is fully adjustable so you can do to any depth that you need. This is especially important because different manufacturers will use locks that are either deeper or more shallow depending on the machine.

Package included:
1 x 7.0 mm Adjustable 7pins Tubular Lock Pick
1 x 7.5 mm Adjustable 7pins Tubular Lock Pick
1 x 7.8 mm Adjustable 7pins Tubular Lock Pick
7 Pin Tubular Decoder Lock Pick Set 7.0mm 7.5mm 7.8mm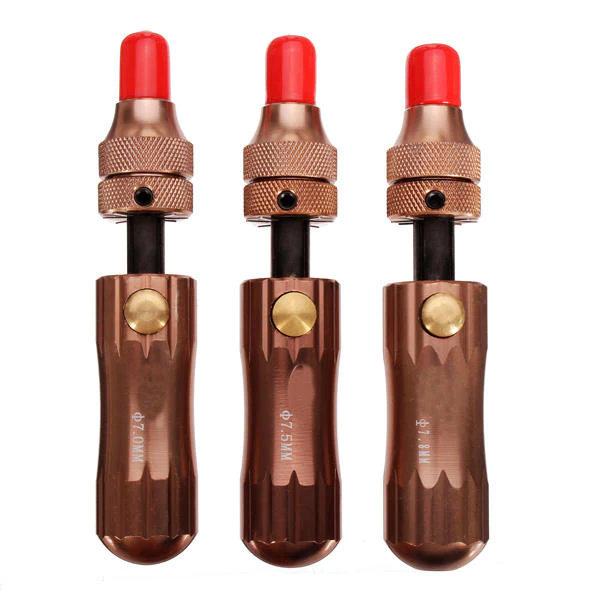 Features:
Tubular Pick Tool is made from stainless steel.
Tempered stainless steel picking fingers.
Hardened spring steel key for positive engagement of keyway.
Scalloped pin relief for added strength.
Adjustable friction collar to set friction to a light feel or a complete lock up. (Desirable for setting picking needles to the enclosed Decoder Key.)
Stainless steel decoder key for accurate settings.

The 7 mm/ 7.5 mm / 7.8 mm pin tubular picks ideal for open most vending machine locks including coin-operated washers & dryers, coin boxes, candy, soda and snack machines, cigarette machines, and jukeboxes.
THANKS FOR COMING TO Barhomevip
WRITE YOUR OWN REVIEW
YOU'RE REVIEWING: 7 Pin Tubular Decoder Lock Pick Set 7.0mm 7.5mm 7.8mm
HOW DO YOU RATE THIS PRODUCT?
---
Pamela Nwaka

19 Jul 2023

Trusted brand

I can't recommend the 7 pin tubular decoder lock pick set enough. The decoder function is accurate, and the picks are durable and provide excellent feedback during picking.

K. V. West

15 Jul 2023

Must-have

The 7 pin tubular pick set is worth every penny. It's a high-quality set that makes opening tubular locks a breeze. The decoder feature is a game-changer.

Sandy

08 Jul 2023

Durable tubular picks

The 7 pin tubular decoder lock pick set is a fantastic addition to my lockpicking tools. The decoder function works flawlessly, and the set offers a variety of picks for different tubular locks.

Nathan

23 Jun 2023

Reliable tubular picks

I'm impressed with the performance of the 7 pin tubular pick set. It has saved me time and effort when dealing with tubular locks. The picks are precise and reliable.

shemar

17 Jun 2023

Highly recommended

The 7 pin tubular pick set is the best tool set I've used for tubular locks. It's versatile, and the decoder is quick and efficient. A must-have for any locksmith.

gemma

09 Jun 2023

High-quality

The 7 pin tubular pick set is a game-changer for locksmiths. It has simplified the process of opening tubular locks, and the set is well-designed for ease of use.

Orlanda

22 May 2023

good value

The picks in this set are easy to use and have helped me open locks quickly and efficiently.

Monty Marwood

17 May 2023

good product

This set has saved me so much time on decoding tubular locks. It's definitely worth the investment.

holly baggott

13 May 2023

useful tubular picks

I'm really impressed with the quality of this set. The picks are well-made and the decoder tool is easy to use.

Cokey M

04 May 2023

good tubular picks

The 7 pin tubular decoder lock pick set is an essential tool for anyone working with tubular locks. Highly recommend it!