9 Pieces Hook Lock Pick Set, Locksmith Lockpick Tools

9 reviews
$ 9.99
The Hook Lock Pick Set includes 9 different hook picks of various shapes and angles that will help you to pick locks you'll encounter including but not limited to household keys locks as well as auto locks.

What's included:
8 single picks with different angles
1 pick for opening car lock
2 turner tools
9 Pieces Hook Lock Pick Set, Locksmith Lockpick Tools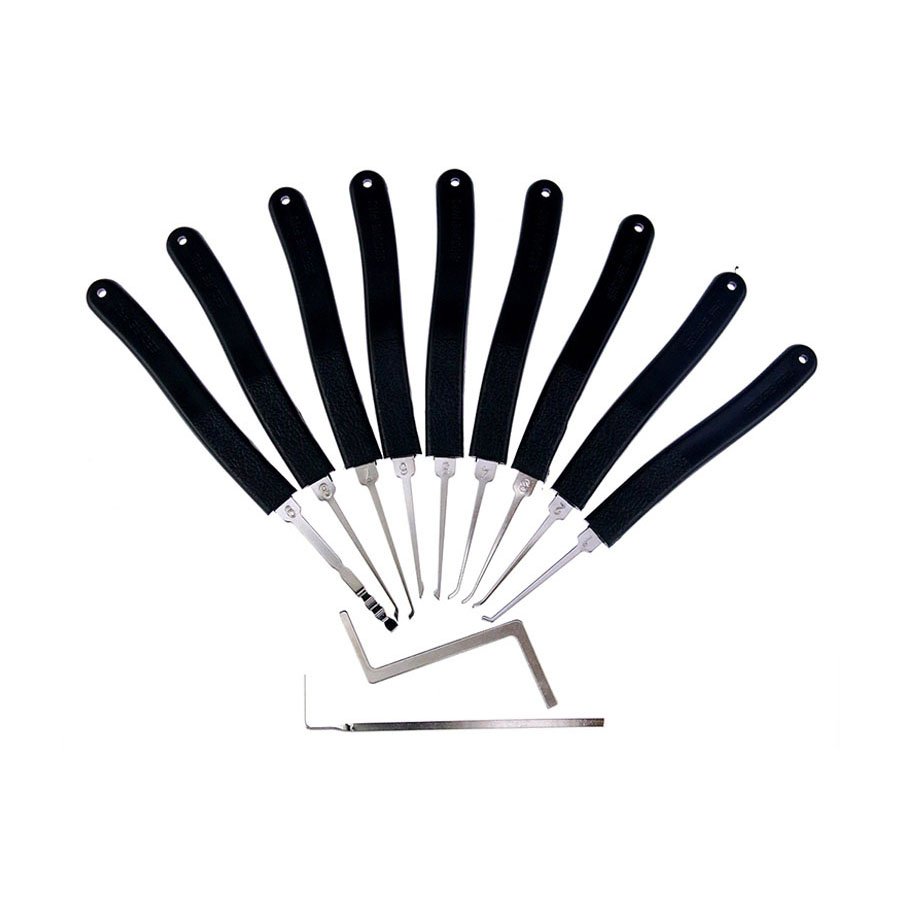 The Hook Lock Pick Set includes 9 different hook picks of various shapes and angles that will help you to pick locks you'll encounter including but not limited to household keys locks as well as auto locks. Beginners or pro locksmiths can use this lock pick set to learn lockpicking skill well and find the right picks according to the kinds of locks.
The lock pick set is very sturdy and durable. Add it now to your lock picks collection.
THANKS FOR COMING TO Barhomevip
WRITE YOUR OWN REVIEW
YOU'RE REVIEWING: 9 Pieces Hook Lock Pick Set, Locksmith Lockpick Tools
HOW DO YOU RATE THIS PRODUCT?
---
Bryan McGill

16 Jun 2023

nice tool

This hook lock pick set has become an essential part of my lock picking toolkit. The picks are well-designed, and their effectiveness in opening locks is impressive. Highly recommended for professionals.

Isabel

26 May 2023

useful pick set

I've tried various lock pick sets, and this 9-piece hook set has become my go-to choice. The picks are easy to handle and offer excellent feedback during lock picking. A reliable and effective set.

Stuart Wallace

16 May 2023

good product

As a locksmith, I appreciate the quality and durability of this hook lock pick set. The picks have proven to be reliable and have helped me provide efficient service to my clients.

Mscunningham

13 Apr 2023

good tools

The variety of hook picks in this set is impressive. They cover a wide range of lock types, making it easy to tackle different challenges. The quality and performance are top-notch.

Alan Morrison

19 Mar 2023

good value

I purchased this hook lock pick set to expand my lock picking skills, and it has been a fantastic investment. The picks are reliable and provide a great starting point for beginners and advanced pickers.

Jim

08 Feb 2023

nice lock pick set

I've used other lock pick sets before, but this 9-piece hook set stands out. The picks have a comfortable grip and allow for precise maneuvering. They have helped me open challenging locks with ease.

Debs

17 Jan 2023

good hook pick set

I'm impressed with the quality and versatility of this hook lock pick set. The picks are durable and offer a great selection for tackling different types of locks. A must-have for lock picking enthusiasts.

Simon

21 Dec 2022

good hooks set

This 9-piece hook lock pick set is excellent! The picks are well-made and provide great feedback. They have helped me successfully pick various locks. Highly recommended!

Maurice Fischer

13 Nov 2022

useful lock pick tools

These lock pick tools are made of good material, I can use them to pick my locks easily. These tools are strong and stable to use.