9 Practice Lock Set Transparent Lock Picking Training Set for Beginner and Locksmith

20 reviews
$ 39.99
9 Different Locks: This practice lock set have 9 different style transparent practice lock, you will improve your lock skills with more interesting practice.

Transparent Design: Visible crystal cutaway practice lock allows you can see clearly what you are doing and how the pins work when a key is inserted. This helps you understand the mechanism works, great design for locksmith& beginner training and lock practice.

High Quality Tools: The lock pick sets is made of smooth stainless steel, and the handle is made of soft plastic.

Durable Usage: Hefty and solidly built which works smoothly without loose parts or pins suitable for practicing, and it also can be used to get a simple lock to your doors, wardrobe and more.

A Necessary Artifact
For a beginner who want to be a locksmith.
For someone looking for a new challenging hobby.
For someone who want to know how the principle of a lock works.
9 Practice Transparent Lock Set for Beginner and Locksmith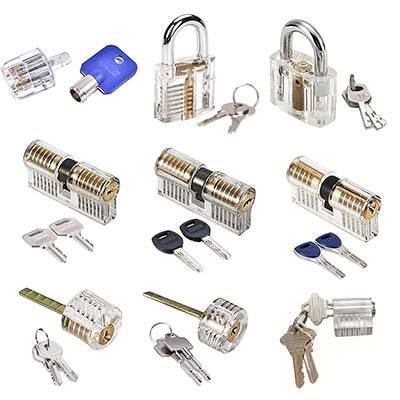 The crystal lock sets are beautiful, you also can as door lock, box lock and luggage lock.
The beautiful lock set also is a creative gift for family, friends, lover.
For a beginner, you can try to open the mini lock, and then you can try the big lock.
Nice toy for kids to improve their intelligence and practical ability.
The Transparent locks are visible, which enables you to see how the pins work when the key inserting, helping you know the mechanism of the locks.
This is a must for a beginner as a locksmith, for someone looking for a new challenging hobby or even for someone who wants to understand how the principle of a lock works.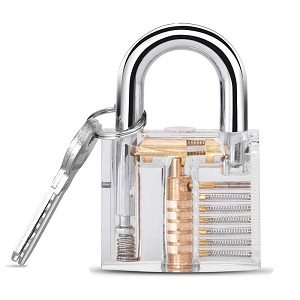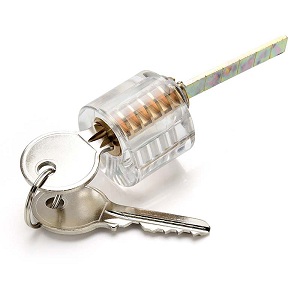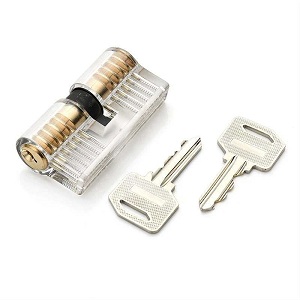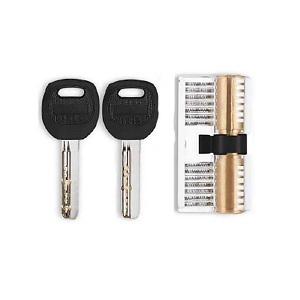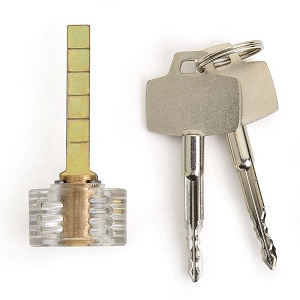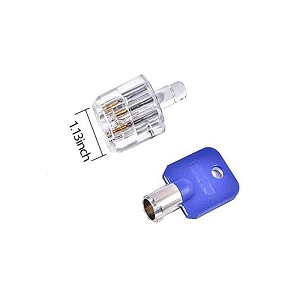 THANKS FOR COMING TO Barhomevip
WRITE YOUR OWN REVIEW
YOU'RE REVIEWING: 9 Practice Lock Set Transparent Lock Picking Training Set for Beginner and Locksmith
HOW DO YOU RATE THIS PRODUCT?
---
lee johnson

23 Mar 2023

Beautifuly made

Locks are pieces of precision engineering and this is reflected in the price for even the most basic examples. In other words you get what you pay for.

Gareth Whetnall

14 Mar 2023

Good learning tool

Extremely good for beginners, this lock set looked great and the work gone into it well. Worth the money, I love it.

Mahh Cris

08 Mar 2023

good practice locks

I am excited to get these 9 pieces practice locks in cheap prices. All locks are useful in the process of learning lockpicking.

Clive Davies

02 Mar 2023

Great first lock kit

Really great for beginners to learn on lockpicking. Good quality and a great price.

Mobby

21 Feb 2023

useful practice locks

These 9 pieces practice locks are useful tools for me to practice my lockpicking skills. All locks are well made and clear to see.

Omar Zeryan

14 Feb 2023

good product

I like these practice locks. It is good for me to see how the pins work when I start to pick locks.

haza kenyon

10 Feb 2023

Good quality lock

I consider myself a newbie in Locksport. I was able to open this lock on my first day with my new picks.

RobB

06 Feb 2023

good gift for my son

I am going to send this locks set to my son. He is fond of learning lock picking. And I hope that he will be happy to get these locks.

Alexander Lindsay

21 Jan 2023

Good value for money

I like collecting different kinds of locks. And these locks are so beautiful. They are clear to see as well. I like them so much.

David Thomson

16 Jan 2023

Good for learning

Solid enough to actually use but good starter for amateur lock picker.
You May Also Like 7.8MM Tubular Lock Pick Tool with 7 Pin Transparent Tubular Lock

1 Review(s) Residential Lock Pick Set, Locksmith Lockpick Tools

1 Review(s) 10 Pieces Broken Key Extractor Set, Locksmith Tool Kit

2 Review(s)