Lishi M1/MS2 2 in 1 Pick and Decoder Tool for Master Locks padlocks M1/MS2 Keyway

1 reviews
$ 77.99
Lishi M1/MS2 2-in-1 Pick and Decoder Tool works with Master Lock padlocks keyway. It is a stainless steel automatic unlocking tool that is designed to pick and decode M1 and MS2 Master Padlock Keyways.

Features
Type: 2-in-1 Pick & Decoder Tool
Keyway: M1 / MS2
Cross Reference: M1-BR, 1092, 1K, MS1, MAS-1, MAS1, M-1
For: Master Padlock
Tool Spaces: 1-4
Pin: 4-Pin
Anti-Glare: Yes
Lishi M1/MS2 2-in-1 Pick and Decoder Tool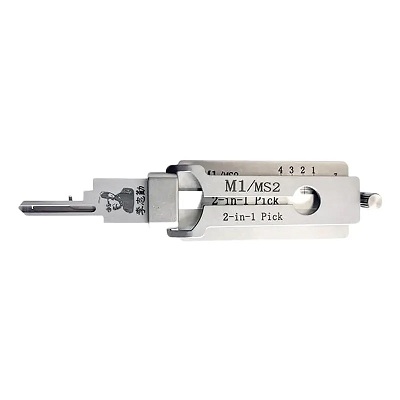 Lishi M1/MS2 Pick and Decoder tool is a combination picking, tensioning, and decoding tool all in one. The graduated lines on the side of the tool make pick tip placement as easy as it gets. Once a lock is opened, the Lishi tool can be used to quickly decode the bitting values of the key that would open the lock.

Locksmiths can use the Lishi M1/MS2 Pick Tool to pick or decoder any 4-Pin Master Padlocks, which helps you accelerate the process of lockpicking.
THANKS FOR COMING TO Barhomevip
WRITE YOUR OWN REVIEW
YOU'RE REVIEWING: Lishi M1/MS2 2 in 1 Pick and Decoder Tool for Master Locks padlocks M1/MS2 Keyway
HOW DO YOU RATE THIS PRODUCT?
---
Kajal kailay

03 Nov 2022

Good Lishi Tool

This lishi pick tool is a good pick for me to pick my home door locks. Made of good material. Strong and stable.
You May Also Like Lishi SC4 2 in 1 Pick Decoder Locksmith Tool for SC, 6 Pin Keyway Locks

4 Review(s) Lishi SS001 2-in-1 Pick and Decoder Tool, House Door Lock Opener Auto Tool

2 Review(s) Lishi SC1 SC4 KW1 KW5 Pick and Decoder Tools Set, Auto Locksmith Tool

1 Review(s) Lishi SC1 SC4 KW1 KW5 CY24 HU66 Pick And Decoder Tools Set, Auto Locksmith Tool

1 Review(s)