Lishi SS001 2-in-1 Pick and Decoder Tool, House Door Lock Opener Auto Tool

9 reviews
$ 39.99
Lishi SS001 Pick and Decoder Tool is an automatic reading tool for fire door, cattle head civil lock series. Lishi SS001 auto tool is for civil lock door opener.
Lishi SS001 2-in-1 Pick and Decoder Tool For Civil Locks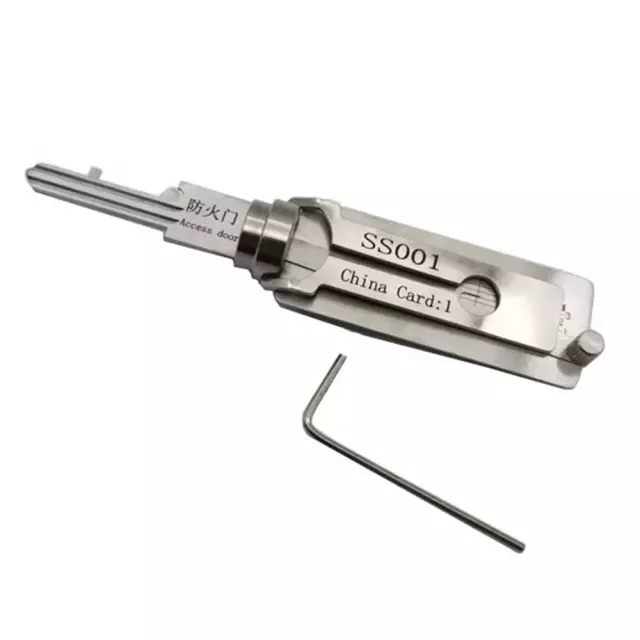 Lishi SS001 Auto Pick Tool is a stainless steel automatic unlocking tool that is designed to pick and decode Civil Locks. Locksmiths can learn to pick specific locks with the help of this Lishi Auto Pick Tool. It is a perfect choice for people who want to master the skill of lockpicking.
Lishi SS001 widely used for: access door locks, KW lock, Roto Lock, Bull Head Lock, Bird Locks, one word lock.
THANKS FOR COMING TO Barhomevip
WRITE YOUR OWN REVIEW
YOU'RE REVIEWING: Lishi SS001 2-in-1 Pick and Decoder Tool, House Door Lock Opener Auto Tool
HOW DO YOU RATE THIS PRODUCT?
---
David Yorkshire

09 Jun 2023

good lishi pick

The Lishi SS001 tool is a reliable tool for working with various locks. The pick end is sturdy and offers excellent control during picking. The decoder function is accurate, making it an indispensable tool for locksmiths.

Damian

11 May 2023

nice lishi pick

I recently added the Lishi SS001 tool to my toolkit, and it has quickly become one of my favorites. The pick end is well-crafted and provides great maneuverability. The decoder feature is accurate and has simplified the process of retrieving key codes.

joanne

21 Apr 2023

good quality lishi pick

As a professional locksmith, I rely on quality tools, and the Lishi SS001 2-In-1 pick and decoder tool delivers. The pick end is durable and offers great control, allowing for smooth and precise picking. The decoder feature is accurate, making it a valuable asset in my work.

Florina

16 Mar 2023

value for money

This lishi ss001 pick tool is a useful pick tool for residental locksmiths, which helps pick many home door locks.

Tamurello

21 Feb 2023

good product

I get this lishi ss001 pick tool in cheap price. Happy shopping experience for me. I think I will master this lishi pick tool.

g.bowen

03 Jan 2023

good quality

As I receive the lishi ss001 pick tool, I find that it is made of premium stainless steel. A strong pick and decoder tool for lockpicking.

Julie

14 Dec 2022

good lishi pick tool

This lishi ss001 pick tool become one of the most helpful pick tools in my locksmiths tool bag. I often use it to pick home door locks.

Lesley Warren

08 Nov 2022

good lishi ss001 pick tool

Lishi SS001 pick tool is a good lock pick tool for me. I can use it to pick various residential locks.

Lewis Green

09 Oct 2022

good pick and decoder tool

Lishi SS001 pick and decoder tool is of good quality. When I get this tool, I find the suitable locks to experiment it. After a short training phase, I know the basic skill of using this tool. I am happy that I have learned a new lockpick skill.
You May Also Like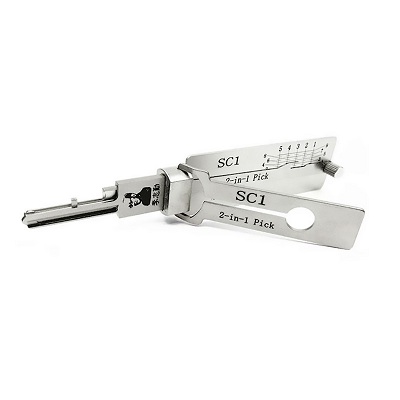 Lishi SC1 2 in 1 Pick Decoder Tool for SC, 5 Pin Keyway Locks

13 Review(s) Lishi SC4 2 in 1 Pick Decoder Locksmith Tool for SC, 6 Pin Keyway Locks

12 Review(s)