Lock Pick Tools Locksmith Tool with Transparent Padlock for Beginners and Pro Locksmith

24 reviews
$ 19.99
Lock Pick Tool Set: This Lock Pick Set contains 1 Lock Pick Tool, 4 Pick Blades and 1 Tension Wrench, and 1 Transparent Padlock. It can be used to open most of pin tumbler locks, double track car locks. A convenient tool special designed for locksmith or lock picks hobby's need.

Beginners Friendly: Lock Pick Tool Repair Tool Kit is semi-automatic hence it is easy to use, even if you are not a professional. Designed to be quickly inserted into a lock and with the rapid pull of the trigger, activate all of the pins at once.

Safety Design Tool: The lock pick set is made of high quality, smooth stainless steel and does not scratch your fingers. Transparent padlocks with high purity plastic, no impurities and grainy. Lock core precision, on a hundred thousand times leveraging without loosening off, to meet your endless training needs.

Transparent Lock Design: Know exactly what your are doing during lock picking with the transparent padlock. See clearly how the mechanism works. It gives you indications for the techniques required for lock picking. Great for beginners and to learn lock picking!
You Need the Lock Pick Set with Transparent Padlock to Start the LockPicking Training at Home
The Lock Pick Set can be an extremely valuable tool for professionals who have to open many similar locks regularly, but who don't have the time or interest in learning manual lock picking and manipulation.
It is time for you to learn essential lockpick skills with this good Lock Pick Set in your spare time. As you are locked outside, you don't have to call a locksmith and wait for a long time. You can become the locksmith by yourself with the help of Lock Pick Set.
The Lock Pick Set Includes:
1 Lock Pick Tool
4 Pick Blades and 1 Tension Wrench
1 Transparent Padlock with Keys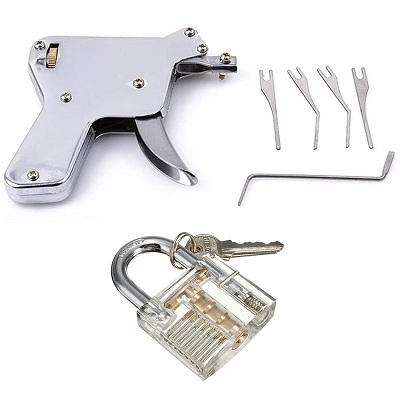 Why Do You Need the Lock Pick Set with Transparent Padllock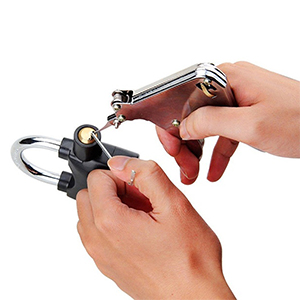 Easy to Use
You can use this lock pick set to learn how to open more similar locks in your spare time. A good lock pick set for pro locksmith.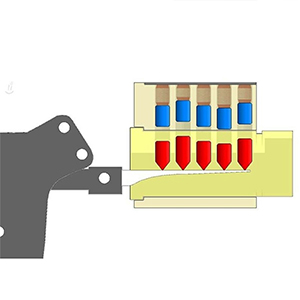 See Clearly From the Transparent Padlock
You can practise the lockpick skills with the help of Transparent Padlock, which helps you see the clear process of lockpicking with Lock Pick Tool.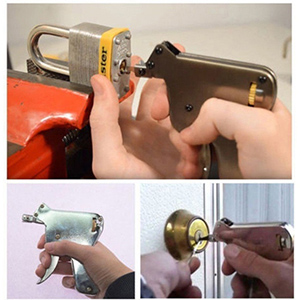 Unlock Different Locks Fast
The Lock Pick Tool with strong metal pins can help you unlock various kinds of locks fast in your daily life.
Features of the Lock Pick Set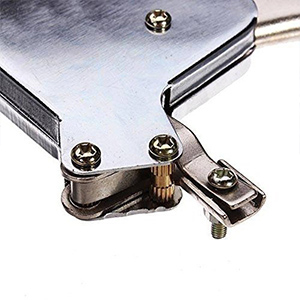 Premium Stainless Steel Material
Made with high-quality stainless steel. It contains a strong spring which can unlock a jammed door as well. It will save you a lot of time without having to wait for the locksmith to arrive.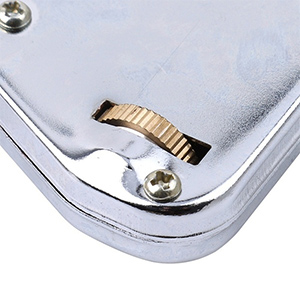 Unique Design
You can use this lock pick tool to unlock different types of pin tumbler locks. Whether you got locked out of office or your home, Locksmith Tool will come to the rescue.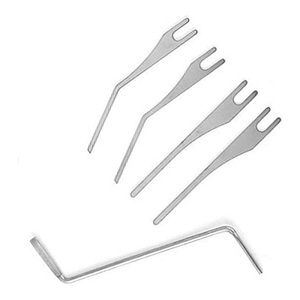 Various Lock Pick Accessories
4 Pick Blades and 1 Tension Wrench will help you a lot when you try to unlock different kinds of locks.
THANKS FOR COMING TO Barhomevip
WRITE YOUR OWN REVIEW
YOU'RE REVIEWING: Lock Pick Tools Locksmith Tool with Transparent Padlock for Beginners and Pro Locksmith
HOW DO YOU RATE THIS PRODUCT?
---
Martin

19 Sep 2023

Must-have

I've always been fascinated by lock picking, and this set has been a great starting point. The transparent padlock makes it easy to see what's happening inside the lock. It's a well-rounded toolset.

Oliver Cobbin

11 Sep 2023

nice lock pick set

This toolset is versatile. It's excellent for teaching beginners, but the picks are high-quality enough for professionals. The transparent padlock is a useful visual aid for understanding lock mechanisms.

Syed Ali Raza

25 Aug 2023

Premium quality

I use this set to teach lock picking to my kids. The transparent padlock is a hit with them, and the picks are easy to handle. It's a safe and engaging way to introduce them to locksmith skills.

owen wint

04 Aug 2023

Highly recommended

I've been interested in lock picking as a hobby, and this set is perfect for beginners like me. The transparent padlock is a genius addition. It's a fun and educational tool to have.

Marc Barry

27 Jul 2023

useful lock pick set

As a seasoned locksmith, I was skeptical about the value of a transparent padlock, but it's proven to be an excellent teaching aid for my apprentices. This toolset is a great way to train new locksmiths.

Samantha Tindall

13 Jul 2023

Long-lasting lock picks

This lock pick tool set is a fantastic learning tool for beginners. The transparent padlock helps you understand how locks work, and the picks are of good quality. Highly recommended for those starting out in lock picking.

Maddy

27 Jun 2023

good lock pick tools

The tools in this set are easy to handle and provide great feedback when picking locks.

Jack

15 Jun 2023

good product

The set is also great for anyone interested in learning more about locks and how they work.

Moly Chay

24 May 2023

good tools

I've used this set to practice on various types of locks and it's been very helpful. It's definitely improved my lock picking skills.

Jennifer McAdam

08 May 2023

useful tool

The lock pick gun with transparent padlock is an excellent product. It's a great way to practice and improve your lock picking skills.