Lock Pick Set 25 PCS Tools with 3 Padlock Lock, Locksmith Lock Picking Kits

33 reviews
$ 25.99
25 Pieces Lock Pick Set: This lock pick sets includes everything you need for Lock picking. It contains 17 pieces stainless steel lock picking kit, 3 transparent training locks, 5 pieces credit card lock picking kit, 1 quick users guide. With the help of this lock pick set, you will be trained from beginner to professional in a short time.

3 Pieces Padlocks: Each padlock has 2pcs of brass keys, every keys have numbers. All these keys can unlocking same series locks but cannot do in different series of locks. Lock-body are solid brass, each lock's weight is 5.57 oz. Hardened steel shackles and double-locking bolts for maximum corrosion protection during outdoor or indoor use.

4 Training Levels: Peek inside the lock mechanisms and see how everything works with the 3 transparent locks included. Master picking the different lock types as you progress from level 1 to level 4.

Credit Card Lock Pick Kit: Our ultra-lightweight Credit Card Lock Pick Kit holds the 5 most important lock picking tools at an arm's reach. It discreetly fits in your wallet or pocket, so you can carry it anywhere!
Want to learn a handy and neat new skill?
On the lookout for a gift that guarantees countless hours of fun?
Experience the thrill of picking a lock with our extensive training lock pick kit.
It is time to learn a new skill with the premium lock pick set.
Premium Lock Picking Set
: This extensive kit includes high-end lock picks and everything you need to start practising and expand your lockpicking abilities. Advance from beginner to pro in no time!
This 25 Pieces lock picking kit is the most advanced set we've created to date: it includes high-end tools and all the learning material you need to start this great hobby, and take it to the next level. No prior knowledge required.
The Whole 25 Pieces Lock Pick Set Includes:
12 Different Stainless Steel Lock Picks With Reinforced Handle
5 Stainless Steel Tension Wrenches
5-Piece Credit Card Lock Picking Kit
3 Transparent Practice Locks with Keys
1 Vegan Leather Pouch
1 Quick User Guide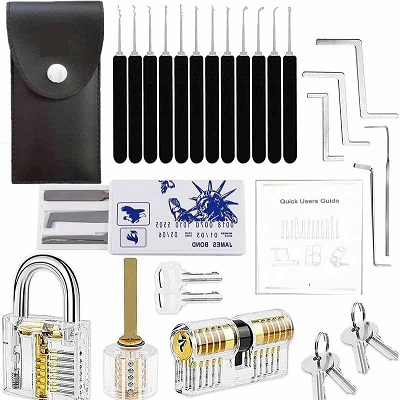 4 Training Levels - Progress from Level 1 to Level 4 with Transparent Practice Locks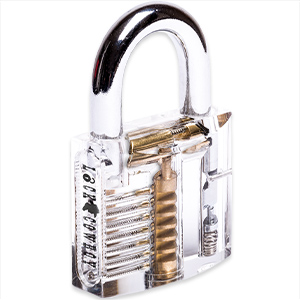 Level 1: Padlock
If you're a beginner, this transparent padlock is the best place to start. Designed specifically to help you understand how locks work, it will cut your training time in half!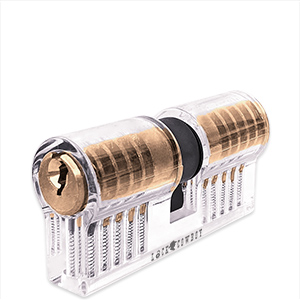 Level 2-3: Double-Sided Lock
The 2-in-1 door lock offers a double challenge. One side is harder than the other. With a similar design to most door locks, you'll no longer need a locksmith in case of emergency!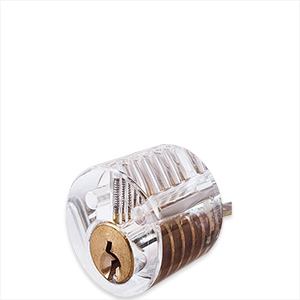 Level 4: Rim Cylinder Lock
Advance your lockpicking skills by practising on different types of locks. Most challenging of the 3, the rim cylinder lock will test your abilities. Open it and earn the right to call yourself a pro!
Function of Different Tools in Lock Pick Set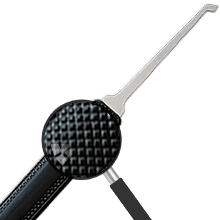 Comfortable Handle
Each pick is reinforced with a lightweight Anti-Slip handle for absolute comfort in your grip.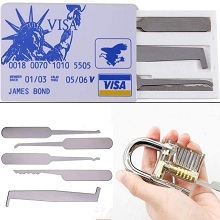 Portable Credit Card Lockpick Kit
This bonus ultra-portable credit card lock pick kit includes 5 of the most essential tools. It discreetly fits in your wallet so you can carry it everywhere, perfect for emergency situations.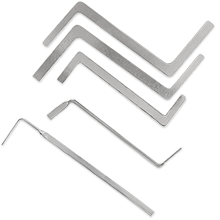 Various Kinds of Tools
Our wide selection of stainless steel tension tools will fit almost any lock out there. Their superb quality ensures maximum durability.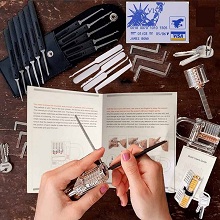 Useful Quick User Guide
Pick your first lock by following the step-by-step instructions in our quick user guide.
THANKS FOR COMING TO Barhomevip
WRITE YOUR OWN REVIEW
YOU'RE REVIEWING: Lock Pick Set 25 PCS Tools with 3 Padlock Lock, Locksmith Lock Picking Kits
HOW DO YOU RATE THIS PRODUCT?
---
Marc Draco

21 Mar 2023

Great set for beginners

I highly recommend this for beginners or trainee locksmiths. Very happy with these lock pick tools. I am learning a new skill (which could become a life saver one day!) as well as keeping myself entertained.

Adam Rusek

15 Mar 2023

good for learning lockpicking

This entry level lock pick set is good enough to get you started and to let you see if this is something you'd want to pursue more.

Justin Paul Jones

10 Mar 2023

good fun for beginners

really happy with the set, the carry case keeps everything in one place and easy to transport. A good set for a beginner and would recommend.

Josh A.

06 Mar 2023

Good quality for the price

To better my lock picking skills for my job ! Good lock pick set.

joanne matthews

02 Mar 2023

good lock pick set

This good lock pick set includes the picks and lock I need, which are good for me to lock how to pick locks at home.

Paul John

25 Feb 2023

good pick and locks

All picks and locks in this lock pick set work well in the process of lockpicking. So cheap price. Very good lock pick set.

Gav

14 Feb 2023

nice lock pick set

I buy this lock pick set in cheap price. Good shopping on the site. All tools are well made. Transparent practice locks are all good as well.

Julie

10 Feb 2023

good value

This lock pick set contains essential tools, which helps me start my lockpicking training easily. I hope I can become the locksmiths master in the future.

Suzanne

06 Feb 2023

good picks set

I am happy to get this lock pick set in this nice prices. It contains normal lock picks and locks. Good materials, nice portable bag for tools.

Davinder Singh

01 Feb 2023

well made picks set

When I receive this lock pick set, I start to pick locks at once. As I find that these picks are made of good materials. These locks work well with pick tools. Happy shopping.
You May Also Like 28 Pieces Lock Pick Set, Locksmith Lockpick Tools

5 Review(s) 7 Pin Tubular Lock Pick Tool 7.5mm 7.8mm

1 Review(s)