Lock Pick Training Practice Padlock for Beginners, Transparent Lock Set

5 reviews
$ 8.99
Lock Pick Practice Padlock Set: A Beautiful Transparent Practice padlock with two keys. Challenge your newly acquired lock picking skills, or learn how a lock mechanism works.

Lockpick Your First Lock: Understand how the springs work in a lock when you insert the key and how you can replicate the process using our quality Lock Picking Tools.

Good Transparent Lock: The padlock is the real thing, it's ideal for improving your picking skill and learning about everyday engineering.
Learn how the mechanism on all padlocks work with our quality, transparent lock. Ideal as a display piece you can talk about, or show your friends. Why not also buy a Lock Pick Set to go with it and complete your kit!
Lock Pick Training Practice Padlock with Two Keys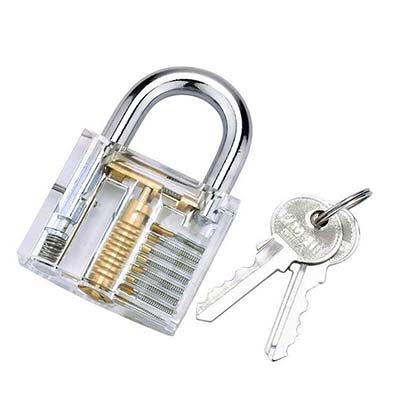 Features of The Lock Pick Training Practice Padlock:
For a beginner, you can try open the practice padlock.
The crystal practice lock is beautiful, you also can as door lock,box lock and luggage lock.
The beautiful lock also is a creative gift for family, friends, lover.
Transparent lock helps you know the mechanism of the locks, perfect for Locksmith to find the feeling of picking.
Nice toy for kids to improve their intelligence and practical ability.
Lock picking might seem like it would be a challenge. Luckily, our lock pick set is so versatile that we've given you everything you need to start and continue. From the self-contained lock picking kit to a transparent padlock for training, we've got you covered. So whether you're looking to impress your friends, need a way to keep from locking yourself out of the house again, or you just want to add to your locksmith set, choose Barhomevip and you'll never need another learning lock pick set again.
Learn how a lock mechanism really works. See the pins rise as you work out how each is held in place. Insert your pick and see how the tension tool helps to unlock without a key! Lock picking will also help you learn patience, help to improve your fine motor control and occupy your hands.
THANKS FOR COMING TO Barhomevip
WRITE YOUR OWN REVIEW
YOU'RE REVIEWING: Lock Pick Training Practice Padlock for Beginners, Transparent Lock Set
HOW DO YOU RATE THIS PRODUCT?
---
charlotte

03 Mar 2023

First training lock. Love it

Tried different techniques with different picks. The learning curve was fast once I watched a few videos. It's worth the price in my view.

Alex Waite

15 Feb 2023

Very good quality

Have not tried to pick it yet as my picking kit has not arrived yet but the lock seems sturdy and good quality

terry dawson

17 Jan 2023

Brilliant learning tool

Really helps with understanding what certain actions feel like. I learn a lot then passed it on to a friend who also loves it.

samolly

18 Dec 2022

Quick and quality

Great fun and ideal training lock for potential locksmiths. Thank you

Donna Denton

04 Nov 2022

good practice lock set

This practice lock with keys are good for me to learn how to pick padlocks with tools. The transparent design is easy to see clearly.