Lock Plug Spinner Set, Locksmith Lockpick Tools

10 reviews
$ 43.99
The Lock Plug Spinner Set is the best plug spinner available on the market! Heavy-duty spring and interchangeable needles allow rotation at varying strengths and speeds in either direction.

Package includes:
1 x Lock Plug Spinner
5 x Blades
Lock Plug Spinner Set, Locksmith Lockpick Tools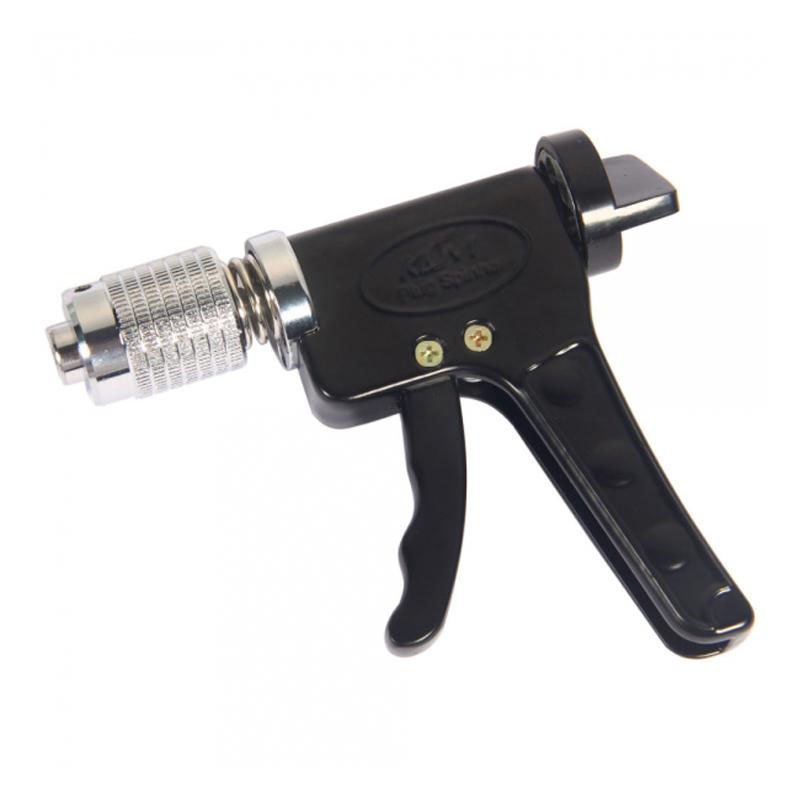 The Lock Plug Spinner Set is the coolest plug spinner available on the market! Heavy-duty spring and interchangeable needles allow rotation at varying strengths and speeds in either direction.
With this tool you can prevent pins from falling back in place when you turn the lock into the wrong direction. The plug reverse tool lets you spin a plug all the way around and will not damage the lock. Easy swapping tips make this ideal for automotive picking.
If you are a locksmith or lock picking hobbyist you need to have a plug spinner or plug reverse tool (Plug Reverse Gun) in your tool bag. A plug spinner tool is used when you pick a lock in the wrong direction, it allows you to spin the plug all the way around to the unlock position.
Picking a lock the wrong direction happens frequently and if you spend 5 minutes or 10 minutes (or more) on picking a difficult lock the wrong way you will have to re-pick it the other way if you do not have a plug reverse tool. Also note that some locks will pick open one way easier than the other.
THANKS FOR COMING TO Barhomevip
WRITE YOUR OWN REVIEW
YOU'RE REVIEWING: Lock Plug Spinner Set, Locksmith Lockpick Tools
HOW DO YOU RATE THIS PRODUCT?
---
Carl SK

18 Apr 2023

Working as expected

The spinners in this set are also of high quality. They provide great leverage and are easy to handle.

josh

09 Apr 2023

nice tool

I've used this set to open various locks and it's been very effective. It's definitely a great investment for anyone working with locks.

Roger Clarke

16 Mar 2023

good lockpicking tool

The price is also very reasonable for the quality of the product. It's definitely worth the investment.

laura

09 Mar 2023

good product

I am happy to get this lock plug spinner set in this cheap price. All tools are good quality. I can select the right blade to pick locks quickly.

Lala

19 Feb 2023

value for money

The lock plug spinner set are made of good materials. All tools and blades are good quality. I like using them to pick locks.

Angie WH

04 Feb 2023

Perfect and useful

The lock plug spinner set is a must-have for any locksmith. It's a game-changer when it comes to opening stubborn locks.

Diane Hopkins

21 Jan 2023

value for money

The set is also great for anyone interested in practicing their lock picking skills using plug spinners.

Maria Dambrosio

12 Jan 2023

useful lock plug spinner

This lock plug spinner with 5 blades are useful lockpicking tools. Good quality tools. Easy to use outside as well.

Sophie Stelzner

16 Dec 2022

good lock plug pinner

I like using this lock plug spinner to pick locks instead of normal picks. It saves me a lot of effort on lockpikcing.

Benjamin

15 Nov 2022

nice plug spinner pick tool

I prefer to the automatic lock pick tools, so I choose the plug spinner pick tool. Equipped with right picks, I just press the handle and pick thelocks easily. It saves me a lot of time on lockpicking.