23 Piece Professional Bartender Kit Bar Tool Set

7 reviews
VOLUME:
25.3 oz (750ML)
23.7 oz (700ML)
$ 44.99
Luxury Bartender Set: This bar set includes 1 Bamboo Stand, 1 Drinks Shaker(Select Available Shaker Volume: 25.3 oz /750ml, 23.7 oz /700ml), 2 Straight Straws, 2 Bent Straws, 1 Strainer, 1 Muddler, 1 Corkscrew, 1 Spoon, 2 Bottle Stoppers, 4 Fruits Needles, 2 Pourers, 1 Conical Strainer, 2 Double Jiggers, 1 Ice Tongs, 1 Brushes. It's easy to make your own signature drinks.

Premium Stainless Steel Bartending Kit: The Stainless Steel Shaker Set features a high-grade inner , not only looks attractive but also has been designed to last and easy to clean. Each drinks accessory is carefully made to provide you with a reliable way to make all your favorite drinks.

23 In 1 Display Bamboo Stand: Contains a display bamboo stand makes it easier to store and remove the drinks set. Save rooms and keep clean, tidy for your table and bar. Good display of all the accessories, at a glance, easy to use.

Perfect Bartender Set Gift: The drinks gift set, makes an amazing gift for drinks lovers. Perfect gift for: Birthday, Anniversary, Christmas, Housewarming, Wedding, Father's Day, or any other occasions. And you can start a drinks happy hour immediately, when you get this present!

No-Risk Purchase: If you have any doubts about the product, please send us an email, we will give you a satisfactory reply as soon as possible.

Do you want to offer your guests something more exciting drinks?
Do you regularly entertain your family and friends but lack the bar tools to inspire?
Are you tired of paying for overpriced drinks at a bar?
You can go to
Barhomevip webiste
to find your desired bartender kit and learn to become professional bartender.
23 Piece Professional Bartender Bar Tools Kit is Good For Customers Who want to become pro bartenders in the future.
Here is the explicit accessories of 23 Piece Professional Bartender Bar Tools Kit.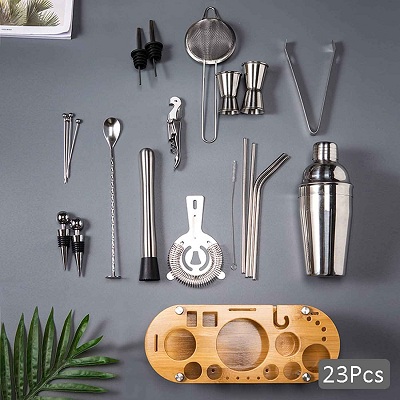 23 Piece Premium Bartender Shaker Bar Tools Set Includes:
1x Bamboo Stand
1x Muddler
1x Drinks Shaker(Select Available Shaker Volume:25.3 oz/ 750ml, 23.7 oz/ 700ml)
2x Pourers
2x Bottle Stoppers
1x Strainer
1x Mixing Spoon
1x Corkscrew
2x Double Jigger ( 1/2 oz & 1 oz, 1 oz & 5/3 oz)
1x Ice tongs
1x Brushes
4x Straight/ Bent Straws
1x Conical Strainer
4x Fruit Needles
Why Do You Choose to Buy 23-Piece Bartender Bar Tools At Barhomevip?
All In One: This 23-Piece bartender kit includes everything you need to make tasty and flavorful mixed drinks, margaritas as well as any other alcohol drink you can imagine from the comfort of your own kitchen (or bar). There is no need to purchase any separate accessories to achieve a delicious drink, this bartender shaker set has it all!
Stable Bamboo Bartender Tool Stand & Lovely Gift: This bar set is perfect for home, bars, parties,anniversary or graduation. Also is a great present/gift for your families or friends when Christmas, Valentine's day, birthdays, wedding. Drinks making, wine mixing, home decoration, tools storage, ideal present.
Easy to Display & Storage: Bartender kit with bamboo stand, keep your barware scratch-safe, organized, and accessible. Save your space, No more clutter in your kitchen drawers and cabinets, and avoid lost tools. You can find your desired tools in time to make your favorite drinks.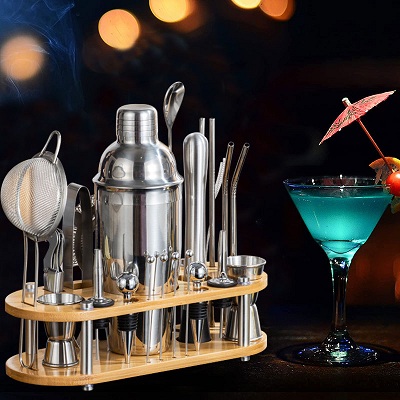 Have you ever had trouble finding the perfect gift for a birthday or a housewarming party?
You can go to Barhomevip to get this 23 Piece Bartender Kit Bar Tools Kit As Gift For Your Best Friends or Guests.

THANKS FOR COMING TO Barhomevip
WRITE YOUR OWN REVIEW
YOU'RE REVIEWING: 23 Piece Professional Bartender Kit Bar Tool Set
HOW DO YOU RATE THIS PRODUCT?
---
Xitlali

17 Aug 2022

Great but

I repurposed am old piece of furniture into a bar and wanted some utensils, not only for use but to accessorize my bar. This set serves all purposes. I priced items separately and buying this set was by far the best bargain. I love it.

Liz K

10 Aug 2022

High Quality for a Low Price

I was deciding between a couple of different bar sets and was skeptical about ordering this set as it seemed "too good to be true". It was priced the same as other sets but included more items so I figured the quality must be sacrificed. I decided to take the risk and purchase and am happy to say the product EXCEEDED expectations. Every item is beautiful and heavy, high quality. I expected light weight, cheap feeling and it is the complete opposite. If you're deciding between cocktail bar sets I HIGHLY recommend this product.

Karen Gamrath

01 Aug 2022

Gift Worthy!

I purchased this for my home bar and it is so nice I will probably purchase again as a gift. I has a nice velvet bag to store accessories and it looks expensive. Thanks for a great product!

Amin

21 Jul 2022

Very nice

It was perfect for the money. Nice set for our DIY bar set up. Some things not sure we'll ever use. But nice set.

Felix

19 Jul 2022

Excellent cocktail shaker set

I am very happy with the purchase. This is a gift for my daughter. She loves the set too. Worth for the value with an impressive classic look that we will display it at our new counter cabinet. Prompt delivery. Thanks and bless you seller.

Jose Malon

03 Jul 2022

Happy with my coctail set

I purchase this coctail set because l felt it had all the items I was looking for. The price was right and for me was more than enough. Very happy with the material looks nice and it has everything you may need to mix drinks if you want to impress your guest as a host. I recommend this product 100%.

Mrs. Parison

13 May 2022

Great Quality

Got this as a gift for my husband. He absolutely loves it! Great quality products and wood. I'm very impressed. Worth it for the price!
You May Also Like 10 Piece Drink Shaker Set Mixology Bartender Kit With Stylish Bamboo Stand

4 Review(s) 10 Piece Perfect Home Bartender Shaker Set With Black Bamboo Stand

3 Review(s)