12 Piece Bar Tools Bartender Mixology Kit With Bamboo Stand

2 reviews
VOLUME:
25.3 oz (750ML)
23.7 oz (700ML)
18.6 oz (550ML)
11.8 oz (350ML)
$ 42.99
All The Essential Tools: Become the bartender you've always wanted to be! With this 12 Piece Bar Tools Bartender Mixology Kit you'll have all the tools you need to succeed: 1 Bamboo Stand, 1 Drinks Shaker(Select Available Shaker Volume: 25.3 oz (750ML)/23.7 oz (700ML)/18.6 oz (550ML)/11.8 oz (350ML)), 1 Strainer, 1 Muddler, 1 Corkscrew,1 Mixing Spoon, 4 Pourers, 1 Double Jiggers, 1 Ice Tongs.The three-piece cobbler shaker with built-in strainer is easy to use, and the collection of bar tools is specially curated to enable you to perfect your mixology craft.

Best Quality: Craft a fine drink in the comfort of your own home or bar. This mixology shaker kit not only looks fashionable and desirable but has been professionally designed to last a lifetime! PARTS built out of dishwasher safe high-quality 304 Stainless Steel, that is guaranteed not to rust, leak or to loses quality properties in time.

Elegant Bamboo Stand: No more bar tool junk drawer, no more scratched bar tools! This one-of-a-kind bamboo bar stand organizes your bar supplies, keeping them clean, separate, and scratch-free. Never lose another tool! You'll always know exactly where to reach for your home bar tools, even when you're the middle of mixing up a pro drinker.

The Best Gift: First-class Bartender tools + stylish bamboo display stand, this perfect product is packaged in a beautiful and sturdy colorful gift box. Your recipient will be as excited as a sugar shop kid! Whether it is a birthday, an anniversary, a wedding, Father's day or Christmas, it will be a surprise gift.

Enjoy Your Fantasy Drinks: This Bar Set is a great tool to help you make a delicious blend of drinks. This Bartender Kit lets you experiment with martini, mojito, and all drinks to the happiness of your guests at the parties.
Do you want to be a professional bartender? Do you have own a pro bartender bar tools kit?
If not, you had better look through
Barhomevip
to find the one that suits for your level of making drinks.
If you expect to begin as a novice bartender, you can choose this 12 Piece Bar Tools Bartender Mixology Kit With Bamboo Stand.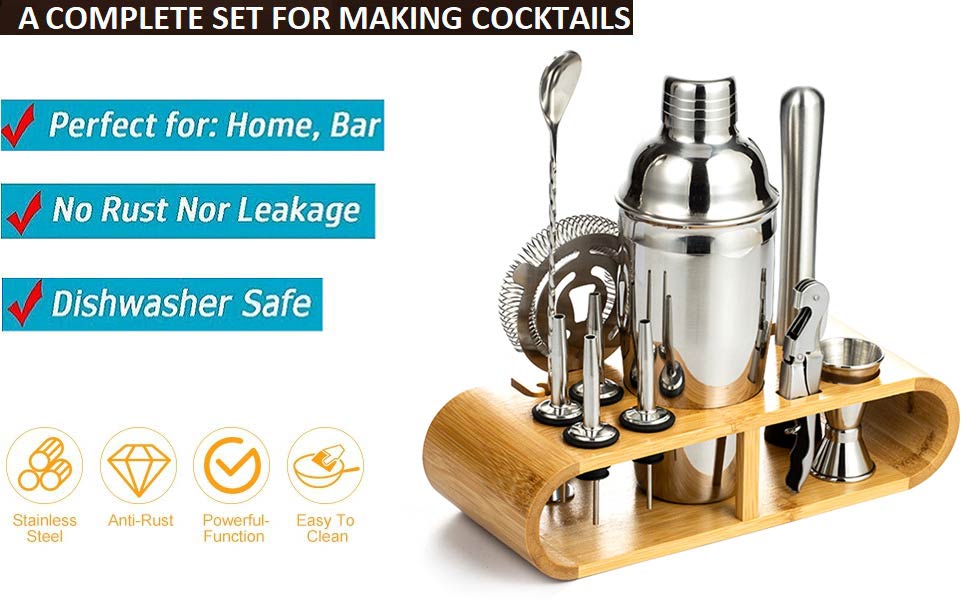 Barhomevip shows the whole accessories of 12 Piece Bar Tools Bartender Mixology Kit in the following picture: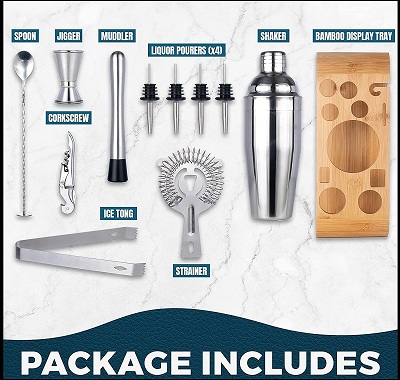 12 Piece Bar Tools Bartender Mixology Kit Includes:
1x Bamboo Stand
1x Drinks Shaker(Select Available Shaker Volume: 25.3 oz (750ML)/23.7 oz (700ML)/18.6 oz (550ML)/11.8 oz (350ML))
1x Mixing Spoon
4x Pourers
1x Strainer
1x Muddler
1x Corkscrew
1x Double Jigger
1x Ice tongs



Enhance Your Drinks Creation Process Now!
Step 1 - Using a jigger, you need to pour all the ingredients to the mixing section of the shaker.
Step 2 - Later add on the ice to the mixing section, it is done because ice makes the mixing section full up to 2 / 3 to 3/ 4 full
Step 3 - Before shaking you need to hold the top of the shaker with the palm of your hands and make sure it is tightly sealed by your hands.
Step 4 - Then hold the shaker in both the hands, one on top and other at the base. Shake the shaker for about 10 – 20 seconds.
Step 5 - Shaking the drink in the shaker makes all the ingredients to chill, dilute slightly so that they mix well together, and achieve a desired combination of taste and consistency.
Step 6 - Remove the lid and pour your drink through the strainer provided into the glass.
Show from Customer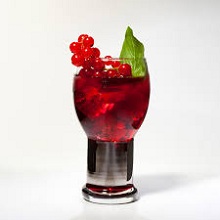 Number 1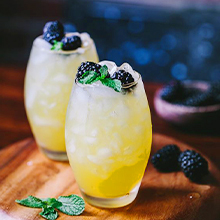 Number 2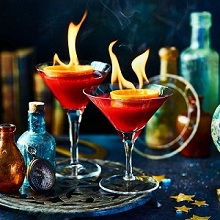 Number 3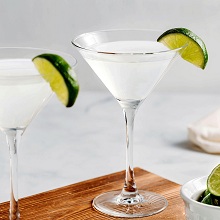 Number 4
THANKS FOR COMING TO Barhomevip
WRITE YOUR OWN REVIEW
YOU'RE REVIEWING: 12 Piece Bar Tools Bartender Mixology Kit With Bamboo Stand
HOW DO YOU RATE THIS PRODUCT?
---
21 kid

01 Aug 2022

Great Set, shaken or stirred

Fantastic set for a novelist or expert. Everything stores neatly with the included rack.

Robert

08 May 2022

Great Present

Bought this as a housewarming present and I wasn't too sure of the quality. When my friend opened it I was very happy with the packaging and quality of the product. I would definitely buy this again, it has every tool someone can need when starting out.
You May Also Like 11 Piece Boston Drink Shaker Set Mixology Bartender Kit With Bamboo Stand

3 Review(s) 11 Piece Bar Tools Bartender Kit With White Acrylic Stand

3 Review(s)