14 Piece Mixology Bartender Kit Drink Mixer Set With Bamboo Stand

3 reviews
VOLUME:
25.3 oz (750ML)
18.6 oz (550ML)
11.8 oz (350ML)
$ 42.99
Everything you need in 14-Piece Mixology Bartender Kit: 1 Bamboo Stand, 1 Drinks Shaker(Select Available Shaker Volume: 25.3 oz /750ML, 18.6 oz/550ML, 11.8 oz/350ml), 4 Straw Spoons, 1 Strainer, 1 Muddler, 1 Corkscrew, 1 Spoon, 2 Pourers, 1 Double Jigger, 1 Ice Tongs. Will give you the power to whip up impressive drinks for your guests. Whether you're an amateur bartender or a drink mixing guru, whether you're setting up a bar at home or at work - Our bartender kit is a brilliant way to hit the ground running.

Made to Last: Upgraded 304 stainless steel bartender kit mixology set is your best bet, which is specially thickened to protect itself from rust for lifetime and remain shiny and new after years of shaking, and it can withstand lots of rough and tumble, even being dropped, without letting you down.

Raise The Atmosphere: The bartenders will benefit from a nifty stand, allowing you to keep your bar kit set organized and also on full display, and you will find the contrast between wood and stainless steel makes a wonderful statement on the kitchen counter. With the right mixology tools, you can easily bring the drink bar experience into your home.

Top-Notch Gift: This bartender mixing set is the best gift everyone at the party will be talking about, it comes in a stylish, package for that special gift opening experience, and included a neat recipe guide, giving a plenty of inspiration to get started, even if never made drinks before. A thoughtful gift for friends, family, colleagues, clients, and business partners that proves your good taste.

No-Risk Purchase: If you have any doubts about the product, please send us an email, we will give you a satisfactory reply as soon as possible.
If you are after a basic mixology set for a home bartender, a drink mixer shaker gift set for a friend or a complete bartender's kit for a professional bartender… then we've got you covered!
Barhomevip mixology shaker set has all kits you need to create the perfect drrinks, even exotic ones.
Your bartending skills will now not go unnoticed. Barhomevip premium bartender kit will aid in honing your skills like a pro.

Why Barhomevip's Products Are Better Than Other Brands?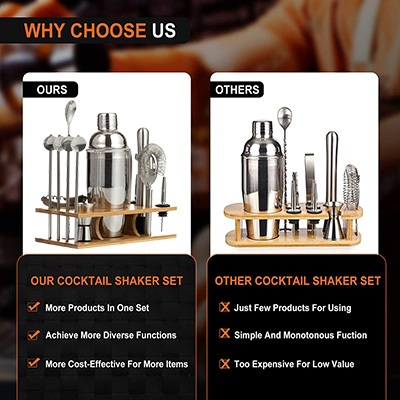 Advantages of 14-Piece Mixology Bartender Kit Drink Mixer Set With Bamboo Stand:
1. We offer customers the stylish and functional bartender kit to help them to make delicious drinks at home or any place.
2. The unique bamboo stand makes this pro bartender kit attractive towards guests or friends.
3. This 14-Piece Mixology Bartender Kit Drink Mixer Set contains the whole accessories, customers can be trained to become professional bartender.
4. The leak-proof shaker helps customers craft drinks smoothly and you don't care about the leak drinks from the bottle.
5. We use the best stainles steel to make the whole bartender kit which makes it away from scratches and rust all the time.
6. We also provide the best services for customers to let you enjoy shopping on Barhomevip website.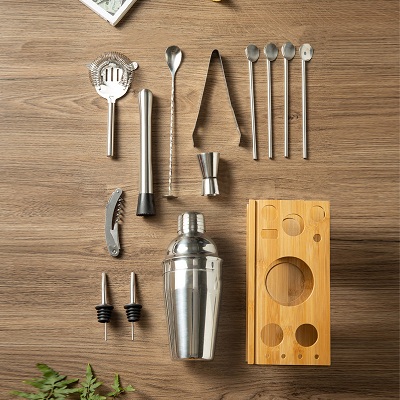 14 Piece Mixology Bartender Kit Drink Mixer Set With Bamboo Stand Includes:
1x Bamboo Stand
1x Muddler
1x Drinks Shaker(Select Available Shaker Volume: 25.3 oz /750ML, 18.6 oz/550ML, 11.8 oz/350ml).
2x Pourers
4x Straw Spoons
1x Strainer
1x Mixing Spoon
1x Corkscrew
1x Double Jigger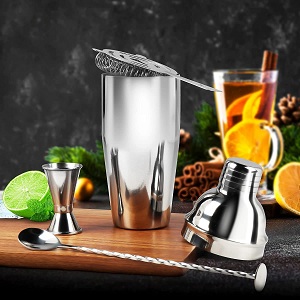 Executing a winning drinks takes equal parts bartending skills and high-quality tools. The 14 piece mixology kit takes care of the latter. Each piece of the kit is designed to help you craft drinks like a pro.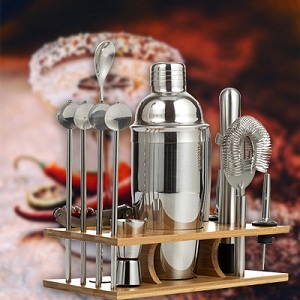 Forget the clutter of hiding your tools in the drawer. Stylish and sturdy, the bamboo display stand has convenient tool slots and a water-resistant finish that lets you proudly showcase your kit on any countertop or bar cart.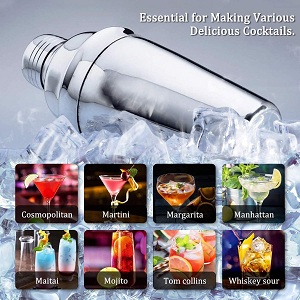 The stainless steel shaker lets you mix drinks without the mess. With a maximum capacity of 25.3 oz, it's large enough to make three drinks at once. Its leakproof design makes it perfect for professional bartending and entertaining.

THANKS FOR COMING TO Barhomevip
WRITE YOUR OWN REVIEW
YOU'RE REVIEWING: 14 Piece Mixology Bartender Kit Drink Mixer Set With Bamboo Stand
HOW DO YOU RATE THIS PRODUCT?
---
Kindle

08 Aug 2022

loved it so much

I think I'm a bartender now. I loved this set so easy to clean and fills atleast 3 martini glasses easy

Kristina McMahan

29 Jul 2022

Would definitely recommend

My boyfriend bought this a few weeks ago, and we've used it several times. These materials are made of high quality, and they're very easy to use.

heaeven olmedo

10 Jun 2022

Great for start up bar set

I got alot of compliments on this set.
You May Also Like 18 Piece Stainless Steel Bar Kit Drink Mixer Set

3 Review(s)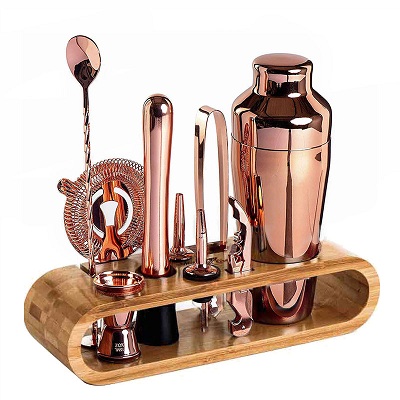 10 Piece Professional Bartender Kit Bar Tool Set (Copper)

3 Review(s) 11 Piece Bartender Kit Home Bar Tools Set

2 Review(s)