16 Piece Mixology Bartender Kit and Drink Shaker Set With Overlapping Bamboo Stand

3 reviews
VOLUME:
25.3 oz (750ML)

18.6 oz (550ML)

11.8 oz (350ML)
$ 43.99
All The Essential Tools: Become the bartender you've always wanted to be! With this 16-piece bartender set you'll have all the tools you need to succeed: 1 Bamboo Stand, 1 Drinks Shaker (Select Available Shaker Volume: 25.3 oz (750ML)/18.6 oz (550ML)/11.8 oz (350ML)), 1 Strainer, 1 Muddler, 1 Corkscrew,1 Mixing Spoon, 5 Fruits Needles, 3 Pourers, 1 Double Jigger, 1 Ice Tongs. The three-piece cobbler shaker with built-in strainer is easy to use, and the collection of bar tools is specially curated to enable you to perfect your mixology craft.

Dazzling Bar Set With Stand: This asymmetrical, overlapping bamboo bar tool stand not only organizes your tools, but also presents them in an easy-to-admire setting. Wow your guests with your assortment of elegant stainless steel bar tools.

Giftable Bar Kit: The perfect present for your favorite home bartender! This bar tool assortment is everything they need to get started - and get talented. Don't overspend on unnecessary, showy bar tools that just get in the way. Gift the bartender set that every amateur mixologist needs.

Elegant Organization: No more bar tool junk drawer, no more scratched bar tools! This one-of-a-kind overlapping bamboo bar stand organizes your bar supplies, keeping them clean, separate, and scratch-free. Never lose another tool! You'll always know exactly where to reach for your home bar tools, even when you're the middle of mixing up a pro drink.

Tough-As-Stainless-Steel Tools: Real mixologists don't use flimsy tools! Shake, mix, and pour with impressively durable drink tools. These bartender tools are built from SS304 silver stainless steel alloy. They're dishwasher-safe, heavily rust-resistant, and designed to last your entire amateur bar career.
Do you want to make delicious drinks by yourself in summer weekend?
Are you going to show your bartender skills with nice bartender bar tools?
Barhomevip provides the best bartender bar tools for customers who want to become pro bartenders in cheapest prices.
If you are looking for the desired bartender tools, please look through Barhomevip website carefully.

Why Do You Choose to Buy 16 Piece Stainless Steel Bar Kit Drink Set at Barhomevip?
1.There are few things people love more than a handcrafted drink! Wouldn't it be great to be able to make one for friends and family whenever you want? Well now you can with the barhomevip 16-piece bartender Shaker set with overlapping bamboo stand.
2. From bartender novices to professional bartenders, everyone will be able to appreciate the beauty, craftsmanship and utility of this sturdy bartender set. Comes with all the tools and drink-making instructions out of the box to get going! all you need is some ingredients and some guests to try out your creations on!
3. Made from premium stainless steel, this set will see you through many a party or drink-making session thanks to its extreme durability. Once you're finished, just throw everything in the dishwasher, then back on the beautifully arranged stand, where each tool has a specific resting place. Looks snazzy, works great! Bring those cocktail craftsman dreams to life with this deluxe cocktail set from barhomevip!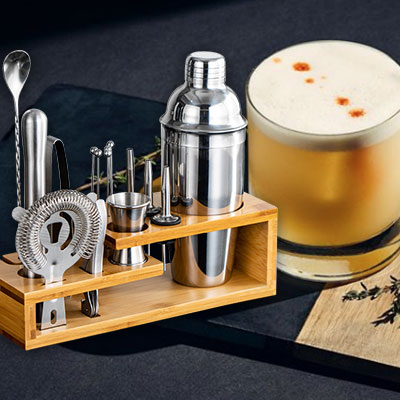 Barhomevip shows the whole accessories of 16 Piece Bartender Tools Kit in the following picture: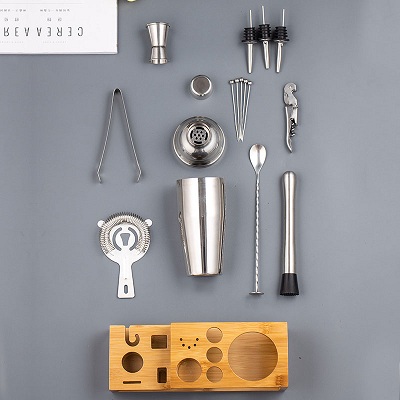 16 Piece Bartender Shaker Bar Tools Set Includes:
1x Overlapping Bamboo Stand
1x Drinks Shaker (Select Available Shaker Volume: 25.3 oz (750ML)/18.6 oz (550ML)/11.8 oz (350ML))
1x Corkscrew
1x Mixing Spoon
1x Strainer
5x Fruit Needles
3x Pourers
1x Double Jigger
1x Ice tongs
1x Muddler


Enhance Your Drinks Creation Process Now!
Step 1 - Using a jigger, you need to pour all the ingredients to the mixing section of the shaker.
Step 2 - Later add on the ice to the mixing section, it is done because ice makes the mixing section full up to 2 / 3 to 3/ 4 full
Step 3 - Before shaking you need to hold the top of the shaker with the palm of your hands and make sure it is tightly sealed by your hands.
Step 4 - Then hold the shaker in both the hands, one on top and other at the base. Shake the shaker for about 10 – 20 seconds.
Step 5 - Shaking the drink in the shaker makes all the ingredients to chill, dilute slightly so that they mix well together, and achieve a desired combination of taste and consistency.
Step 6 - Remove the lid and pour your drink through the strainer provided into the glass.

THANKS FOR COMING TO Barhomevip
WRITE YOUR OWN REVIEW
YOU'RE REVIEWING: 16 Piece Mixology Bartender Kit and Drink Shaker Set With Overlapping Bamboo Stand
HOW DO YOU RATE THIS PRODUCT?
---
Monica Walls

17 Aug 2022

Great gift

My husband loves using this.

Lydia C

01 Aug 2022

Good materials my friends like it

Good material quality, feels solid after twice of use. Good for friends gathering and make some drinks. I like the bamboo sorting rack.

St

06 May 2022
You May Also Like 11 Piece Bar Tools Bartender Kit With White Acrylic Stand

3 Review(s) 9 Piece Bartender Kit Bar Tool Shaker Set

3 Review(s)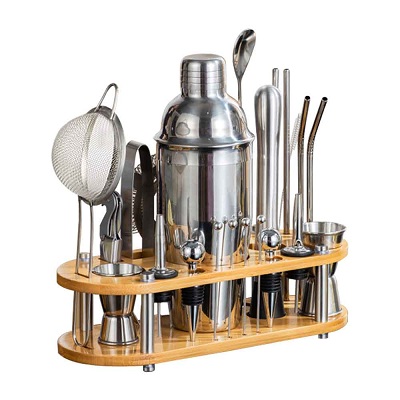 23 Piece Professional Bartender Kit Bar Tool Set

7 Review(s)