17 Pieces Lock Picking Set with 3 Transparent Practice Locks, Tools for Beginner and Locksmith Training

19 reviews
$ 21.99
Professional Kit: This lock kit contains everything you need to become a professional locksmith, including 12 Lock Picks, 3 transparent practice locks with Keys, 5 tension wrenches and 1 User guide.

Transparent Lock Design: Know exactly what your are doing during lock picking with the transparent padlock. See clearly how the mechanism works. It gives you indications for the techniques required for lock picking. Great for beginners and to learn lock picking!

High-quality & Safe: All picks are made of smooth and high quality stainless steel for a long time using, which will perfectly protect your finger from scratched. The handle is made of soft plastic which will let you feel comfort when you hold the tool.

Flexible Application: Different lock picking tools are enough to try different types of locks. Such as bicycle locks, houses, living room and room doors, padlocks, file cabinets and drawer locks.
17 Piece Lock Picking Set for Beginner and Locksmith Training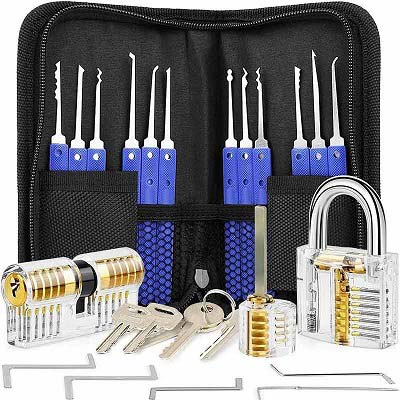 Multifunctional Lock Pick Set
: The 17-Piece Lock Pick Set perfect for new beginner, locksmith, amateur.This multifunctional set can improve your hands-on ability on Lockpicking.
This 17-Piece Lock Pick Set includes everything you need for Lock Pick Training:
17 Pieces Lock Pick Set, including 12 Lock Pick Tools and 5 Torque Wrench
3 Transparent Training Locks with Keys
1 Leather Bag for Carrying
1 User Manual of the Lock Set
How Lock Pick Tools Work in 17 Pieces Lock Picking Set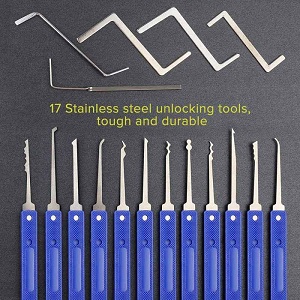 A Pick for Every Lock
This lock picking set includes every pick you could ever ask for. With all this wide variety, you'll be ready for any lock that comes your way.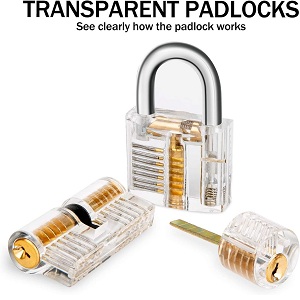 Learn to Use Transparent Locks
Understanding how locks work is essential before picking one. "Peek" inside the lock mechanism and see how everything works with our transparent padlock. It won't be long before you feel that incredible satisfaction as you pop it open before your eyes!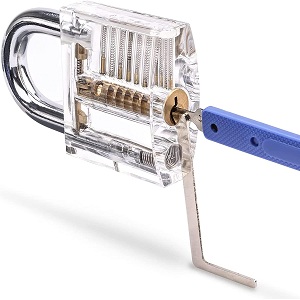 Use the Right Tool for Lockpicking
The Key to Lockpicking is using the right tool at first. You can try to experiment different tools in the lock pick set and familiar with the function of each tool. Then, you will be good at lockpicking through repeated practice.
4 Training Levels - Progress from Level 1 to Level 4 with Transparent Practice Locks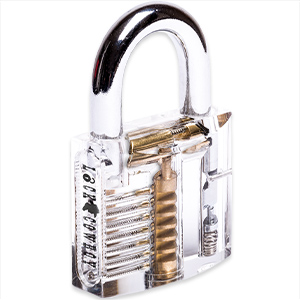 Level 1: Padlock
If you're a beginner, this transparent padlock is the best place to start. Designed specifically to help you understand how locks work, it will cut your training time in half!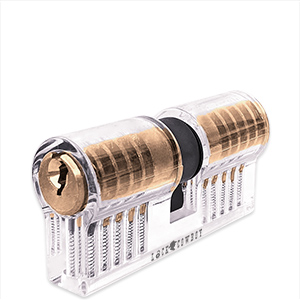 Level 2-3: Double-Sided Lock
The 2-in-1 door lock offers a double challenge. One side is harder than the other. With a similar design to most door locks, you'll no longer need a locksmith in case of emergency!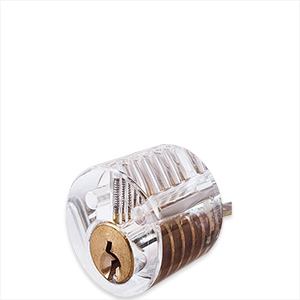 Level 4: Rim Cylinder Lock
Advance your lockpicking skills by practising on different types of locks. Most challenging of the 3, the rim cylinder lock will test your abilities. Open it and earn the right to call yourself a pro!

THANKS FOR COMING TO Barhomevip
WRITE YOUR OWN REVIEW
YOU'RE REVIEWING: 17 Pieces Lock Picking Set with 3 Transparent Practice Locks, Tools for Beginner and Locksmith Training
HOW DO YOU RATE THIS PRODUCT?
---
Tim GP

03 Mar 2023

good gift

I send this lock pick set as gift for my son. He is so happy to receive this good gift. Because he like lockpicking sports very much. Nice lock pick set.

Coxie

26 Feb 2023

useful lock pick set

This useful lock pick set is good for the beginners of lockpicking. I am the novice lockpicking learner. I like using these tools for learning picking locks.

andrew roscoe

12 Feb 2023

good product

These picks are well made and practice locks work well. They are good starter lock pick set for me.

Mike

03 Feb 2023

really good picks

I am looking for a good beginner lock pick set as lockpicking hobbyist. This lock pick set is suitable for me becasue of its cheap price. All picks and locks are well made.

Huw Skerratt

21 Jan 2023

nice picks and locks

This lock pick set contains useful picks and practice locks. I am happy to receive it and begin to start lockpicking with this lock pick set.

Pauline

13 Jan 2023

nice lock pick set

I like this lock pick set, high quality picks, clear practice locks. All tools are made of good material. They are easy to use and keep.

Michael Hartley

03 Jan 2023

Value for Money

I am attracted by this lock pick set in the cheap price. And as I get them, I find that these tools are also premium, as well as locks. Good lock pick set.

keith powell

21 Dec 2022

good value

This lock pick set is a good start lock pick set for me. I like using picks to open the practice locks.

Gemima

15 Dec 2022

good quality pick tools

This lock pick set is a good starter set for lockpicking beginners, like me. I believe I will become a good locksmith by mastering these tools.

Michael

09 Dec 2022

good lock pick tools

As I receive this lock pick set, I use pick tools to pick the practice locks. They perform well. I like them.
You May Also Like 7 Pin Dimple Cylinder Transparent Practice Lock

4 Review(s) Locksmith Tool Pliers Door Peephole Opener, Lock Pick Tool

1 Review(s)