2 Pieces Folding Lock Pick Set, Picks and Hooks Tool

13 reviews
$ 15.99
2 Pieces Folding Lock Pick Set: The set is a jackknife style lock pick tools. The set has 2 styles, one comes with basic lock entry tools plus Y tension wrench, another one comes with basic hook picks plus a turning tool.

High Quality Material: Wrenches and picks are made of high quality and smooth stainless steel, which is strong and durable and perfectly protects your fingers from scratching.

Useful and Portable Jackknife Picks: Portable & Convenient Keychain Cutout Hole, Durable, useful and portable for locksmiths or beginners. You can pick the right tool for any emergency situation.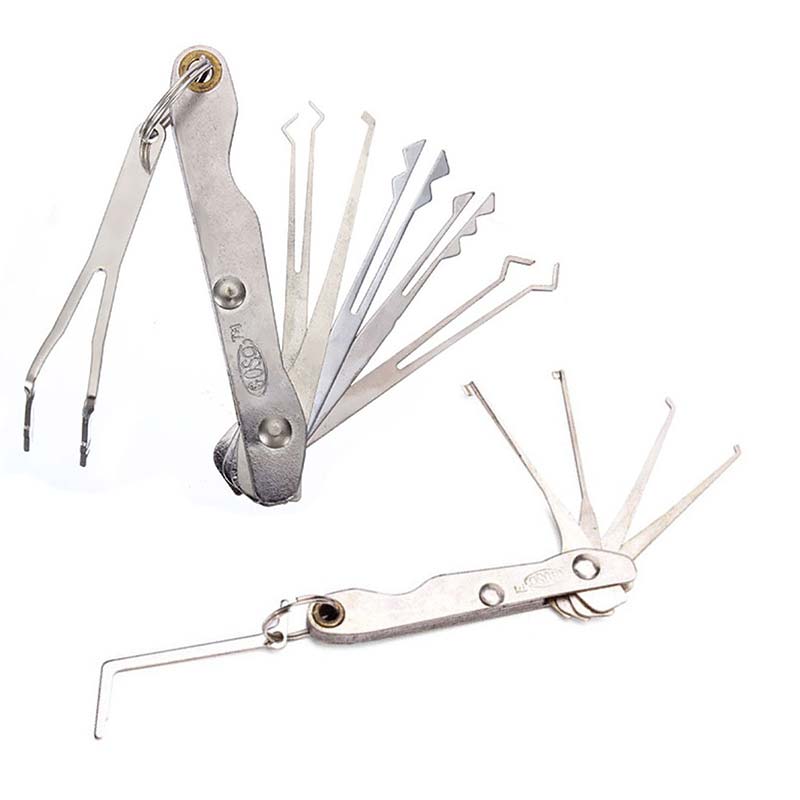 2 Pieces Folding Lock Pick Set, Picks and Hooks Tool with Y Tension Wrench and Turning Tool
Features:
Picks folding design, convenient to use. Different pick tools, meet different repairing needs.
Wonderful for hook style and scissors style locks. The hook picks tools can be used to lockpick dimple locks.
The lock pick set is very portable, very easy to carry, made of 100% high quality steel. And the set is very durable in using.
Perfect lock opener kit for professional and amateur.
This folding lock pick set is very perfect for locksmiths to enhance the professional skills.
THANKS FOR COMING TO Barhomevip
WRITE YOUR OWN REVIEW
YOU'RE REVIEWING: 2 Pieces Folding Lock Pick Set, Picks and Hooks Tool
HOW DO YOU RATE THIS PRODUCT?
---
Anna Randle

18 Aug 2023

useful tools

I'm amazed by the effectiveness of this folding lock pick set. The picks and hooks are versatile, and the folding design adds a layer of convenience that I didn't know I needed.

Miggy Holic

06 Aug 2023

portable lock picks

The 2 pieces folding lock pick set is incredibly handy. The compact design makes it perfect for carrying in my pocket, and the quality of the picks and hooks is impressive.

G. Lendrum

28 Jul 2023

nice tools

This folding lock pick set is a lifesaver for someone like me who's prone to lockouts. The picks and hooks are well-made, and the folding mechanism makes it easy to carry everywhere.

Roscov

19 Jul 2023

User-friendly

The folding lock pick set is a must-have for my lock picking toolkit. It's sturdy, compact, and the picks are precise.

Jimbob

09 Jul 2023

Durable lock pick set

Compact and versatile set. Fits easily in my pocket and has helped me out of lockout situations multiple times.

Ray Reeve

27 Jun 2023

Value for money

Convenient and portable. I can take this set anywhere and it has never let me down when I needed to open a lock.

Mark

17 Jun 2023

useful pick tool

A reliable companion for any locksmith. The picks and hooks in this set are well-made and have a comfortable grip.

H. Prude

27 May 2023

good tool

Great for beginners and experienced lock pickers alike. This set has a good variety of picks and hooks for different locks.

Brenton Marshall

22 May 2023

Well-designed

I appreciate the quality craftsmanship of this lock pick set. The folding mechanism is smooth and the picks are reliable.

Duncan

16 May 2023

useful lock pick

This set is perfect for hobbyists and professionals alike. It offers versatility and the picks and hooks are easy to use.