8 PCS Whiskey Stones, Stainless Steel Metal Ice Cubes, Reusable Whiskey Rocks
$ 19.99
PERFECT GIFTS - ANY OCCASION: Whiskey Gift Set for Men.Perfect Gifts for most of holidays such as birthday, Valentine's Day, Father's Day, Mother's Day, Thanksgiving, Halloween, Christmas, New Year, etc. Can be used at home, office and parties to enjoying relaxing time.

FOOD-GRADE MATERIAL: This whiskey stone is made of food-grade 304 stainless steel and glycerin, which can quickly can quickly cool beverages.The surface of the stainless steel ice cube is smooth, so it will not hurt the mouth and scratch the glass during use.Comes with a rubber-tipped ice tongs for easy gripping of stainless steel ice cubes.

CHILLING YOUR DRINKS & KEEP IT ORIGINAL: All of the whiskey rocks cools your wine, beer, bourbon drink without dilution, won't melt or impart any flavors to your drinks. These reusable metal ice cubes can hold your drink for a longer time much better than frozen water ice cubes in a tray.

EASY TO CLEAN AND STORE: you can choose to use plastic boxes or transparent bags to store metal ice cube ​into the freezer compartment of the refrigerator. Can chilled on your drink. It can also be put in an ice pack to bring down fever, and it can also be used for sports sprains that require cold compresses to help reduce swelling. Just rinse with clean water or wash in the dishwasher.

100% SATISFIED SERVICE: If you have any other questions when use our product, please feel free to contact our YAWALL TEAM without hesitation, we will contact you within 24 hours and give you a satisfactory result.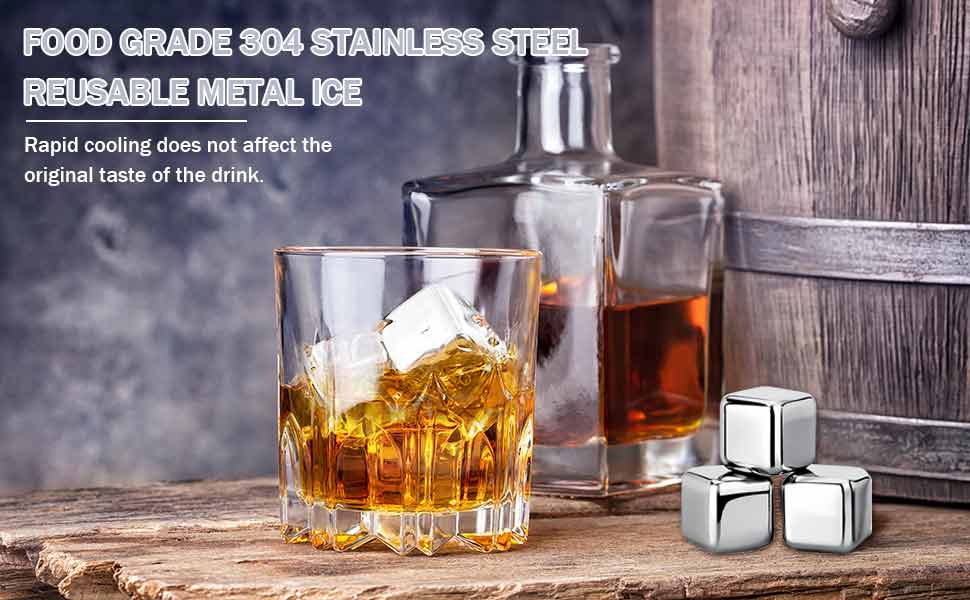 SAY GOODBYE TO TRADITIONAL ICE CUBES AND ENJOY THE ORIGINAL TASTE OF THE DRINK!
Keep the cool whiskey flavor and never worry about your drink being diluted by melting ice! Stainless steel ice cubes provide a long-lasting coolness to your beverage.
The stainless steel ice cube adopts the technology of laser seamless welding and mirror polishing, and the surface is smooth and delicate, and will not scratch the glass. It can be cleaned in a dishwasher, which is convenient and safe.
Reusable stainless steel ice cubes-modern cooling solutions.
The stainless steel ice cubes are packed in a food-grade plastic storage box, so you can easily put it in the refrigerator for storage. In addition, a pair of non-slip ice tongs are included in the package, which allows you to easily grasp stainless steel ice cubes and put them in the beverage.
DIRECTIONS OF USE
1. Wash the whiskey stones.
2. Freeze ice cubes for more than 4 hours before using.
3. Put 4 whiskey stones into your drink.
4. Several minutes later, drink & enjoy it! According to the capacity of drinks, add the corresponding number of whiskey stones pieces by yourself
Package included:
Metal ice cube*8
gift box
PP material storage box
non-slip ice tongs
THANKS FOR COMING TO Barhomevip
WRITE YOUR OWN REVIEW
YOU'RE REVIEWING: 8 PCS Whiskey Stones, Stainless Steel Metal Ice Cubes, Reusable Whiskey Rocks
HOW DO YOU RATE THIS PRODUCT?