Whiskey Stones Gift Set with Wooden Gift Box w/2 Twist Tumbler Glasses,8 Granite Scotch Rocks with Tongs
$ 29.99
Elegant Gift for the Man in Your Life - Whether it's father's day, a birthday or anniversary, our whiskey rocks are a perfect addition to your home bar. Add a bottle of his favorite Scotch or Bourbon to the set and straight up make his day.

Chill and Sip - Our whiskey set comes with 8 polished granite chilling rocks to keep your drink cool without watering it down with ice. The soft edges prevent scratching on the glasses. Pop them in the freezer and they'll be ice cold in a few hours!

High Quality, High Spirits - Our heavy 11oz glasses and premium granite whiskey stones help you savor and appreciate whiskey's unique flavors. Each set comes with tongs, 2 coasters, and a velvet pouch for the chilling rocks.

On the Rocks with a Twist - Whether you're a Scotch or Bourbon man, our twist tumblers are made for tasting the full flavor of your whiskey. Granite chilling stones keep your whiskey undiluted and cool while you sip and enjoy.

Old Fashioned Style - Raise a glass to the whiskey connoisseur in your life! Each whiskey gift set is packaged in a vintage style wooden box -- no need for gift wrapping! Twist glasses and sipping rocks cushioned safely inside.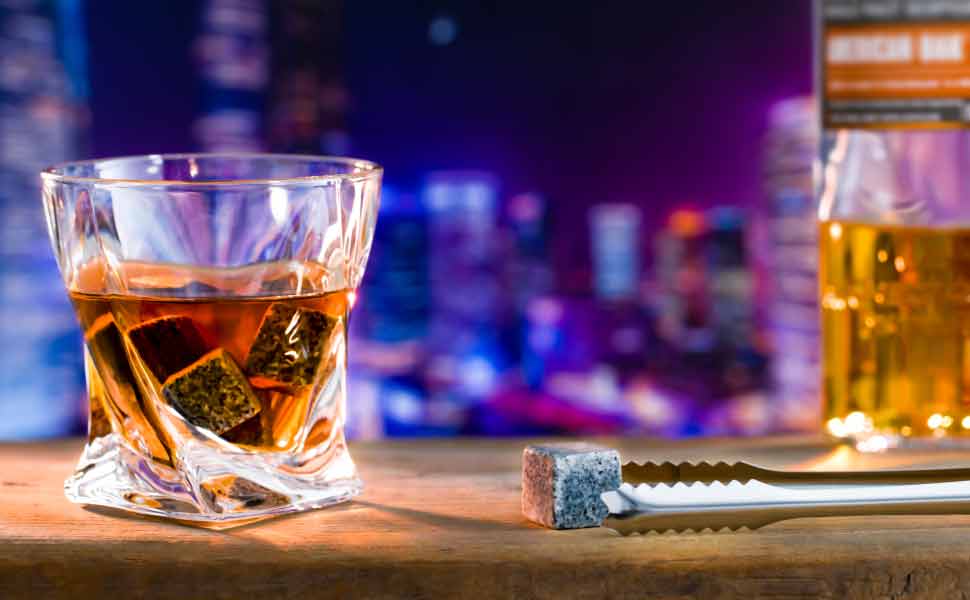 The perfect gift for any whiskey lover
This beautifully boxed wooden gift set has an impeccable presentation, but it's what's inside that's most impressive. Any whiskey enthusiast will appreciate this gift set that includes two full-sized whiskey glasses and 8 granite chilling rocks.
Keep the chill. Lose the water
If you like your whiskey cold, an ice cube used to be a necessary evil. Fortunately, these granite chilling rocks offer a way to keep your drink cool without watering it down. Pop them in the freezer in the included bag and they'll retain the freezing temperatures long enough for you to sip your whiskey. The included bag helps keep other flavors and freezer odors from getting to your rocks.
Add a little fun to your drink
Yes, there's a bit of novelty in the fact that you're including actual rocks instead of ice to your drink, but that's a major part of the appeal. Whiskey "on the rocks" never looked or tasted this good!
Be a gift-giving hero! Perfect gift for any dad, or that special man in your life!
Don't wait for father's day to get dad the perfect gift!
Whether you're buying for an occasion or just to show you care, this Whiskey set is sure to put a smile on that special persons face.
THANKS FOR COMING TO Barhomevip
WRITE YOUR OWN REVIEW
YOU'RE REVIEWING: Whiskey Stones Gift Set with Wooden Gift Box w/2 Twist Tumbler Glasses,8 Granite Scotch Rocks with Tongs
HOW DO YOU RATE THIS PRODUCT?