Ice Tongs Stainless Steel with Sharp Teeth Make Grabbing Ice Easy For Bartender
$ 6.99
Multi-purpose Ice tongs: The ice tongs is suitable for sugar cube, ice cube, lemon slice, jelly, cookie, marshmallows, shredded cheese, grated carrots, crescent rolls, , soft cheese or pickle slices, etc

Reliable to use: the ice tongs is easy to handle, can be washed by dishwasher, hand washing is recommended, simple appearance with no redundant annoying decoration.

Perfect Grip Teeth: With the sawteeth of edge for tightly clamping, you can easily grip up a slippery and wet ice cube firmly. Also, you can use them as sugar tongs or food serving tongs which are functional.

Sturdy material: the ice tongs are made of 304 stainless steel, the edges are sharp teeth, don't worry about rusting and tarnishing, can be applied for a long time

Reasonable design: very simple design with nice finishing handle which is easy to pick up sugar, appetizers or other things, the handle is flexible, you can adjust the width easily to pick up the things you want.
Are you looking for a good ice tongs in your bartender tools? You can take a look about this good stainless steel ice tongs at Barhomevip!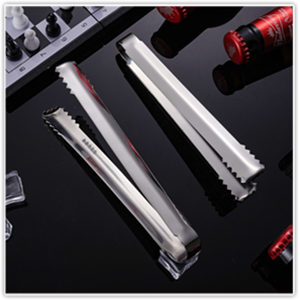 Best Stainless Steel Material
Our ice tong is made of (304) rust-free stainless steel for premium construction and unbeatable strength, sturdy, lasts for years of using and easy to handle.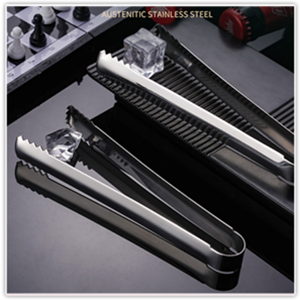 Smmoth Edge
Beautifully mirror-polished and no rough spots will add more luxury and ensure injury-free. With simple appearance, it's easy to clean and dishwasher-safe.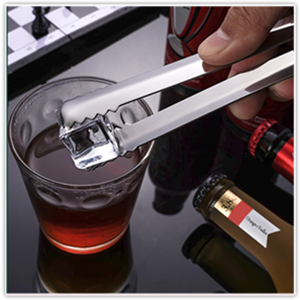 Sharp Grip Teeth
Specially designed with the saw teeth on edge at the end for tightly clamping, pretty easily grip up a slippery and wet ice cube firmly or the things you want.
Nice Using Tips
Please wash ice tongs with warm soapy water before fist use to wash off any residue left from the manufacturing process.
Please clean and dry ice tongs after use for healthy daily use, store in dry place for its durability.
THANKS FOR COMING TO Barhomevip
WRITE YOUR OWN REVIEW
YOU'RE REVIEWING: Ice Tongs Stainless Steel with Sharp Teeth Make Grabbing Ice Easy For Bartender
HOW DO YOU RATE THIS PRODUCT?