Jackknife Pocket Lock Pick Set, Portable Folding Lockpick Tool

2 reviews
$ 11.99
The Jackknife Lock Pick Tool includes: 6 tools and 1 built in removable tension.

Jackknife Lock Pick Set: This Lock Pick Set is designed for portability, quality and function in one sleek, self-contained tool.

Comfortable Handles: The Jackknife Lock Pick Set features a lightweight and durable precision-machined stainless steel handle. Our new handles, been run through our signature finishing process for rounded, smooth edges.

Locking O-ring: This Jackknife Lock Pick Set features U.S. stainless steel lock picks, knurled stainless steel screw with locking o-ring, and a stainless tension tool, which slides into the handle for a sleek, compact fit.

Learn to pop your first lock! Discover the mechanisms in everyday objects, a great tool for the practically minded!
Jackknife Pocket Lock Pick Set, 7-in-1 Locksmith Kit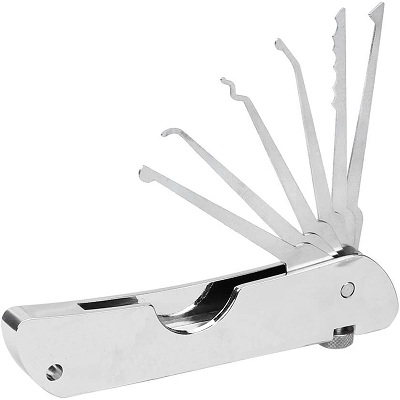 Stainless Steel Material, 7 in 1 folding design, convenient to use.
7 different pick tools, meet different repairing needs. Perfect lock opener kit for professional and amateur.
This lock opener kit is very perfect for locksmith to enhance the professional skills in emergency situation.
The Jackknife Folding Lock Pick Set includes:
Half Diamond Pick
Half Single Ball Pick
Snake Rake Pick
Long Hook Pick
Short Hook Pick
Rapter Pick
Thick Tension Wrench
Also includes a stainless steel screw.
Advantages of Jackknife Pocket Locksmith Tool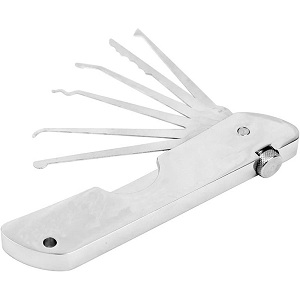 Lightweight Stainless Steel Handle
The lightweight handle of Jackknife Lock Pick Set allows you to pick a lock without stress. The handle is also strong and stable.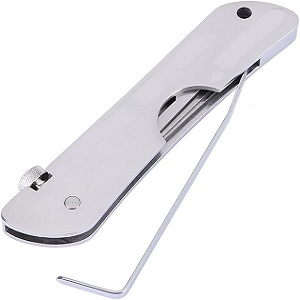 Thick Tension Wrench
The extra thick tension wrench will help you a lot when you are facing the difficult lock to pick in emergency situation.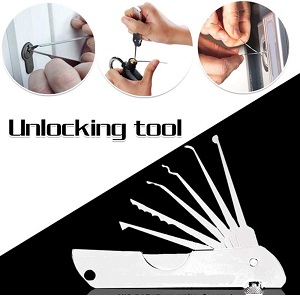 Portable Locksmith Tool for Any Lock
With this portable locksmith tool, you have access to lockpick any locks if you have mastered relevant Locksmith skills.
THANKS FOR COMING TO Barhomevip
WRITE YOUR OWN REVIEW
YOU'RE REVIEWING: Jackknife Pocket Lock Pick Set, Portable Folding Lockpick Tool
HOW DO YOU RATE THIS PRODUCT?
---
Mark Allen

15 Aug 2022

good pocket pick tool

I like this jackknife lock pick tool. It is portable for me. I can carry it in my bag and use it to pick locks casually.

Terry Wirral

26 Jul 2022

Good Lock Pick Tool

Good quality well engineered. as soon as it arrived I began to pick locks and it did just that. It is a really good lock pick tool for me to start learning to lockpick.