Jackknife Pocket Lock Pick Set, Portable Folding Lockpick Tool

34 reviews
$ 11.99
The Jackknife Lock Pick Tool includes: 6 tools and 1 built in removable tension.

Jackknife Lock Pick Set: This Lock Pick Set is designed for portability, quality and function in one sleek, self-contained tool.

Comfortable Handles: The Jackknife Lock Pick Set features a lightweight and durable precision-machined stainless steel handle. Our new handles, been run through our signature finishing process for rounded, smooth edges.

Locking O-ring: This Jackknife Lock Pick Set features U.S. stainless steel lock picks, knurled stainless steel screw with locking o-ring, and a stainless tension tool, which slides into the handle for a sleek, compact fit.

Learn to pop your first lock! Discover the mechanisms in everyday objects, a great tool for the practically minded!
Jackknife Pocket Lock Pick Set, 7-in-1 Locksmith Kit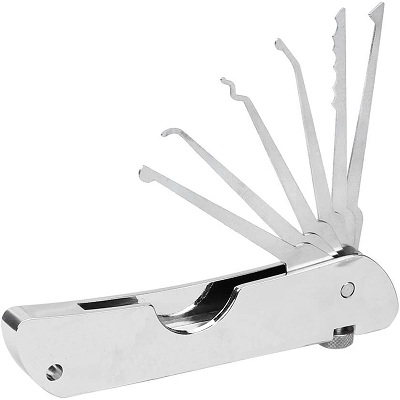 Stainless Steel Material, 7 in 1 folding design, convenient to use.
7 different pick tools, meet different repairing needs. Perfect lock opener kit for professional and amateur.
This lock opener kit is very perfect for locksmith to enhance the professional skills in emergency situation.
The Jackknife Folding Lock Pick Set includes:
Half Diamond Pick
Half Single Ball Pick
Snake Rake Pick
Long Hook Pick
Short Hook Pick
Rapter Pick
Thick Tension Wrench
Also includes a stainless steel screw.
Advantages of Jackknife Pocket Locksmith Tool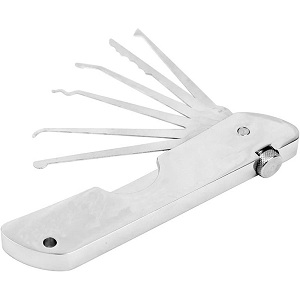 Lightweight Stainless Steel Handle
The lightweight handle of Jackknife Lock Pick Set allows you to pick a lock without stress. The handle is also strong and stable.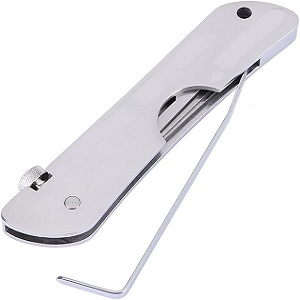 Thick Tension Wrench
The extra thick tension wrench will help you a lot when you are facing the difficult lock to pick in emergency situation.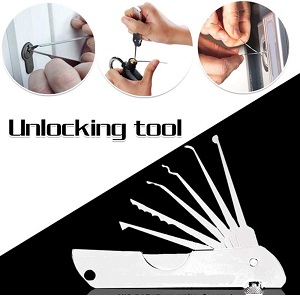 Portable Locksmith Tool for Any Lock
With this portable locksmith tool, you have access to lockpick any locks if you have mastered relevant Locksmith skills.
THANKS FOR COMING TO Barhomevip
WRITE YOUR OWN REVIEW
YOU'RE REVIEWING: Jackknife Pocket Lock Pick Set, Portable Folding Lockpick Tool
HOW DO YOU RATE THIS PRODUCT?
---
M. J. OConnor

24 Sep 2023

Easy to use

I've tried a few lock pick sets, but this one stands out. The folding feature is a game-changer for me. It's reliable and a must-have for any locksmith.

Michele Maria

17 Sep 2023

Well-designed lock pick

I'm new to lock picking, and this tool is a great entry point. It's compact, easy to carry, and the folding design keeps everything organized. A fantastic tool for beginners.

Will

07 Sep 2023

Value for money

This jackknife lock pick set is incredibly convenient. It folds up neatly and is perfect for my on-the-go locksmithing needs. It's versatile and gets the job done efficiently.

Darren Thompson

24 Aug 2023

Precise lock pick

It is a convenient and effective tool. The folding mechanism keeps the picks organized and protected, and the quality of the picks is impressive. I'm very satisfied with this set.

IAN JOHN

15 Aug 2023

User-friendly lock pick

This tool has made lockpicking more accessible than ever. Its folding design and quality picks provide excellent performance. It's a great tool for beginners and experienced lockpickers alike.

Keaton

05 Aug 2023

Versatile tool

The jackknife pocket lock pick set is a game-changer. Its folding design ensures that the picks are protected when not in use, and they are easily accessible when needed. An excellent tool for lockpicking enthusiasts.

Vee

22 Jul 2023

Premium quality

I'm amazed at how versatile the jackknife pocket lock pick set is. The folding design makes it convenient to carry, and the picks are well-made and effective. A reliable tool for any lockpicking enthusiast.

Christophe

18 Jul 2023

Must-have

The jackknife pocket lock pick set is a lifesaver. Its compact design makes it easy to carry, and the folding feature keeps the picks protected. It's my go-to tool for on-the-go lockpicking.

Carson

11 Jul 2023

good tool

The jackknife pocket lock pick set is perfect for travel or emergencies. Its compact size and folding mechanism make it a convenient tool to have on hand. It has saved me from lockouts multiple times.

Niamh

03 Jul 2023

good quality

I've tried several lockpick sets, but the jackknife pocket lock pick set stands out for its convenience and functionality. The folding design keeps the picks secure and makes it easy to access the right tool for the job.
You May Also Like 3 Pieces Adjustable Cross Picks Set, Locksmith Pick Tools

9 Review(s)