Lishi AM5 2 in 1 Pick and Decoder Tool for American Lock Padlocks

1 reviews
$ 66.99
Lishi AM5 Pick and Decoder Tool is a combination picking, tensioning, and decoding tool all in one. The graduated lines on the side of the tool make pick tip placement as easy as it gets. Once a lock is opened, the Lishi tool can be used to quickly decode the bitting values of the key that would open the lock.

Features:
Type: 2-in1 Pick & Decoder Tool
Keyway: AM5
Tool Spaces: 1-6
Pins: 6-Pin
Anti-Glare: Yes
Lishi AM5 2-in-1 Pick and Decoder Tool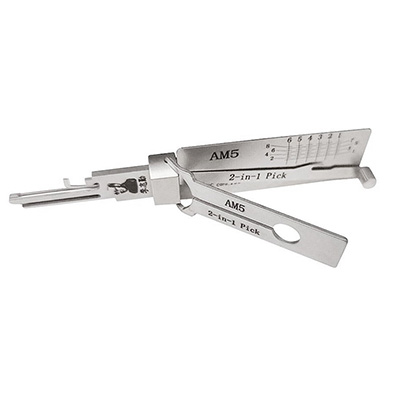 Lishi AM5 Pick and Decoder Tool allows the picker to manipulate individual pins/tumblers within a specific keyway. Once the pin is set, the depth can be read and decoded using the depth gauge printed on the tool. This version is compatible with American Padlock AM5 keyways.

The Lishi American Lock (AM5) pin cylinder lock pick has changed the way we pick locks. This tools will work on any AM5 American Lock 6 pin Profile even with security pins, and it will not only pick - but also decode your locks.
THANKS FOR COMING TO Barhomevip
WRITE YOUR OWN REVIEW
YOU'RE REVIEWING: Lishi AM5 2 in 1 Pick and Decoder Tool for American Lock Padlocks
HOW DO YOU RATE THIS PRODUCT?
---
Julie H

20 Oct 2022

good lishi am5 pick tool

The lishi am5 pick tool is a useful tool, which helps me deal with the problem of my home lock easily. A well made pick tool as well.
You May Also Like Lishi KW1 2 in 1 Decoder and Pick Tool for Kwikset KW1 5 Pin Keyway Locks

3 Review(s) Lishi SC4 2 in 1 Pick Decoder Locksmith Tool for SC, 6 Pin Keyway Locks

4 Review(s)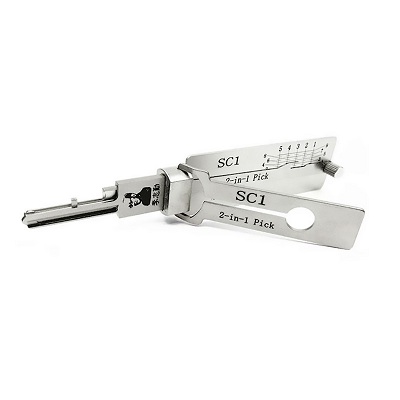 Lishi SC1 2 in 1 Pick Decoder Tool for SC, 5 Pin Keyway Locks

6 Review(s)