Lishi AM5 2 in 1 Pick and Decoder Tool for American Lock Padlocks

9 reviews
$ 66.99
Lishi AM5 Pick and Decoder Tool is a combination picking, tensioning, and decoding tool all in one. The graduated lines on the side of the tool make pick tip placement as easy as it gets. Once a lock is opened, the Lishi tool can be used to quickly decode the bitting values of the key that would open the lock.

Specifications:
Type: 2-in1 Pick & Decoder Tool
Keyway: AM5
Tool Spaces: 1-6
Pins: 6-Pin
Anti-Glare: Yes
Lishi AM5 2-in-1 Pick and Decoder Tool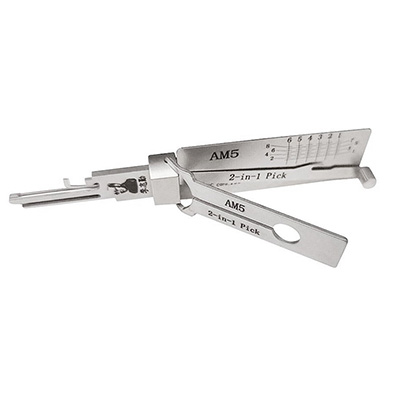 Lishi AM5 Pick and Decoder Tool allows the picker to manipulate individual pins/tumblers within a specific keyway. Once the pin is set, the depth can be read and decoded using the depth gauge printed on the tool. This version is compatible with American Padlock AM5 keyways.

The Lishi American Lock (AM5) pin cylinder lock pick has changed the way we pick locks. This tools will work on any AM5 American Lock 6 pin Profile even with security pins, and it will not only pick - but also decode your locks.
THANKS FOR COMING TO Barhomevip
WRITE YOUR OWN REVIEW
YOU'RE REVIEWING: Lishi AM5 2 in 1 Pick and Decoder Tool for American Lock Padlocks
HOW DO YOU RATE THIS PRODUCT?
---
Jamie

21 Jun 2023

good product

The Lishi AM5 pick tool has become an essential tool for my locksmithing business. It's reliable, easy to use, and has helped me tackle a variety of American Lock padlocks effortlessly.

Liam

19 May 2023

good lishi tool

I'm amazed at how well the Lishi AM5 pick tool works on American Lock padlocks. The pick is precise, and the decoder helps me quickly determine the lock's pinning. It's an invaluable tool in my kit.

Paul Pexton

09 Apr 2023

good lishi pick

I've been using the Lishi AM5 pick tool for a while now, and I'm impressed with its performance. It's a reliable tool that has made my work on American Lock padlocks much more efficient.

Kirsten

16 Mar 2023

good quality

This lishi am5 pick and decoder tool is well-made. It becomes the necessary tool when I am picking home door lock.

Kelsey Dea

09 Feb 2023

useful lishi am5

I am looking for this lishi am5 pick tool. It is good for me to get this tool in this cheap price.

Heather Dufour

14 Jan 2023

value for money

This lishi am5 pick tool is a useful tool for pick home door locks. Easy to use. Durable and strong tool.

Michaela

16 Dec 2022

good product

I need lishi am5 pick and decoder tool to pick door locks. After training, I know how to pick locks with this tool.

Miss Becka

17 Nov 2022

good lishi pick tool

The lishi am5 pick tool is made of premium stainless steel. After practice, I master the skill of using it.

Julie H

20 Oct 2022

good lishi am5 pick tool

The lishi am5 pick tool is a useful tool, which helps me deal with the problem of my home lock easily. A well made pick tool as well.
You May Also Like Lishi SS001 2-in-1 Pick and Decoder Tool, House Door Lock Opener Auto Tool

9 Review(s) Lishi M1/MS2 2 in 1 Pick and Decoder Tool for Master Locks padlocks M1/MS2 Keyway

10 Review(s)