Lishi FO38 2 in 1 Decoder and Pick, Auto Locksmith Tool

7 reviews
$ 33.99
Lishi FO38 2-in-1 Locksmith Tool: It is a stainless steel automatic unlocking tool that is designed to pick and decode vehicles door locks.

Premium Stainless Steel: Lishi Lock Pick is made of quality stainless steel. Wear-resistant, anti-scratch, you can use it for a long time.

Specifications:
Type: 2-in-1 Pick & Decoder Tool
Keyway: H75 / FO38
Cross Reference: FO-15D, 1196FD, 597638
For: Ignition, Door, & Trunk
Tool Spaces: 1-8
Anti-Glare: Yes
Lishi FO38 2 in 1 Decoder and Pick is an auto locksmith tool which is designed to pick and decode auto door locks and trunks. And it is also a perfect choice for professional locksmith to use because the job can be easily completed with it in a short time.
Vehicles can be unlocked with Lishi FO38 2 in 1 Decoder and Pick:
Ford
Cobra 1996-1997
Crown Victoria 1997-2012
Edge 2007-2015
Escape 2001-2012
Five Hundred 2005-2008
Flex 2009-2017
Focus 2000-2011
Freestyle 2005-2007
Fusion 2006-2012
Mustang 1996-2014
Taurus 1996-2017
Thunderbird 1996-2005
E-Series Econoline 1997-2017
Aerostar 1996-1997
Excursion 2000-2006
Expedition 1997-2017
Explorer 1996-2015
F-150 1997-2014
F-250, F-350, F-450 1997-2016
Freestar 2004-2007
Ranger 1997-2012
Windstar 1997-2003
Lincoln
Aviator 2003-2007
Blackwood 2002
Continental 1997-2002
LS 2000-2006
Mark LT 2006-2014
Mark Series 1997-1998
Mks 2009-2016
Mkt 2010-2017
Mkx 2007-2015
Mkz 2007-2012
Navigator 1998-2017
Town Car 1997-2012
Zephyr 2006-2009
Mazda
Tribute 2001-2011
B-Series 1999-2009
Mercury
Grand Marquis 1997-2011
Marauder 2003-2005
Mariner 2005-2011
Milan 2006-2011
Montego 2005-2008
Sable 1996-2009
Monterey 2004-2007
Mountaineer 1997-2011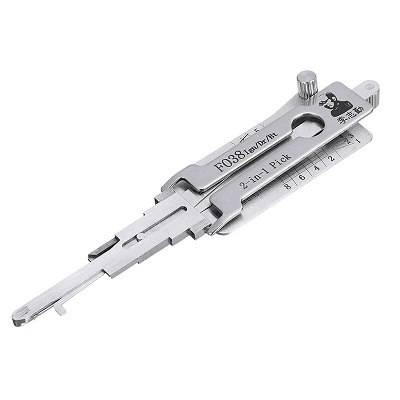 THANKS FOR COMING TO Barhomevip
WRITE YOUR OWN REVIEW
YOU'RE REVIEWING: Lishi FO38 2 in 1 Decoder and Pick, Auto Locksmith Tool
HOW DO YOU RATE THIS PRODUCT?
---
lena

09 Mar 2023

nice fo38 pick tool

The lishi fo38 pick and decoder tool is a good pick. Made of good material. Easy to use. Good pick as well.

Daniela Gomez

12 Feb 2023

useful lishi fo38 pick

I need lishi fo38 pick to open my car door lock. This tool is good and easy to use. Good lockpicking tool.

Zoe OConnor

10 Jan 2023

good item

I like this lishi fo38 pick and decoder tool. Good quality. It is easy to use for picking car door locks.

Gary Dutton

09 Dec 2022

good lishi fo38 pick tool

Lishi FO38 pick tool is a useful and well-designed auto locksmith tool. I like using it to pick the car locks.

Adam

14 Nov 2022

Good lishi fo38 decoder tool

I use Lishi fo38 pick tool to pick my car door locks because I lost my car keys. This tool is not difficult to use.

Barry

15 Oct 2022

good lishi decoder tool

I am happy to receive the lishi fo38 decoder tool. This pick tool is so strong and made of good material. I can use this tool to pick my car locks easily.

Adam Rusek

27 Sep 2022

useful lishi pick tool

When I receive the lish fo38 pick tool, I use it to pick my car lock. Although it takes me some time to figure out how to operate this tool, I make it in the end. I have learned how to pick my car lock with lish fo38 tool.
You May Also Like Lishi 2-in-1 Carry Bag, Locksmith Tools Storage Bag

6 Review(s)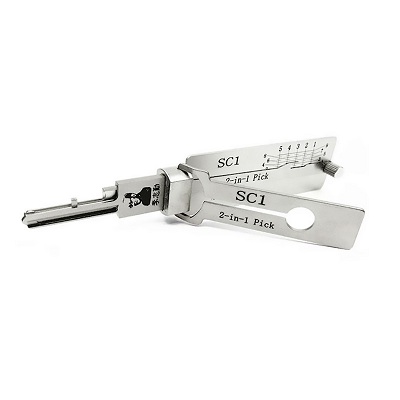 Lishi SC1 2 in 1 Pick Decoder Tool for SC, 5 Pin Keyway Locks

13 Review(s) Lishi TOY40 2-In-1 Pick And Decoder Tool For Toyota, Lexus

2 Review(s)