Lishi MIT8 (GM15) 2-in-1 Pick and Decoder Tool, Locksmith Auto Lockpick Tool

6 reviews
$ 39.99
Lishi MIT8 (GM15) is a stainless steel automatic unlocking tool that is designed to pick and decode auto ignition locks. Meanwhile, it is also a good choice for a professional locksmith to use because the job can be easily completed within 3 minutes.



Specifications:

Type: 2-in-1 Pick & Decoder Tool

Keyway: MIT8

Cross Reference: MIT1, MIT-7, X176

For: Ignition

Tool Spaces: 1-8
Lishi MIT8 (GM15) Auto Pick Tool is a good tool for locksmiths to lockpick various car door locks. It allows the precision of pick placement and movement without the practice and building of muscle memory. Each Lishi locksmith tool combines a keyway-specific molded pick channel, along with a single hook-pick lever, tension bar.

Applicable Brands of Vehicles:

Acura, Audi, Buick, Caddillac
Chery, Chevrolet, Chrysler, Citroen
Fiat, Ford, GMC, Hyundai
Infiniti, Jeep, Kia, Lexus
Lincoln, Mazda, Mercedes
Mitsubishi, Nissan, Opel, Peugeot
Renault, Seat, Skoda, Subaru
Suzuki, VW and Volvo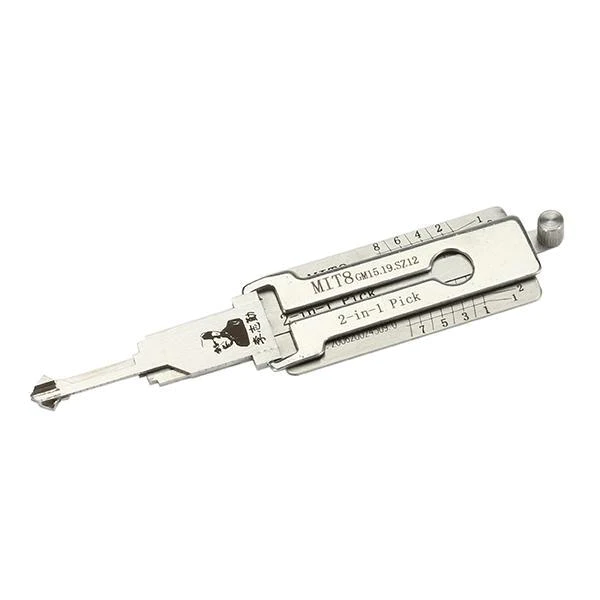 THANKS FOR COMING TO Barhomevip
WRITE YOUR OWN REVIEW
YOU'RE REVIEWING: Lishi MIT8 (GM15) 2-in-1 Pick and Decoder Tool, Locksmith Auto Lockpick Tool
HOW DO YOU RATE THIS PRODUCT?
---
Maya Frank

24 Mar 2023

value for money

this lishi mit8 pick and decoder tool is useful tool for picking auto car locks. This tool is made of good material as well.

Leslie

06 Feb 2023

great value

Nice lishi mit8 pick and decoder tool. I am glad to use this tool for picking my car door lock. While, it still needs lots of practice.

Kris B

18 Jan 2023

good product

I am an auto locksmith and I like using lishi mit8 pick tool for lockpicking. Well-made auto pick tool.

Scott Green

08 Dec 2022

great value

This lishi mit8 lock pick tool is a good pick that can be used to pick my car locks. Easy to use.

Diva

20 Nov 2022

good lishi MIT 8 Pick

Lishi MIT8 is a good lock pick tool, which can be used to pick various car brands locks. A good tool for me.

Jason

19 Oct 2022

nice lishi MIT8 tool

I find the lishi MIT8 tool is a good tool to pick different car locks. However, the difficulty of lockpicking is according to your car locks.