Lishi NSN14 2-in-1 Pick and Decoder Tool, Locksmith Auto Tool

4 reviews
$ 32.99
Lishi NSN14 Pick and Decoder Tool is a stainless steel automatic unlocking tool that is designed to pick and decode auto door locks. Locksmiths can use Lishi NSN14 to unlock Nissan car door locks easily.



Specifications:

Type: 2-in-1 Pick & Decoder Tool

Keyway: NSN14

Cross Reference: DA34, SUB1, X237, DAT-15

For: Ignition, Door, Trunk

Tool Spaces: 1-10
Lishi NSN14 Auto Pick Tool is a very powerful tool for locksmiths to lockpick Nissan car door locks. Allows the precision of pick placement and movement without the practice and building of muscle memory. Each Lishi locksmith tool combines a keyway-specific molded pick channel, along with a single hook-pick lever, tension bar.

The Following Vehicles Can be Unlocked With This Opener:
NISSAN:
Almera
Almera Tino
Micra (From 2007)
Navara
Note
Patrol
Primera (1997 Onwards)
Pulsar
Qashqai
Tino
Xterra
Xtrail
Primstar (2002 Onwards)
SUBARU:
89 Tribeca
Forester
Impreza
Legacy (1998 To 2003)
Outback (2003 To 2004)
WRX
INFINITI:
FX35 (2003 Onwards)
FX45 (2003 Onwards)
G20 (1999 Onwards)
G35 (2003 Onwards)
I30 (2000 Onwards)
M35 (2003 To 2006)
M45 (2003 To 2006)
Q45 (1997 Onwards)
Q45 (2002 Onwards)
QX4 (1997 To 2000)
QX4 (2001 Onwards)
Q56 (2004 Onwards)
SUBURU USA:
B9 Tribeca (2006 To 2008)
Forester (2005 To 2007)
Forester Xt (2008 Onwards)
Imprezza (2005 Onwards)
Legacy (2005 To 2008) 2005 To 2008
Outback (2005 To 2008)
NISSAN USA:
350Z (2005 To 2008)
Altima (2000 To 2006)
Armada (2004 To 2008)
Frontier (2002 To 2007)
Maxima (2002 To 2006)
Murano (2000 To 2007)
Pathfinder (1999 To 2008)
Quest (2004 To 2008)
Rogue (2008 To 2009)
Sentra (2000 To 2008)
Stanza (2000 To 2008)
Titan (2004 To 2007)
Versa (2007 To 2008)
X-Terra (2002 To 2008)
SUZUKI:
Equator from 2009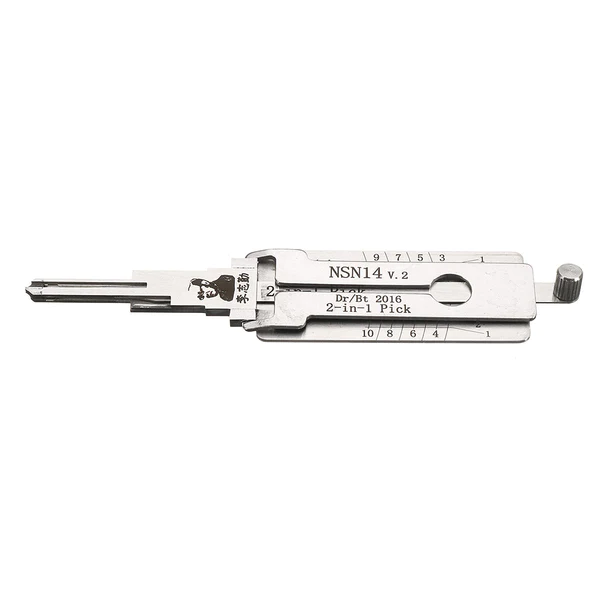 THANKS FOR COMING TO Barhomevip
WRITE YOUR OWN REVIEW
YOU'RE REVIEWING: Lishi NSN14 2-in-1 Pick and Decoder Tool, Locksmith Auto Tool
HOW DO YOU RATE THIS PRODUCT?
---
Douglas Del Tondo

08 Mar 2023

good lishi auto tool

I've been using the Lishi auto lock pick tool for a while now, and it hasn't disappointed me. It's a high-quality tool that delivers consistent performance. Worth the investment.

Sherry Zumbuhl

12 Feb 2023

good lishi pick tool

The Lishi auto lock pick tool is beginner-friendly. It's intuitive to use, and with a bit of practice, I was able to pick locks successfully. Great tool for beginners.

Lesley

13 Jan 2023

useful lishi auto pick

I was skeptical at first, but the Lishi auto lock pick tool exceeded my expectations. It's incredibly accurate, and I've been able to open locks smoothly. Impressed!

Porsha

20 Dec 2022

Good Lishi Pick Tool

I have received this good lishi nsn14 pick tool, which helps me pick my car lock easily. This tool is well made as well.
You May Also Like Lishi AM5 2 in 1 Pick and Decoder Tool for American Lock Padlocks

14 Review(s) Lishi SC1 SC4 KW1 KW5 Pick and Decoder Tools Set, Auto Locksmith Tool

13 Review(s)