Lishi SC4 2 in 1 Pick Decoder Locksmith Tool for SC, 6 Pin Keyway Locks

12 reviews
$ 52.99
Lishi SC4 2-in-1 Locksmith Tool: It is a stainless steel automatic unlocking tool that is designed to pick and decode residential door locks.

For 6 Pin Schlage Locks: Revolutionary design, pick and decode SC4 6-pin, and picks locks with spool pins.

Premium Stainless Steel Material: Lishi Lock Pick is made of quality stainless steel. Wear-resistant, anti-scratch, you can use it for a long time.

Clear Tooth Line and Tooth Depth Line: The tooth depth lines and tooth lines in Lishi Lock Pick will help you decode easily and accurately.
Lishi SC4 2-in-1 Pick Decoder Locksmith Tool for 6 Pin Schlage Locks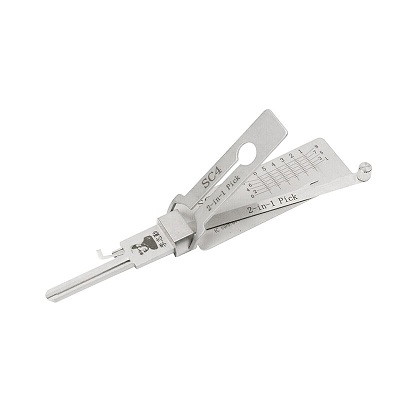 The Lishi SC4 Pick Decoder Locksmith Tool is a stainless steel automatic unlocking tool that used to pick and decode 6-pin schlage locks or pick locks with spool pins.
Specifications:
Type: SC4 2-in-1 Pick & Decoder Tool
Keyway: SC4 / 6-Cut
Cross Reference: S5, 1145A, SEL91
For: Residential Door
Tool Spaces: 1-6
Anti-Glare: Yes
THANKS FOR COMING TO Barhomevip
WRITE YOUR OWN REVIEW
YOU'RE REVIEWING: Lishi SC4 2 in 1 Pick Decoder Locksmith Tool for SC, 6 Pin Keyway Locks
HOW DO YOU RATE THIS PRODUCT?
---
Aristotole

13 Aug 2023

good product

Locksmithing requires precision, and the Lishi SC4 pick decoder tool delivers. It's versatile, easy to use, and the decoder feature is an added advantage.

Ollie

19 Jul 2023

nice lishi tool

I'm a professional locksmith, and this tool has made my job much smoother. The pick decoder combo is brilliant, and the tool's precision is unmatched. Highly recommended.

nathan

09 Jun 2023

useful lishi pick

This tool is a game-changer. As someone who deals with SC4 locks frequently, the Lishi SC4 pick decoder tool is my new best friend. It's reliable, efficient, and a must-have for any locksmith.

Spud

17 May 2023

nice lishi pick tool

I was amazed by how seamlessly the Lishi SC4 tool works. It's a time-saver, and the quality of the tool is apparent. It's worth every penny for any locksmith.

stephen fleming

21 Apr 2023

good lishi tool

The Lishi SC4 pick tool has simplified my locksmithing tasks. The combination of pick and decoder is ingenious, and it has quickly become an essential tool in my kit.

Trevor Field

14 Mar 2023

value for money

I am looking for useful lishi pick tools for home door lockpicking. This lishi sc4 is the best choice for me. The price is so cheap as well.

Alex

13 Feb 2023

good lishi pick

I add this lishi sc4 pick tool to my locksmith pick tool. It has become my favorite home door lockpicking tool.

NjGriffin

14 Jan 2023

good quality lishi pick tool

The lishi sc4 tool is really good pick tool for home door lock picking. It is made of good stainless steel. Good quality pick tool.

Pamela

13 Dec 2022

good lishi pick tool

Lishi SC4 lock pick tool is a good tool for me, I can use this tool to pick my 6 pin locks at home. Very useful.

Dave

08 Nov 2022

strong lishi SC4 pick tool

When I receive the lishi sc4 pick tool, I use it to pick my lock. It is quite easy to pick the locks as I figure out how to use it.
You May Also Like Lishi SS002 2-in-1 Pick and Decoder Tool, Locksmith Tool for S-Groove Door Lock

6 Review(s) Lishi BE2-6 2-in-1 Pick and Decoder Tool for BEST "A" 6 Pin SFIC Cylinders

2 Review(s)