Lishi TOY43AT 2 in 1 Pick and Decoder Tool, Locksmith Tool for Toyota

5 reviews
$ 32.99
Lishi TOY43AT Pick Tool is a stainless steel automatic unlocking tool that is designed to pick and decode auto door locks. Meanwhile, it is a perfect choice for a professional locksmith to use because the job can be easily completed within 3 minutes.



Specifications:

Type: 2-in-1 Pick & Decoder Tool

Keyway: TOY43AT / 10-Cut

Cross Reference: TR47, TOYO-15, TOY43

For: Door Trunk

Tool Spaces: 3-10

Anti-Glare: Yes
Lishi TOY43AT 2-in-1 Pick and Decoder Tool For Toyota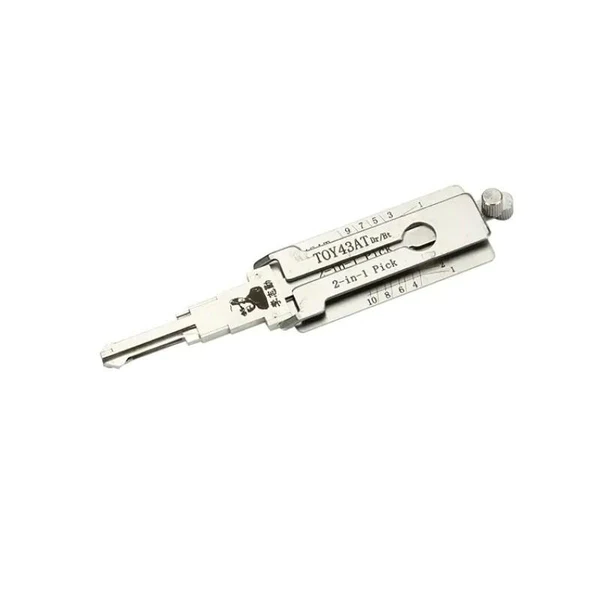 Lishi TOY43AT Pick Tool is a stainless steel automatic unlocking tool that is designed to pick and decode auto door locks. Beginners or Locksmiths can learn to pick vehicle locks with the help of this Lishi Auto Pick Tool. It is a perfect choice for people who want to master the skill of lockpicking.

Specifications:
Type: 2-in-1 Pick & Decoder Tool
Keyway: TOY43AT / 10-Cut
Cross Reference: TR47, TOYO-15, TOY43
For: Door Trunk
Tool Spaces: 3-10
Anti-Glare: Yes
THANKS FOR COMING TO Barhomevip
WRITE YOUR OWN REVIEW
YOU'RE REVIEWING: Lishi TOY43AT 2 in 1 Pick and Decoder Tool, Locksmith Tool for Toyota
HOW DO YOU RATE THIS PRODUCT?
---
Jen Vittori

27 Mar 2023

good quality lishi pick tool

I am happy to receive this premium lishi toy43at pick tool, it is well-made and durable. I like using this tool for lockpicking.

C. Swifty

18 Feb 2023

value for money

As an auto locksmith, I need lishi toy43at pick tool to pick car locks. It is a good assistant when I am picking locks.

Lisa Anne

06 Jan 2023

useful lishi pick tool

I like using this lishi toy43at pick tool to pick car door lock. This brand tool is so good. I am going to collect others.

shelly belly

18 Dec 2022

good product

Because I lost my car key, I need this lishi toy43at pick tool to open my car door lock. Thanks to this tool, I pick my car door lock successfully.

Daniella Jessica Davies

09 Nov 2022

good lishi pick tool

This lishi pick tool helps me a lot when I am going to pick my car lock. The smooth handle and the correct pick are so good.
You May Also Like 2 Pieces Lishi BE2-6 BE2-7 Pick and Decoder Tool for BEST A Keyway Locks

2 Review(s) Lishi MAZ24 2-in-1 Pick and Decoder Tool, Locksmith Auto Tool for Mazda

6 Review(s)