Lishi SS002 2-in-1 Pick and Decoder Tool, Locksmith Tool for S-Groove Door Lock

3 reviews
$ 39.99
Lishi SS002 Pick and Decoder Tool is a reading and pick tool for civil door locks. Mainly used for frequently encounteredfire door, which can be opened and read by positioning.
Lishi SS002 2-in-1 Pick and Decoder Tool For S-Groove Door Locks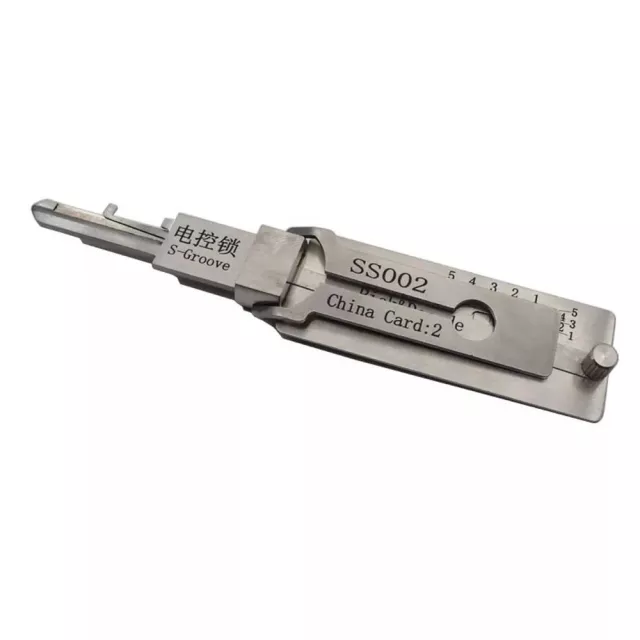 Lishi SS002 Auto Pick Tool is a stainless steel automatic unlocking tool that is designed to pick and decode S-Groove Door Locks or Civil Locks. Locksmiths can learn to pick specific locks with the help of this Lishi Auto Pick Tool. It is also a perfect choice for people who want to master the skill of lockpicking.

Lishi SS002 Mainly Used for: Electric control lock, Guli S-slot civilian lock, Encounteredfire door Locks, Civil locks.
THANKS FOR COMING TO Barhomevip
WRITE YOUR OWN REVIEW
YOU'RE REVIEWING: Lishi SS002 2-in-1 Pick and Decoder Tool, Locksmith Tool for S-Groove Door Lock
HOW DO YOU RATE THIS PRODUCT?
---
Jackie Peterson

25 Mar 2023

good product

I've used other lock pick tools in the past, but the Lishi lock pick tool has become my go-to choice. It's sturdy, reliable, and helps me get the job done efficiently.

Muzzie

11 Feb 2023

nice lishi tool

The Lishi lock pick tool is fantastic for decoding locks. It provides precise information about the lock's internal components, making it easier to understand and work with.

simon hardy

04 Jan 2023

good lishi ss002 pick tool

Lishi ssoo2 pick tool is a useful tool to pick civil locks at home. This tool is made of premium material. A good pick tool.
You May Also Like Lishi TOY43AT 2 in 1 Pick and Decoder Tool, Locksmith Tool for Toyota

5 Review(s)