10 Piece Drink Shaker Set Mixology Bartender Kit With Stylish Bamboo Stand

4 reviews
VOLUME:
25.3 oz (750ML)
23.7 oz (700ML)
18.6 oz (550ML)
11.8 oz (350ML)
$ 40.99
All-In-One Bartender Set: This 10 Piece Drink Shaker Set includes 1 Bamboo Stand, 1 Drinks Shaker(Select Available Shaker Volume: 25.3 oz (750ML)/23.7 oz (700ML)/18.6 oz (550ML)/11.8 oz (350ML)),1 Strainer, 1 Muddler, 1 Bottle Opener,1 Mixing Spoon, 2 Pourers, 1 Double Jiggers, 1 Ice Tongs. This bartender kit meet all your needs for bartending tools, whether you are an amateur bartender or a professional bartender, it will be very suitable.

Stand for Display and Storage: Our designed bamboo stand using natural bamboo will make you the coolest way to display your drink shaker kit. With this bamboo stand, each bartender accessories have its own place to keep it organized and accessible. It can also be used as a home decoration, so that your kitchen drawers and cabinets are no longer cluttered, and it is an apartment essential.

Perfect unique gift: Anyone who receives this gift will be very impressed! The mixology set with stylish bamboo stand will all come in a stylish and beautiful box that is sure to bring a surprising experience to those who open it. Such as new home housewarming, Christmas, Birthday, Father's Day or Wedding as good gifts.

Professional Choice: This is a suit most essential bartending tools in this bartender kit, You are easy to prepare and mix all types of drinks, from high end mixology recipe drinks to a simple martini or margarita, to impress your friends, impress your lovers, try to impress yourself as you drink alone.

Enjoy Your Fantasy Drinks: This Bar Set is a great tool to help you make a delicious blend of drinks. This Bartender Kit lets you experiment with martini, mojito, and all drinks to the happiness of your guests at the parties.

Whether you are a bartender looking for great starter to professional bartending kits or you are simply someone who loves experimenting with drinks recipes, you find Barhomevip bartender kit is ideal for practicing and perfecting your drink-making skills.
Barhomevip shows the whole accessories of 10 Piece Bartender Tools Kit in the following picture: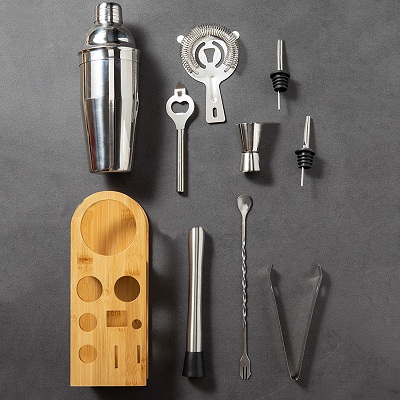 10 Piece Bartender Shaker Bar Tools Set Includes:
1x Bamboo Stand
1x Drinks Shaker (Select Available Shaker Volume: 25.3 oz (750ML)/23.7 oz (700ML)/18.6 oz (550ML)/11.8 oz (350ML))
1x Mixing Spoon
1x Strainer
1x Muddler
1x Bottle Opener
2x Pourers
1x Double Jigger
1x Ice tongs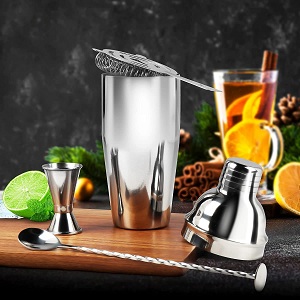 Executing a winning drinks takes equal parts bartending skills and high-quality tools. The 11 piece bartender kit takes care of the latter. Each piece of the kit is designed to help you craft drinks like a pro.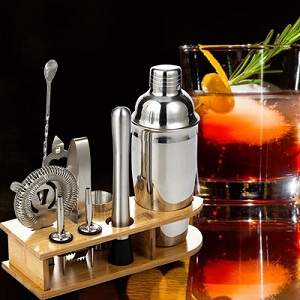 Forget the clutter of hiding your tools in the drawer. Stylish and sturdy, the bamboo display stand has convenient tool slots and a water-resistant finish that lets you proudly showcase your kit on any countertop or bar cart.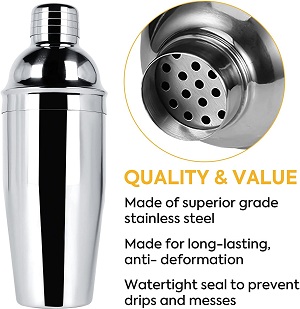 The stainless steel shaker lets you mix drinks without the mess. With a maximum capacity of 25.3 oz, it's large enough to make three drinks at once. Its leakproof design makes it perfect for professional bartending and entertaining.

THANKS FOR COMING TO Barhomevip
WRITE YOUR OWN REVIEW
YOU'RE REVIEWING: 10 Piece Drink Shaker Set Mixology Bartender Kit With Stylish Bamboo Stand
HOW DO YOU RATE THIS PRODUCT?
---
Robert C. Barr

17 Aug 2022

Bar Set

Handy set to have for your bar

Stacy L

05 Aug 2022

Beautiful Edition

Delivered on time and makes a beautiful addition to my new bar!

Dodee Rehler

18 Jul 2022

Great gift

This was a well received house warming gift

Lou

04 May 2022

nice add to my at home bar

nice bamboo rack holds things when not using and adds a touch of class to the bar set up.
You May Also Like 12 Piece Bar Tools Bartender Mixology Kit With Bamboo Stand

2 Review(s)