10 Piece Perfect Bartender Kit Bar Shaker Tool Set (Gold)

4 reviews
VOLUME:
$ 69.99
Premium Bartender Kit Set: 10 Piece Bartender Kit Bar Shaker Tool Set includes 1 Bamboo Stand, 1 Ice Tongs, 1 Spoon, 1 Double Jigger, 1 Corkscrew, 1 Muddler, 2 Pourers, 1 Strainer, 1 Drink Shaker. Will give you the power to whip up impressive drinks for your guests or friends. Whether you're an amateur bartender or a professional drinks mixing guru, you can use this Bartender Kit to make your unique drinks.

Display Your Bar Tools: This bartender kit includes an elegant bamboo stand, well designed to keep your barware tools organized and accessible at all times. You will not find any clutter in your kitchen drawers and cabinets. Show off your gorgeous bartender kit with this unique bamboo stand. It will attract your guest's attention.

100% Natural High-Quality Bamboo Stand: It Is made of high-quality bamboo wood and carefully designed. Each accessory has its own position to store your bar tool accessories in an orderly manner.

Solid and Durable Kit Set: This entire bartender kit set is made of food-grade stainless steel SS304. It is well known to be long-lasting, lightweight, and resistant to rust, dents, and scratches. It is safe for drinkers and won't affect the taste of drinks.

No-risk Purchase: If you have any issue with our products, please don't hesitate to contact us, we will try our best to find a satisfactory solution for you within 24 hours.
Here is a picture that shows you the whole accessories of 10 Piece Perfect Bartender Kit Bar Shaker Tool Set.
We will tell you the details of this bartender kit tools.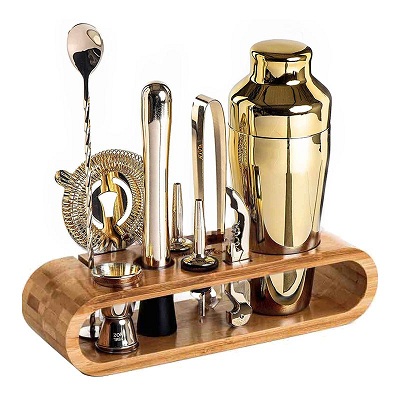 10 Piece Perfect Bartender Kit Bar Shaker Tool Set (Gold) Includes:
1x Bamboo Stand
1x Muddler
1x Drinks Shaker
2x Pourers
1x Strainer
1x Mixing Spoon
1x Corkscrew
1x Double Jigger
1x Ice tongs
Do you know how to use these bartender accessories when you first get it?
Are you just an amateur bartender?
If you expect to make good drinks by yourself, you had better know the basic function of each tool in this 10 piece bartender kit bar tool kit.
This can help you avoid the embarrassment towards guests when you are going to make drinks for the first time.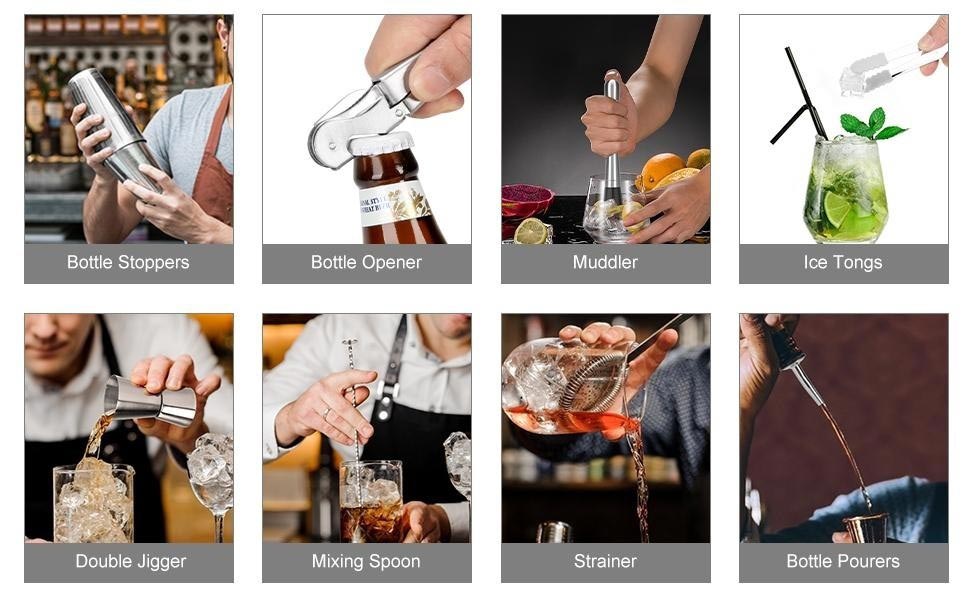 Here is the basic guidance about the fuction of each tool in this 10 piece bar tools kit.
The Bamboo Stand:
Easy to display all of the bar tools neatly and stylishly.
The Drinks Shaker:
To whip up classic drinks and experiment mixes.
Pourers:
To streamline the flow of liquid from the bottle.
Strainer:
To remove the chunky ice from mixed drinks.
Muddler:
To mash or muddle ice, fruits, herbs and spices.
Jigger:
To precisely measure your ingredients pre-pour.
Corkscrew:
To easily uncork bottles with a two-step lever.
Ice Tongs:
To transfer ice cubes or blocks into a glass.
Spoon:
To mix and emulsify your concoctions.

Why Barhomevip Starts to Sell the Premium Bartender Kit?
Because Barhomevip aims to provide customers with the best quality of Bartender Kit. We have found that the majority of bar tools on the market were either low quality or too expensive. Barhomevip offers professional- grade bar kits for those finding their passion for mixology.
What Makes Barhomevip Products Unique?
Our founder's passion for craft drinks resulted in nice, professional-grade bar sets worthy of the world's best mixologists, without being absurdly expensive. Right out of the box, our products set the standard for the ultimate at-home bar kit, taking your skills to the next level.
Why Barhomevip loves what we do?
Unlike other barware brands, we put our heart and soul into our bar kits. We believe in treating our customers like we would treat our friends, by opening the door to drinks excellence. If we can craft our perfect drinks at home, we want to be the helping hand in crafting yours.
THANKS FOR COMING TO Barhomevip
WRITE YOUR OWN REVIEW
YOU'RE REVIEWING: 10 Piece Perfect Bartender Kit Bar Shaker Tool Set (Gold)
HOW DO YOU RATE THIS PRODUCT?
---
Robert

15 Aug 2022

I really like this bartender kit!

I bought this kit because of how many items you get in it, and because of the wooden stool that you can place everything in. It's really easy to use and clean. I use it a few times a week to make cocktails at home. It's truly a great set because it's like the professional sets that I use during work.

Jeffrey Dennie

31 Jul 2022

Perfect for your new mixologist phase

Like many of you, I go through hobbies like my college self went through Ramen sandwiches. Got the urge to be a mixologist? You'll love this and your friends will be impressed. Oh, and if you like spinny things, you'll love the way this thing spins around - offering convenience and entertainment and a new pet peeve for your significant other. 5 stars easy.

Felix

04 Jul 2022

amazing product!

This is just what you need for your bar! we love it

Kyle

19 Jun 2022

Great buy

Really great purchase. My friends actually bought this and we had a cocktail night, and after that, I wanted a nice shaker set. I am definitely happy with the product.
You May Also Like 9 Piece Bartender Kit Bar Tool Shaker Set

3 Review(s) 18 Piece Stainless Steel Bar Kit Drink Mixer Set

3 Review(s) 10 Piece Drink Shaker Set Mixology Bartender Kit With Stylish Bamboo Stand

4 Review(s)