11 Piece Bartender Kit Bar Tool Shaker Set

2 reviews
VOLUME:
25.3 oz (750ML)
23.7 oz (700ML)
18.6 oz (550ML)
11.8 oz (350ML)
23.7 oz (700ML) / 20.3 oz (600ML)(Boston)
$ 42.99
11-Piece Tool Set: Bartender kit provides most essential bartending tools you need for mixing delicious drinks: 1 Acrylic Stand,1 Drinks Shaker(Select Available Shaker Volume: 25.3 oz /750ML, 23.7 oz/700ML, 18.6 oz/550ML, 11.8 oz/350ml), 1 Muddler, 1 Mixing Spoon, 1 Jigger, 1 Strainer, 1 Corkscrew, 2 Liquor Pourers , 1 Ice Tongs, 1 Conical Strainer.

Making Your Own Drinks Could Be So Easy: This 11-Piece bartender kit has every cocktail tool that you need to make your own drinks at home. Our cocktail shaker set also comes with our unique recipe cards for a wonderful mixing experience, whether you have ever made a cocktail by yourself or never! Time to share your own drinks with your friends and family!

Unique Acrylic Stand For Storage & Display: It's time to show your home bar to your friends. With this stylish acrylic stand, your guests will definitely be attracted by this unique home decor. Besides,this acrylic stand was also meticulously designed to keep all the bar kit accessories organized - You never have to worry about losing them anymore!

Comprehensive Tools: It is a good choice for cocktail lovers. It is Made of ss304 stainless steel, the charming smooth and polished mirrored shaker set makes professional bartending very easy. With all the essential bar accessories and leak-proof shaker, is a wonderful way to show your skills.

Perfect Gift: Definitely! Whether it's anniversary, birthday, Father's day or Christmas. All carefully designed bar tools set with stylish acrylic stand and related recipes, they will gonna love it!

Responsive Customer Service: If you are not satisfied for any reason, our customer service will help you solve any related problems within 24 hours.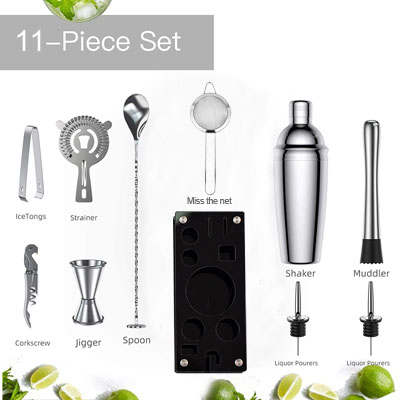 Looking for a versatile and high-quality bartending kit?
Look no further than Barhomevip!
This luxurious 11-piece bartender kit shaker set comes with everything you need to make professional-grade cocktails at home.
Including 1 Acrylic Stand,1 Drinks Shaker, 1 Muddler, 1 Mixing Spoon, 1 Jigger, 1 Strainer, 1 Corkscrew, 2 Liquor Pourers , 1 Ice Tongs, 1 Conical Strainer.
Plus, it comes with a acrylic stand for an elegant way to display your bartending supplies.
Your bartender kit is sure to improve the experience you have with mixing any cocktail you choose.
Our large shaker is perfect for making between 4 and 6 drinks per mix, even better you can make up to 10 shots in a single shot!
Whether you're a pro bartender or just getting started, this bartender kit is a must-have for any home entertainer.
Why you buy them from Barhomevip?
Sophisticated Bar Set: All bar tools are made from food-grade 304 stainless steel, ultra-durable and won't rust or corrode. Although most tools are dishwasher-safe, it is highly recommended to wash mirror-coated items by hand to avoid scratching the surfaces.
Proffessional Weighted Shaker Tins: This heavy-duty cocktail shaker set includes 18 and 28 oz weighted shaker tins that have been tested to offer the perfect water-tight seal. You can use it for shaken drink like Margaritas, Daiquiris and Mojitos, or use the bottom tin for stirred drinks like the Martini, Manhattan, or Old Fashioned.
Coolest Display Stand: We select the rotatable acrylic display stand, which is durable and easy to assemble. You can place the toolset anywhere, then start to show off your cocktail magic.
Perfect Christmas Gift for Cocktail Lovers: High-quality bartending set plus a sturdy display stand, both packed in a stylish box.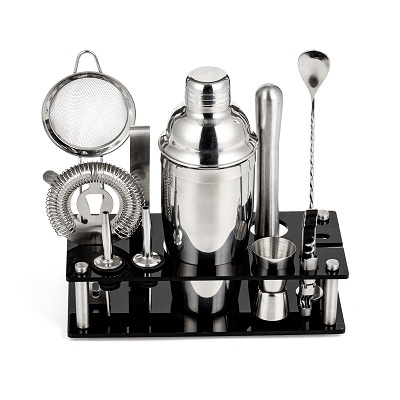 Show from Customer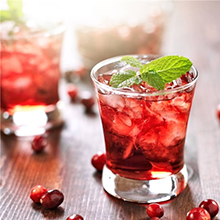 Number 1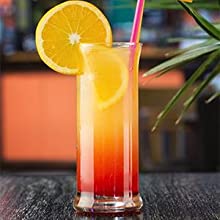 Number 2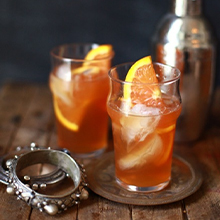 Number 3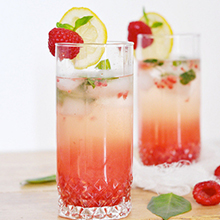 Number 4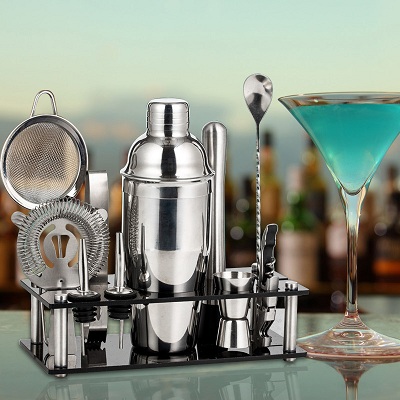 Stable Acrylic Stand
Each gadget has a corresponding hole position to keep them organized and accessible at all times. Show off your gorgeous cocktail set with this acrylic display rack. You will definitely win your guest's attention.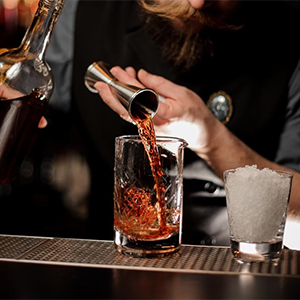 Double Sided Jigger
Calibrated marks include 15ml(1/2oz) , 20ml( 2/3oz), 30ml(1oz).You'll have all of the measures you need for a world of classic and contemporary drinks.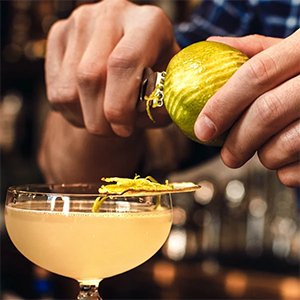 Garnishing & Flavor Bar Tool
Five sharp zester holes quickly and easily zest lemons, oranges and other citrus fruits, with minimum effort. Built-in channel knife peels citrus fruits and makes beautiful garnishes for cocktails or mocktails elegantly and easily.
If you are a bartender beginner, owning it, you can quickly learn to make your favorite mixed drinks!
If you are a professional bartender, owning it, you will make you more professional!
Designed for home bars and parties, it will definitely take any party to the next level.
Amateur or experienced Bartender - this cocktail set is perfect for you!
Choose
Barhomevip Bartender Kit Set
- Start Your Happy Party Time!
THANKS FOR COMING TO Barhomevip
WRITE YOUR OWN REVIEW
YOU'RE REVIEWING: 11 Piece Bartender Kit Bar Tool Shaker Set
HOW DO YOU RATE THIS PRODUCT?
---
BrenDa

08 Aug 2022

Just give a little shake!

I like the kiosk it comes with because it organizes all the utensils in one place. Very convenient and it looks nice too!

rachel french

31 Jul 2022

Looks amazing.

Looks amazing in black. But not used it yet.
You May Also Like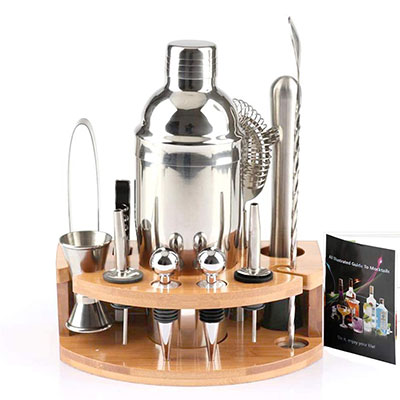 12 Piece Bartender Kit Drinks Bar Shaker Set With Semicircular Bamboo Stand

6 Review(s)