13 Piece Bartender Kit Bar Tool Set With Stylish Bamboo Stand

2 reviews
VOLUME:
25.3 oz (750ML)
23.7 oz (700ML)
18.6 oz (550ML)
11.8 oz (350ML)
$ 41.99
13 Piece Bartender Set: 1 Drinks shaker(Select Available Shaker Volume: 25.3 oz /750ML, 23.7 oz/700ML, 18.6 oz/550ML, 11.8 oz/350ml), 1 Bamboo stand, 1 double jigger, 1 strainer, 3 Liquor Pourers, 1 Ice tongs, 1 Corkscrew, 2 Straight Straws, 2 Straw Spoon. Whether you' re an amateur bartender or a professional bartender, you can make delicious cocktails and mixed drinks.

Rustproof Stainless Steel: The Drinks shaker bottle is made of 304 stainless steel. It has high wear resistance and is rustless, doesn't contain harmful substances nor affect the taste of the beverages.

Easy to Clean and Store: The surface of the eco-friendly bamboo stand is covered with a coating to prevent moisture. The dent design makes your bar tools and accessories scratch-resistant and organized.

Versatile Bartender Kit: You can make drinks that made from a wide variety of liquors with this professional drinks shaker tools, including: Mojito,Martini, Margaritas, Whiskey, Scotch, Vodka, Tequila, Gin, Rum, Sake and more. You can use it for mixing any kind of drinks you want. That's why this bartender shaker is the ultimate bartender tool.

Perfect Gift for Self-Made Drinks Lovers: The bar set is exquisitely made. The easy to use mixology bartender kit is the best gift choice for various holidays, such as Valentine's Day, Thanksgiving, Christmas, weddings, birthdays, anniversaries, and more.
Barhomevip gets out start for selling the best mixology bartender kit.
As bartending lovers, we've been trying to find all tools suitable for crafting bartending. However, we found many bar sets on the market was not only poor quality but also very expensive, we started to create our own brand barhomevip and make our own bartending tools, and we have been persisting till now.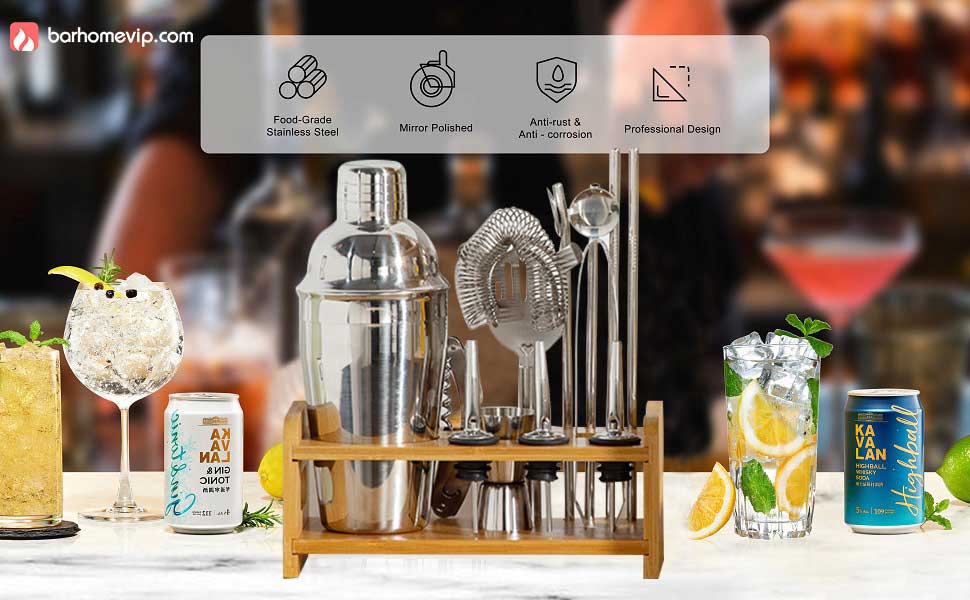 Barhomevip shows the whole accessories of 13 Piece Bartender Kit Bar Tool Set With Stylish Bamboo Stand in the following picture: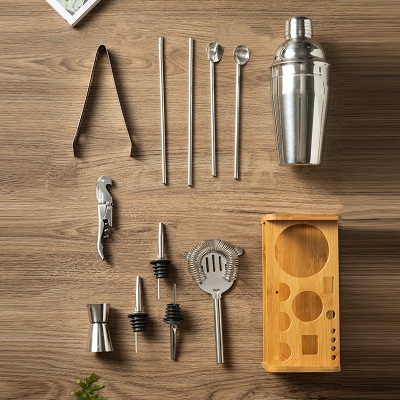 13 Piece Bartender Shaker Bar Tools Set Includes:
1x Bamboo Stand
1x Drinks Shaker(Select Available Shaker Volume: 25.3 oz /750ML, 23.7 oz/700ML, 18.6 oz/550ML, 11.8 oz/350ml)
3x Liquor Pourers
2x Straw Spoon
1x Strainer
2x Straight Straws
1x Corkscrew
1x Double Jigger
1x Ice tongs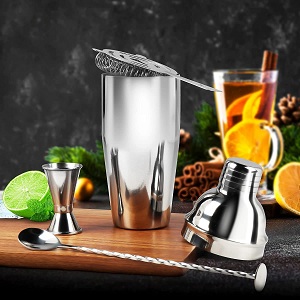 Executing a winning drinks takes equal parts bartending skills and high-quality tools. The 13 piece mixology kit takes care of the latter. Each piece of the kit is designed to help you craft drinks like a pro.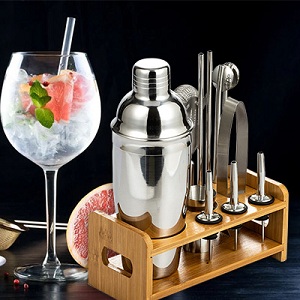 Forget the clutter of hiding your tools in the drawer. Stylish and sturdy, the bamboo display stand has convenient tool slots and a water-resistant finish that lets you proudly showcase your kit on any countertop or bar cart.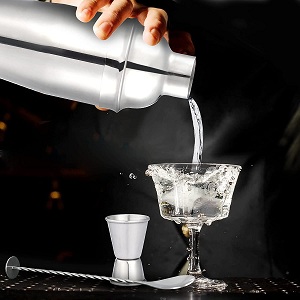 The stainless steel shaker lets you mix drinks without the mess. With a maximum capacity of 25.3 oz, it's large enough to make three drinks at once. Its leakproof design makes it perfect for professional bartending and entertaining.
Here is the way to use the four main accessories of 13 piece bartender kit bar tools.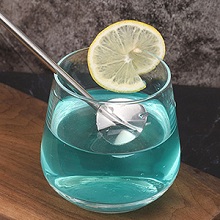 Straw Spoon
Usually used to eat and drink fruits or bread in the glass.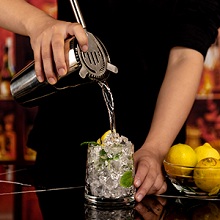 Strainer
Prevent the ice cube from slipping out of the cup, to create a smooth and delicious drink.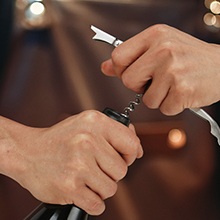 Corkscrew
Uncork bottles with a two-step lever easily.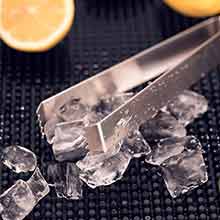 Ice Tongs
Convenient to pick up ice, various food such as: bread, salad, sugar and so on.
THANKS FOR COMING TO Barhomevip
WRITE YOUR OWN REVIEW
YOU'RE REVIEWING: 13 Piece Bartender Kit Bar Tool Set With Stylish Bamboo Stand
HOW DO YOU RATE THIS PRODUCT?
---
Anna Gunter

17 Aug 2022

Great value

Has everything you could need for your bar set!

EAS

04 Aug 2022

Great Quality

This is a great quality cocktail set. The pieces are sturdy, easy to use, and easy to clean. It comes with all the accessories needed to make a variety of drinks. I also really like the wood stand. It matches my decor and looks great on the bar. I would definitely recommend this set!
You May Also Like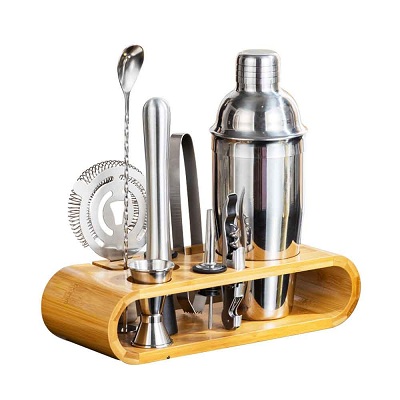 10 Piece Perfect Bartender Kit Bar Shaker Tool Set (Silver)

7 Review(s) 18 Piece Stainless Steel Bar Kit Drink Mixer Set

3 Review(s)