18 Piece Bartender Shaker Set With Rotating Acrylic Stand

4 reviews
VOLUME:
25.3 oz (750ML)
23.7 oz (700ML)
18.6 oz (550ML)
11.8 oz (350ML)
23.7 oz (700ML) / 20.3 oz (600ML)(Boston)
$ 48.99
18-Piece Bartender Shaker Set: Our 18 Pieces Bartender Shaker Set provides all the essential bar accessories for beginner's and experienced bartender, included 1 Rotating Acrylic Stand, 1 Muddler, 1 Drinks Shaker(Select Available Shaker Volume: 25.3 oz /750ML, 23.7 oz/700ML, 18.6 oz/550ML, 11.8 oz/350ml), 2 Straight Straws, 2 Bent Straws, 2 Straw Brushes, 2 Bottle Stoppers, 2 Pourers, 1 Strainer, 1 Mixing Spoon, 1Corkscrew, 1 Double Measuring Cup, 1 Ice tongs.

360°Rotaing Acrylic Dispaly stand: The 360 rotatable base not only provides you with good looks, but also makes your bartending steps easier and more convenient. Barhomevip products have their own places will maintain a stable rotation without falling.Just put the product back in place after use, no worry about losing item again.Also a very beautiful and cool decoration when not in use.

Premium Stainless Steel Material: Bartender shaker set is made of premium 304 stainless steel material. Harmless to health, is durable, leak-proof, lightweight, and non-scratchable, rustproof, and resistant to scratches, not deformed, and easy to clean. 18-piece bartender shaker bar tools set is very easy to clean by hand with warm soapy water and keep their shine with ease, Adding modern art to your home bar.

Perfect Gift Choice: It is a wise choice as gifts for men or women, this bartender shaker gift set is packaged in a beautiful gift box, making it a great Father's day gift, birthday gift, anniversary gift, wedding gift, office gift or housewarming gift!

Risk-free purchase: We do value our customers and hope you will enjoy a pleasant shopping experience. If there is any problem with our products, please contact us via E-mail without hesitation and we will solve your problem as soon as possible.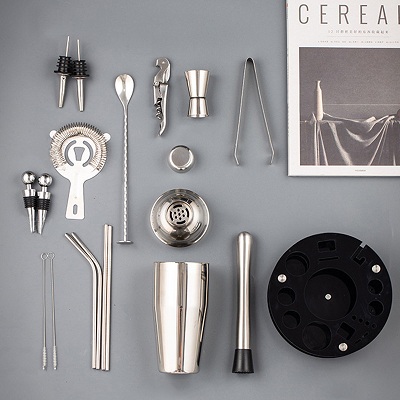 18 Piece Bartender Shaker Set With Rotating Acrylic Stand Includes:
1x Rotating Acrylic Stand
1x Muddler
1x Drinks Shaker(Select Available Shaker Volume: 25.3 oz /750ML, 23.7 oz/700ML, 18.6 oz/550ML, 11.8 oz/350ml)
2x Straight Straws, 2x Bent Straws
2x Straw Brushes
2x Bottle Stoppers
2x Pourers
1x Strainer
1x Mixing Spoon
1x Corkscrew
1x Double Jigger (1/2 oz &1 oz)
1x Ice tongs
Reasons About Buying 18-Piece Bartender Bar Tools At Barhomevip
All In One: This 18-Piece bartender kit includes everything you need to make tasty and flavorful mixed drinks, margaritas as well as any other alcohol drink you can imagine from the comfort of your own kitchen (or bar). There is no need to purchase any separate accessories to achieve a delicious drink, this bartender shaker set has it all!
360 Degree Rotate Bartender Tool Stand & Lovely Gift: This bar set is perfect for home, bars, parties,anniversary or graduation. Also is a great present/gift for your families or friends when Christmas, Valentine's day, birthdays, wedding. Drinks making, wine mixing, home decoration, tools storage, ideal present.
Easy to Display & Storage: Bartender kit with Rotating Acrylic stand, keep your barware scratch-safe, organized, and accessible. Save your space, No more clutter in your kitchen drawers and cabinets, and avoid lost tools. You can find your desired tools in time to make your favorite drinks.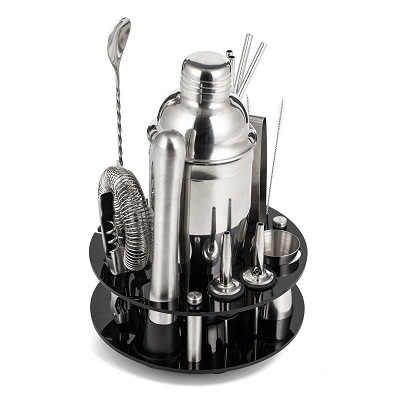 Show from Customer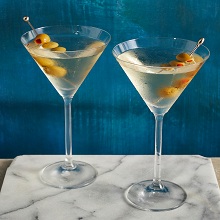 Number 1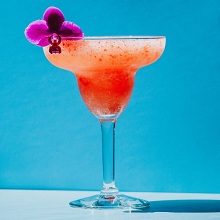 Number 2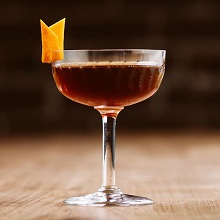 Number 3
Number 4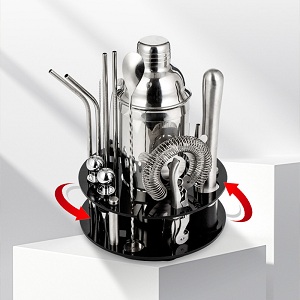 360 Degree Bartender Bar Tool Stand
360° Rotate Bartender Tool Stand, each tool and barware has specific slots.The well-designed 360 ° swivel turntable bracket not only allows you to find tools easily, but also makes your own more organized bar.It's also a perfect decoration! Who doesn't love such a delicate bartender set!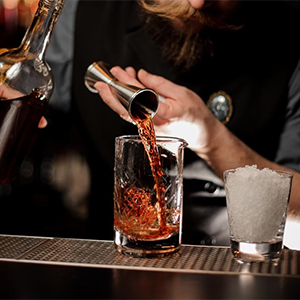 Double Sided Jigger
Calibrated marks include 15ml(1/2oz), 30ml(1oz).You'll have all of the measures you need for a world of classic and contemporary drinks.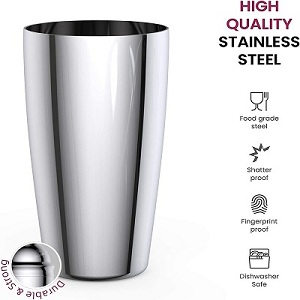 304 Stainless Steel & Stylish Appearance
All bartender kits are made of 304 stainless steel. Cocktail making safely & keep flavors, durable & rust-proof, not liquid leaking when shaking. Modern silver plating makes them have a great finish and stylish appearance, adds elegance to your home bar.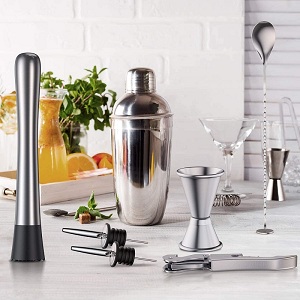 Nice Bartender Bar Tools
Provide 4 straight/ bent steel straws and 2 cleaning brushes. The spoon straw works great for stirring drinks up and then drinking from them. You can also use it as a bar-spoon measurement, which is meant for a small dose of syrup for an Old Fashioned, or a couple of spoons of Worcestershire sauce to make the Bloody Mary.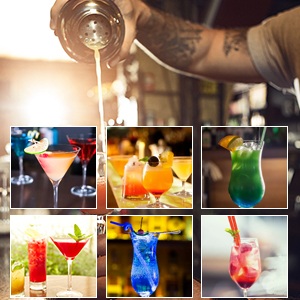 Making Your Great Mixing Drinks
This bartender shaker set can help you to create a wide variety of drinks including Whiskey, Scotch, Vodka, Tequila, Gin, Rum, Brandy, Sake, milk tea, and ice coffee more. Just enjoy your experimenting with new drinks.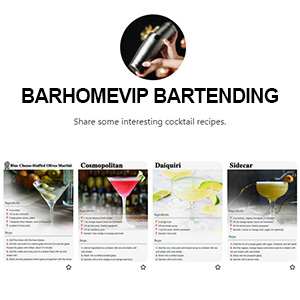 Barhomevip Unique Recipes
Get to the barhomevip website , and browse different cocktail recipes anytime, anywhere. We are here to share cocktail or mocktail recipes for various occasions.
If you are a bartender beginner, owning it, you can quickly learn to make your favorite mixed drinks!
If you are a professional bartender, owning it, you will make you more professional!
Designed for home bars and parties, it will definitely take any party to the next level.
Amateur or experienced Bartender - this cocktail set is perfect for you!
Choose Barhomevip Bartender Kit Set - Start Your Happy Party Time!
THANKS FOR COMING TO Barhomevip
WRITE YOUR OWN REVIEW
YOU'RE REVIEWING: 18 Piece Bartender Shaker Set With Rotating Acrylic Stand
HOW DO YOU RATE THIS PRODUCT?
---
GUILLERMO NITOLA

17 Aug 2022

Cumplimiento de lo ofrecido y entrega oportuna

Muy buen juego de coctelera con todos los elementos necesarios en buen material y entrega oportuna. Gracias

Ka Lee

09 Aug 2022

Great buy

Purchased this for my new home. It has everything that I need! It's also simple to set up as well. Can't wait to put it into use for Friendsgiving!

Lauren G.

22 Jul 2022

Beautiful!

This was an anniversary gift for my boyfriend who used to bartend years ago and just bought a house last year. He missed the shaker he used to have. He's wanting to set up a home bar at some point as well and this will make a great addition. He's been using it regularly and absolutely loves it!!!!

Cassandra Cota

16 Jul 2022

GREAT PRODUCT!!

I wish I could buy everything from this seller. It's clear this seller will only accept 100% customer satisfaction and they deserve the distinction of best customer service ever. Beautiful bar set. I bought it for my boss's birthday, and it was a hit! I've just ordered something for my son-in-law and I know he'll love it!