23.7 oz Stainless Steel Drink Shaker For Home or Bar Bartender
VOLUME:
$ 12.99
French Style Bar Shaker: Add a French twist to your barware with this drink shaker. This essential bartending tool lets you create classic drinks such as martinis, cosmopolitans, and Manhattans.

Quality Finish: Crafted from 304 stainless steel, this bar tool brings new feelings to your drink experience. The generous 23.7 oz capacity is perfect for batch drink and entertaining.

Ideal For Party Hosts: Gift it to any drink lover, home mixologist, amateur bartender, and more. It will be the perfect present for any party.

Sleek Stainless Steel Design: Unlike other martini shakers, this bar shaker is rust proof, has a polished finish & will not corrode. Put your drink shaker in the dishwasher or get it wet as many times as you would like without damaging.
Why You Choose This 23.7 oz Stainless Steel Bar Shaker?
Best SS304 Material: This drink shaker is made from food-grade 304 stainless steel so you don't have to worry about rusting– and they're safe for easy cleaning.
Leakproof: In terms of shaking or pouring, you should enjoy a drip-free experience. This drink shaker comes with everything you need for mixing your favorite drinks. It will become the perfect addition for your home bar!
Elegant Design: This drink shaker is designed to nest together for easy storage and seal perfectly when it's time to shake a drink.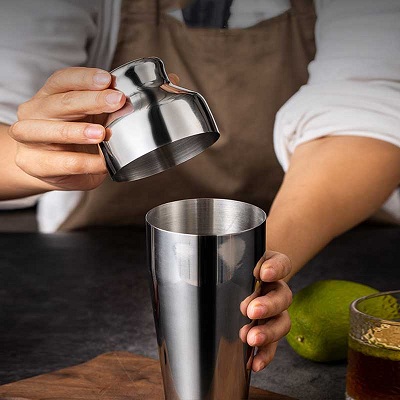 Bring style and professionalism to your home bartending. Whether you are an advanced mixologist at a busy craft drink bar or looking to impress your guests at home, Barhomevip offers beautiful, perfectly weighted, ergonomic shakers for delicious drinks.

THANKS FOR COMING TO Barhomevip
WRITE YOUR OWN REVIEW
YOU'RE REVIEWING: 23.7 oz Stainless Steel Drink Shaker For Home or Bar Bartender
HOW DO YOU RATE THIS PRODUCT?