20.3 oz Glass Drink Shaker Printed with Drink Recipes Bar Shaker Tool For Bartender
VOLUME:
$ 22.99
Mixing Like A Pro: This drink shaker is made form thick clear glass, with both oz/ ml as unit of measure, only for an accurate measurement.

Premium High Quality: The upper part of this Shaker uses durable, rustproof and scratch resistant 304 stainless steel, with a thick glass body which is easy to clean. Thus keep the product from any smell or stain. The leak-proof seal pad between the mixer and cap also eliminate leakage problems.

Recipes on the Shaker: There are inscribed drink recipes on the jigger! No need to check to know your favorite drink recipes. Beginners or professional bartenders alike, you can use this glass shaker to create the most complex mixed drink at ease!

Be the Star of the Party Now: Showing your skill with this bar mixer at any party, and being the center of attention by this convenient Bar Tool and recipes!

Cautions: The top cover needs to be pressed with the index finger. This Bartender Shaker is made form glass so dishwasher and overheat water is not recommended while cleaning.
Make mix drinks at home and enjoy your free time!
Order this glass shaker for good mixed drinks or craft unique drinks for attending some parties or take a sip at night!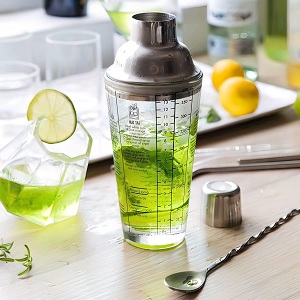 Craft Drinks Effortlessly
Barhomevip carries a wide selection of the most used bar tools out there so you can craft any drinks. Make your own margarita, old fashioned, cosmopolitan, mai tai, and more!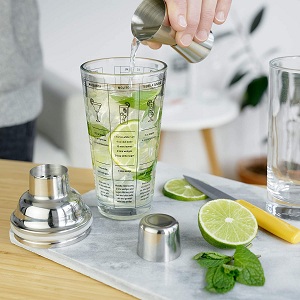 Made For All Experience Levels
Barware is the new home essential. It makes a great housewarming gift, wedding gift, or a gift for a new graduate. We make products for beginners and experienced home bartenders alike!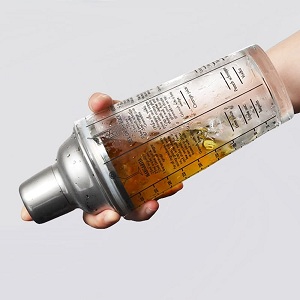 Bring The Bar Home
Whether you're a beginner or a professional bartender, you can easily blend classic drinks and learn to experiment with making your own drinks with this glass shaker.
THANKS FOR COMING TO Barhomevip
WRITE YOUR OWN REVIEW
YOU'RE REVIEWING: 20.3 oz Glass Drink Shaker Printed with Drink Recipes Bar Shaker Tool For Bartender
HOW DO YOU RATE THIS PRODUCT?