13.5 oz Glass Drink Shaker With Recipes on Side, Professional Bar Tool With Scale
VOLUME:
$ 20.99
All-match drink shaker: The glass shaker is made of thick glass and high-quality 304 stainless steel. It is durable, waterproof, and rust-proof. The 13.5 ounces is perfect for matching with any drink set, bringing you an excellent bartending experience.

Use it with confidence: The splices of the shaker fit tightly, and will not leak even when shaken, making it easy to use. You can mix any drink you like.

Easy to clean by hand: After using the shaker set, just rinse it with warm water and soap, and this glass shaker will look like a new one.

Enjoy a happy bartending time: Whether you are a professional bartender in a bar or a beginner who wants to try bartending at home, this glass shaker can help you easily mix whiskey, tequila, duo Enjoy your own wine tasting time with drinks made from ginseng, rum, brandy, and others.

Novel gift idea: If you have someone with a passion for bartending around you, then this will be a perfect gift for them! You can use it as an exquisite gift for any occasion such as birthday, Christmas, Valentine's Day, Father's Day, Mother's Day, wedding, anniversary, housewarming!
This glass shaker is a good starter set for your bar or career as a hobby mixologist. Make mix drinks at home and enjoy your spare time!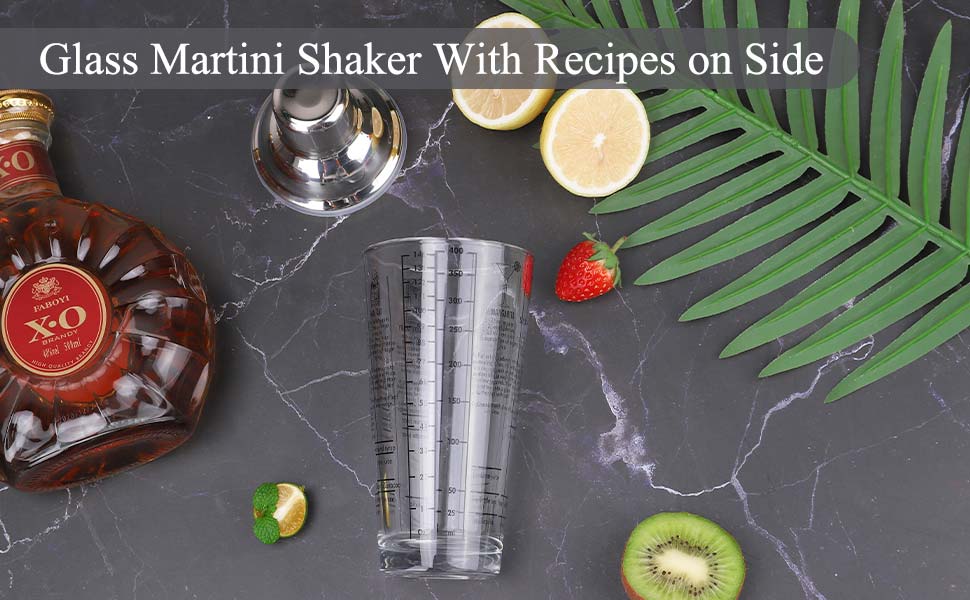 The steps to make drinks with this glass drink shaker with recipes on side:
1. You need add drink ingredients into the bottle at first.
2. You need put the lid on and tighten the modulation.
3. You need shake the glass shaker with both hands.
4. You can pour out your drinks in easy and convenient way.

THANKS FOR COMING TO Barhomevip
WRITE YOUR OWN REVIEW
YOU'RE REVIEWING: 13.5 oz Glass Drink Shaker With Recipes on Side, Professional Bar Tool With Scale
HOW DO YOU RATE THIS PRODUCT?