10 Piece Professional Bartender Kit Bar Tool Set (Copper)

3 reviews
VOLUME:
$ 67.99
Professional Bartender Shaker Set: 10 piece bartender shaker bar sets includes all the bartender accessories: 1 Bamboo Stand, 1 Ice Tongs, 1 Spoon, 1 Double Jigger, 1 Corkscrew, 1 Muddler, 2 Pourers, 1 Strainer, 1 Drink Shaker.

Bamboo Stand: Eco-friendly, extremely durable Bamboo stand designed to keep your barware tools scratch-safe, organized and accessible at all times. Made to keep the entire bartender set neat and organized while displaying a brilliant masterpiece of a neatly compact professional style bartending set.

High Quality Standard: Professional grade bartender tools all have a real heft to them and are made to last while dripping beauty, quality, and functionality. This entire bar accessories kit is made of the highest quality stainless steel alloy.

Easy To Handle: This easy-to-handle bartender kit can be used to mix and stir drinks without leaking or breaking easily! These stainless steel mugs won't get damaged by heat either - just put them in your dishwasher when needed!

Perfect Gift For Drinks Lovers: First-class bartending set plus a sleek bamboo tool holder, both packed together inside a classy gift box. Friends will be happy to receive such an amzaing gift from you.
Bartender Kit for All Your Cocktail Mixing Needs!
Bartender Kit Bar Tool Set: 10 Piece Professional Bartender Kit Bar Tool Set (Copper).

Advantages Of 10-Piece Bar Tool Set at Barhomevip
Top-quality 304 stainless steel material, ergonomic design, easy to grasp and clean.
Beautiful Cooper Color of the bartender kit shows your unique taste.
No leaking, Watertight seal provides great leak-proof quality.
Luxurious & Elegant packaging, which can be a perfect gift for your family and friends.
Stable Bamboo stand, which is a stylish design, full of modern art.
Great for home, restaurants, hotels, bars, parties, places of entertainment.
The Barhomevip 10-Piece Cooper Bar Tool Set is The Ideal Piece for You!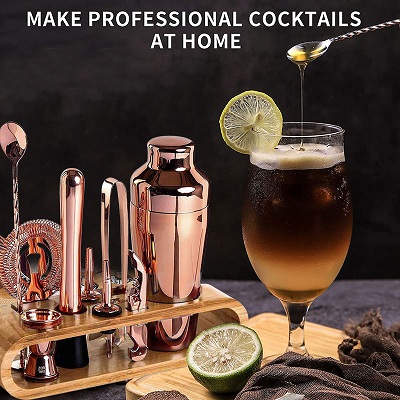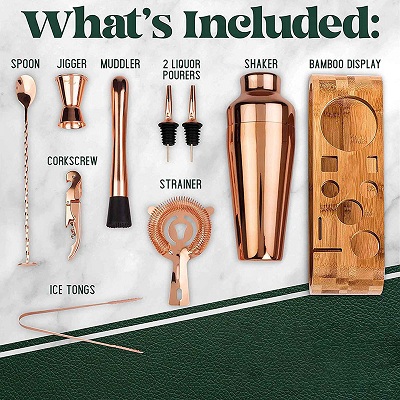 10 Piece Professional Bartender Kit Bar Tool Set (Copper) Includes:
1x Bamboo Stand
1x Muddler
1x Drinks Shaker
2x Pourers
1x Strainer
1x Mixing Spoon
1x Corkscrew
1x Double Jigger
1x Ice tongs
When you get the whole bartender kit, you will be happy to make your first drink. If you don't have ideas about drinks, we offer some good drinks recipes for you in detail.

Mojito Ingredients: 1 1/3 oz White Cuban Rum, 1 oz Fresh Lime Juice, 6 Mint Sprigs, 2 teaspoons white sugar, Soda Water.
Margarita Ingredients: 1 oz Tequila, 2/3 oz Cointreau, 1/2 oz Freshly squeezed lime juice
Mai Tai Ingredients: 1 1/3 oz White Rum, 2/3 oz Dark Rum, 1/2 oz Orange Curacao, 1/2 oz Orgeat syrup, 1/3 oz Fresh Lime Juice
Negroni Ingredients: 1 oz Gin, 1 oz Campari, 1 oz Sweet Red Vermouth
Long Island Iced Tea Ingredients: 1/2 oz Gin, 1/2 oz Tequila, 1/2 oz Vodka, 1/2 oz White Rum, 1/2 oz Triple sec, 1 oz Gomme syrup
Blue Lagoon Ingredients: 1 oz Vodka, 1 oz blue curacao liqueur Lemonade
Martini Ingredients: 2 oz Gin, 1/3 oz Dry Vermouth.
Manhattan Ingredients: 1 2/3 oz Rye Whiskey, 2/3 oz Red Vermouth, 1 dash Angostura Bitters
Cosmopolitan Ingredients: 1 1/3 oz Citron Vodka, 1/2 oz Cointreau, 1 oz Cranberry Juice, 1/2 oz Fresh Lime Juice.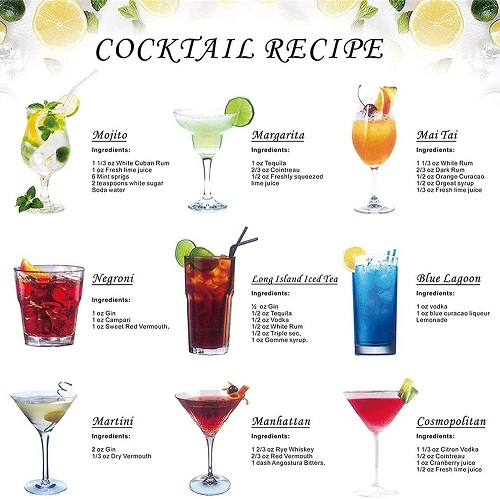 With an easy-to-follow guide and premium quality tools, your guests will be impressed with your bartending skills.
Whether you're a pro bartender or just getting started, this bartender kit is a must-have for any home entertainer.
So what are you waiting for?
Nourish your bar skills with
Barhomevip
! Add to cart now!
THANKS FOR COMING TO Barhomevip
WRITE YOUR OWN REVIEW
YOU'RE REVIEWING: 10 Piece Professional Bartender Kit Bar Tool Set (Copper)
HOW DO YOU RATE THIS PRODUCT?
---
Alba

13 Aug 2022

Supeer

Bought it as a gift for my friend. Delivered very fast and good quality. Great gift for someone who likes to do cocktails it has everythIng. Would recommend

Guadalupe Morales

02 Aug 2022

Happy I bought it

Everything came very well packaged and clean. I had an issue with my first order but customer service is helpful, polite, and fixed the issue. This set is truly worth your money. It made a wonderful gift for my husband.

Gene

06 May 2022
You May Also Like 23 Piece Bartender Kit Mixology Bar Tools With Bamboo Stand

3 Review(s)