11 Piece Boston Drink Shaker Set Mixology Bartender Kit With Bamboo Stand

3 reviews
VOLUME:
23.7 oz (700ML) / 20.3 oz (600ML)

20.3 oz (600ML) / 15.2 oz (450ML)
$ 42.99
11-Piece Boston Drink Shaker Set: No need to purchase more bar accessories. With this 11-Piece All-In-One bar kit, you'll have all the bartender accessories to concoct a delicious drink. It includes 1 Bamboo Stand,2 Pieces Boston Drink Shaker (Select Available Shaker Volume: 23.7 oz (700ML) / 20.3 oz (600ML), 20.3 oz (600ML) / 15.2 oz (450ML)), 1 Muddler,1 Strainer, 2 Pourers, 1 Double Jigger,1 Ice Tongs,1 Mixing Spoon,1 Tweezers. Both amateur and experienced bartenders can achieve any alcoholic beverages in the comfort of your living room.

Elegant Design Bamboo Stand: No more clutter in your kitchen drawers and cabinets. Keep your boston shakers bartending kit organized and accessible while reducing steel scratches and preventing the loss of your bar tools thanks to our bartender kit stand.

Durable And Long-Lasting: Our superior bartender set design will not peel or scratch, and it is heavily rust-resistant. Unbreakable 304 stainless steel design offers a perfect water-tight seal. Hand-wash with warm, soapy water, and the gorgeous finish will last for years!

The Perfect Gift: Prepare to delight your loved ones. Our all-inclusive boston shaker set is packed inside a luxury gift box, making this barware set the perfect gift for a drink lover.

Modern & Stylish Bar Set With Stand: Rest assured, our dedicated dents and grooving will hold your bar essentials securely. Show off your dazzling boston shaker kit with the chic bamboo storage part of your home décor, and receive compliments from all your guests.

This 11-piece Mixology & Craft boston drink shaker set has every tool you need to make professional drinks at home. Our double sided measure has both imperial and metric measurements. The Boston Shaker is the choice of professionals -- fast, efficient, and can make many servings at once.
Barhomevip shows the whole accessories of 11 Piece Boston Bartender Tools Kit in the following picture: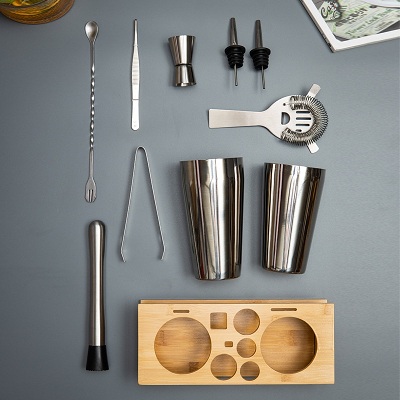 11 Piece Bartender Boston Shaker Bar Tools Set Includes:
1x Bamboo Stand
2x Boston Drinks Shaker (Select Available Shaker Volume: 23.7 oz (700ML) / 20.3 oz (600ML), 20.3 oz (600ML) / 15.2 oz (450ML))
1x Mixing Spoon
1x Tweezers
1x Strainer
2x Pourers
1x Muddler
1x Double Jigger
1x Ice tongs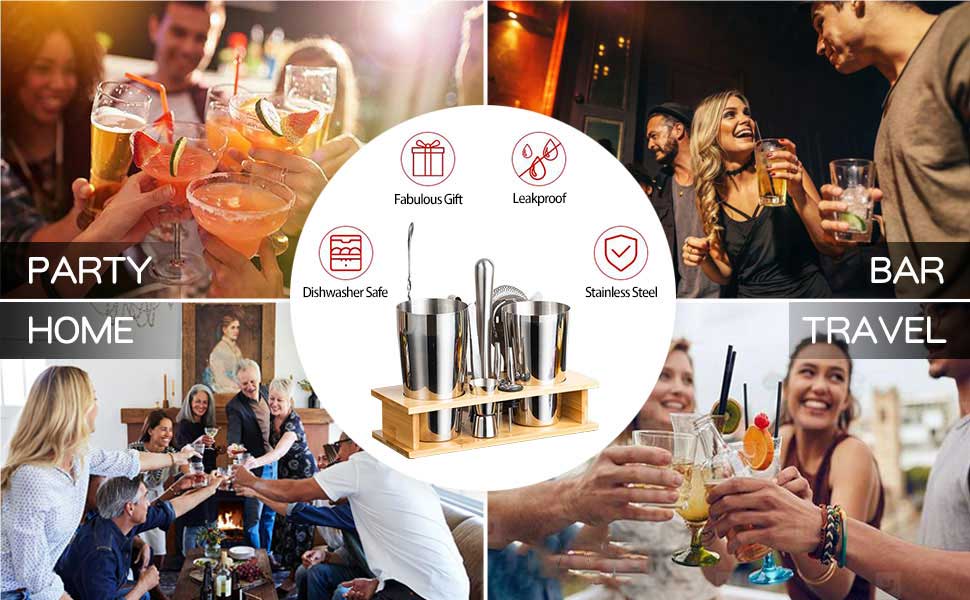 Stainless Steel Tools | Natural Bamboo | Sleek Tool Design | Attractive Storage | Leak-Proof Boston Shaker Put your mixology skills to work with high-end drinks at home. With a natural bamboo stand and stainless steel tools, this set will be an attractive new addition to your kitchen. Enjoy drinks at home with this high-quality, long-lasting boston drink shaker set.
THANKS FOR COMING TO Barhomevip
WRITE YOUR OWN REVIEW
YOU'RE REVIEWING: 11 Piece Boston Drink Shaker Set Mixology Bartender Kit With Bamboo Stand
HOW DO YOU RATE THIS PRODUCT?
---
Jose Meregote

17 Aug 2022

WeLo

04 Aug 2022

Looks great on the bar!

Nice presentation. Items are nice quality.

Colin

09 May 2022

Giftable

Quality pieces in a very nice display. Looks great and easy to take out individual pieces.
You May Also Like 23 Piece Premium Bartender Kit With Acrylic Stand

3 Review(s)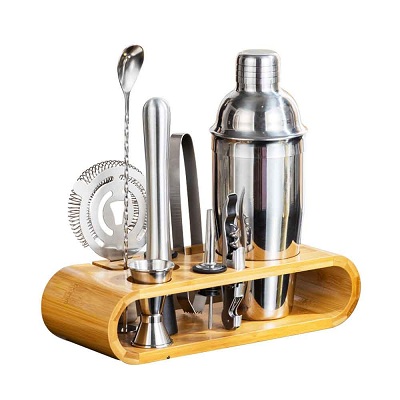 10 Piece Perfect Bartender Kit Bar Shaker Tool Set (Silver)

7 Review(s)