11 Piece Bartender Kit Home Bar Tools Set

2 reviews
VOLUME:
25.3 oz (750ML)
23.7 oz (700ML)
18.6 oz (550ML)
11.8 oz (350ML)
$ 39.99
Bartender Tools Kit - This drinks shaker set will meet all your needs: make your drink at home or at a bar. Contains: 1 Drinks Shaker(Select Available Shaker Volume: 25.3 oz/750ML, 23.7 oz/700ML, 18.6 oz/550ML, 11.8 oz/350ml), 1 Mixing Spoon, 1 Double Jigger, 1 Strainer, 3 Pourers, 1 Lemon Grater, 1 Muddler, 1 Ice Tongs, 1 Bamboo Stand.

Exclusive Design - The unique design separates the drinks shaker from the bamboo stand. Make it easier to use other accessories. This kit is a piece of art - it adds a decorative touch to your home or bar.

Rustproof Materials - Rustproof drinks set is made of the highest quality stainless steel. You can put your tools in a dishwasher and keep their shine with ease.

Perfect Gift - Exquisite bartending kit and bamboo tool stand are housed in a gift box. Turn your friends and family into bartender experts with this premium drinks set. Great present for birthdays, father's day, college graduation, housewarming, valentines day gift, wedding gift, etc.

Enjoy Your Fantasy Drinks - This Bar Set is a great tool to help you make a delicious blend of drinks. This Bartender Kit lets you experiment with martini, mojito, and all drinks to the happiness of your guests at the parties.

Rest Assured Purchase - If any part of this bartender kit has been less perfect. Please contact us, we will solve the problem within 24 hours. We promise to do everything in our power to meet your experience.
Have you ever dreamed of becoming a professional bartender in the future?
Do you want to make unique drinks by yourself and show them off towards guests or friends?
If you are eager to become a pro bartender, you had better prepare a good set of bartender bar tools set in advance.
You can go to Barhomevip to find out which kinds of bartender bar tools kit suit for your recent level.

All Accessories of 11 Piece Home Bartender Shaker Bar Tools Set shows in the following picture: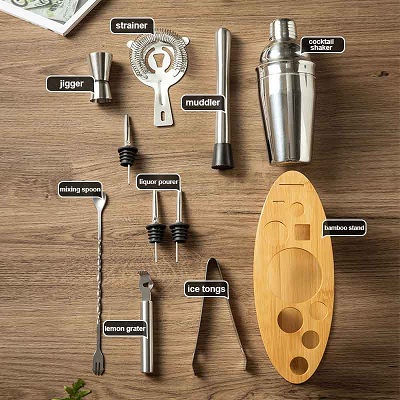 11 Piece Bartender Shaker Home Bar Tools Set Includes:
1x Bamboo Stand
1x Muddler
1x Drinks Shaker(Select Available Shaker Volume: 25.3 oz/750ML, 23.7 oz/700ML, 18.6 oz/550ML, 11.8 oz/350ml)
3x Pourers
1x Strainer
1x Mixing Spoon
1x Lemon Grater
1x Double Jigger
1x Ice tongs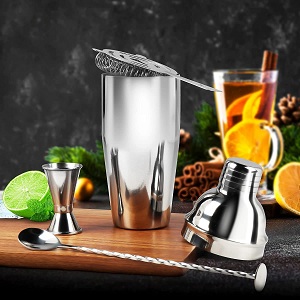 Executing a winning drinks takes equal parts bartending skills and high-quality tools. The 11 piece bartender kit takes care of the latter. Each piece of the kit is designed to help you craft drinks like a pro.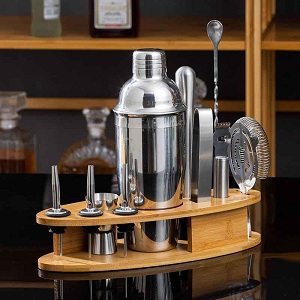 Forget the clutter of hiding your tools in the drawer. Stylish and sturdy, the bamboo display stand has convenient tool slots and a water-resistant finish that lets you proudly showcase your kit on any countertop or bar cart.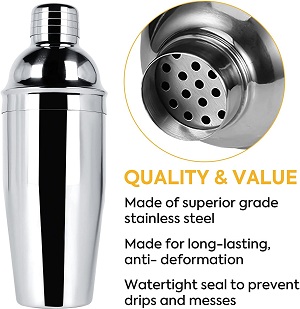 The stainless steel shaker lets you mix drinks without the mess. With a maximum capacity of 25.3 oz, it's large enough to make three drinks at once. Its leakproof design makes it perfect for professional bartending and entertaining.
Why Barhomevip Sells bartender bar tools kit?
After a long time exploration of the bartender kit market, we have realized the majority of bartender tools on the market were either low quality or too expensive.makes professional-grade bar kits for those finding their passion for mixology. We want to provide the best and cheapest bartender kits for customers who love making drinks.
What makes Barhomevip products unique?
Barhomevip cooperates with the best bartender kit factory and makes the most beautiful, professional-grade bar sets worthy of the world's finest mixologists without being expensive. When you receive the goods, you can use it at once. Our products set the standard for the ultimate at-home bar kit, taking your skills to the next level.
Why Barhomevip loves what we do?
Unlike other barware brands, we put our heart and soul into our bar kits. We believe in treating our customers like we would treat our friends, by opening the door to drinks excellence. If we can craft our perfect drinks at home, we want to be the helping hand in crafting yours.

THANKS FOR COMING TO Barhomevip
WRITE YOUR OWN REVIEW
YOU'RE REVIEWING: 11 Piece Bartender Kit Home Bar Tools Set
HOW DO YOU RATE THIS PRODUCT?
---
Kimberly Ruth Tartt-Godbolt

14 Aug 2022

Really great set

Wonderful set for your home bar. it comes with everything you need to make all of your favorite cocktails and to try some new ones. Good quality, easy to clean, and durable.

FCG

28 Jul 2022

My first cocktail set

New to cocktail world, this is my first cocktail set. Overall, I am satisfied.