9 Piece Bartender Kit Bar Tool Shaker Set

3 reviews
VOLUME:
25.3 oz (750ML)
18.6 oz (550ML)
11.8 oz (350ML)
$ 38.99
Complete Bar Accessories: This bartender kit includes 9 Pieces bar tools, which meet all your needs to make delicious drinks by yourself. This mixology bartender kit comes with 1 Bamboo Stand, 1 Ice Tongs, 1 Straw Spoon, 1 Double Jigger, 1 Corkscrew, 1 Seahorse Knife, 1 Strainer, 1 Cheese Knife, 1 Drink Shaker(Select Available Shaker Volume: 25.3 oz/750ML,18.6 oz/550ML,11.8 oz/350ml).

Stylish Bamboo Base: The bartender kit stand is made of renewable bamboo, which has a sturdy construction. With a well-designed and fantastic Bamboo Stand, all the bar parts could stay orderly. This beautiful drinks shaker set can also be used as a decoration to beauty your room.

Craftsmanship At Its Finest: Barhomevip has taken the time and done the testing to create a beautiful, professional bartender set. Your shaker bottle has weighted caps and is thicker, providing you with superior strength & ease of use. Plus, most of the tools in your bar kit are dishwasher safe, scratch-proof and made of durable stainless-steel.

Professional Choice: This is a suit most essential bartending tools in this bartender kit, You are easy to prepare and mix all types of drinks, from high end mixology recipe drinks to a simple martini or margarita, to impress your friends, impress your lovers, try to impress yourself as you drink alone.

Enjoy Your Fantasy Drinks: This Bar Set is a great tool to help you make a delicious blend of drinks. This Bartender Kit lets you experiment with martini, mojito, and all drinks to the happiness of your guests at the parties.
A bartender will not become professional without the help of good bartender bar tools kit.
If you are going to train yourself for pro bartenders, you may need a good set of bartender bar tools.
Please go to
Barhomevip
website and you can find the one that suit for your basic level of bartender skills.
Barhomevip shows the whole accessories of 9 Piece Bartender Tools Kit in the following picture: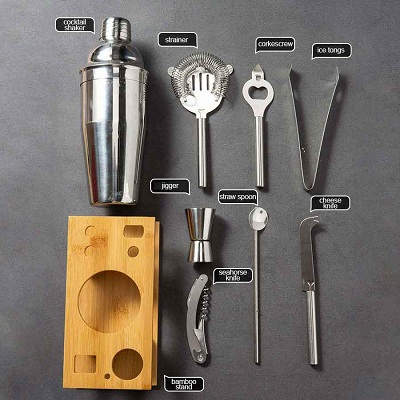 9 Piece Bartender Shaker Bar Tools Set Includes:
1x Bamboo Stand
1x Drinks Shaker(Select Available Shaker Volume: 25.3 oz/750ML, 18.6 oz/550ML, 11.8 oz/350ml)
1x Seahorse Corkscrew
1x Straw Spoon
1x Strainer
1x Cheese Knife
1x Corkscrew
1x Double Jigger
1x Ice tongs

There are some special accessories in this 9 Piece Bartender Bar Tools Kit. Here are the instructions of these bar tools accessories.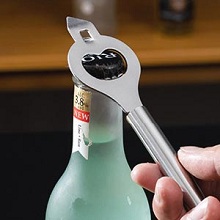 Corkscrew
Usually used to open bottles of drinks.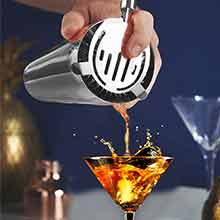 Strainer
Prevent the ice cube from slipping out of the cup, to create a smooth and delicious drink.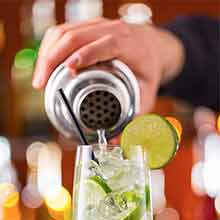 Drinks Shaker
Premium 304 stainless steel. Including a built-in strainer and a top sealing shaker cap.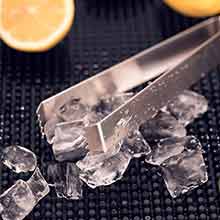 Ice Tongs
Convenient to pick up ice, various food such as: bread, salad, sugar and so on.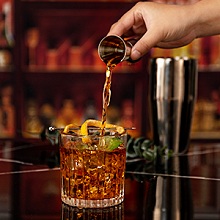 Double Jigger
Measure your ingredients pre-pour precisely.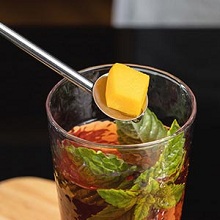 Straw Spoon
Usually used to eat and drink fruits or bread in the glass.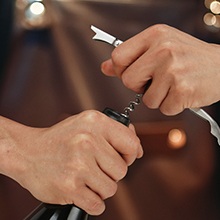 Seahorse Corkscrew
Uncork bottles with a two-step lever easily .
Cheese Knife
Cut the pieces of Cheese for drinks easily.
Why Barhomevip Sells bartender bar tools kit?
After a long time exploration of the bartender kit market, we have realized the majority of bartender tools on the market were either low quality or too expensive.makes professional-grade bar kits for those finding their passion for mixology. We want to provide the best and cheapest bartender kits for customers who love making drinks.
What makes Barhomevip products unique?
Barhomevip cooperates with the best bartender kit factory and makes the most beautiful, professional-grade bar sets worthy of the world's finest mixologists without being expensive. When you receive the goods, you can use it at once. Our products set the standard for the ultimate at-home bar kit, taking your skills to the next level.
Why Barhomevip loves what we do?
Unlike other barware brands, we put our heart and soul into our bar kits. We believe in treating our customers like we would treat our friends, by opening the door to drinks excellence. If we can craft our perfect drinks at home, we want to be the helping hand in crafting yours.
THANKS FOR COMING TO Barhomevip
WRITE YOUR OWN REVIEW
YOU'RE REVIEWING: 9 Piece Bartender Kit Bar Tool Shaker Set
HOW DO YOU RATE THIS PRODUCT?
---
Natalie Kwong

10 Aug 2022

Great gift!

Bought it as a gift for my bf, he loved it! Especially the stainless steel shaker, he finds it super useful.

Claudia Andreiana

29 Jul 2022

Amazing gift idea

We bought this as a present for our friends but we were there at the opening of the box :) Everything was in order and packed neatly, the materials looked great : the wooden board

Victor Garcia

19 Jun 2022

Product is great !

I got this bartender kit for my dads birthday, I haven't even given it to him but I know he's gonna love it! It's an amazing kit!

Great product would definitely buy again!
You May Also Like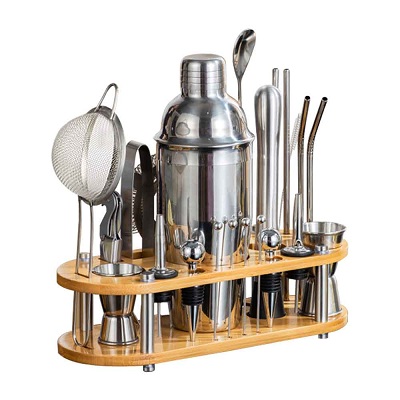 23 Piece Professional Bartender Kit Bar Tool Set

7 Review(s) 23 Piece Premium Bartender Kit With Acrylic Stand

3 Review(s)