Adjustable Level Portable Smoke Infuser Kit, Handheld Smoking Infuser with Wood Chips
$ 57.99
Complete Silver Smoking Infuser Kit: This Smoker Kit includes 1 Smoking Infuser, 1 Flexible Hose, 1 Cleaning Brush, 2 Filter grid, 1 Small Screwdriver, 1 Dome Lid, 1 Cup Lid, 1 User Manual, 4 Wood Chips. Flexible hose and specially designed nozzle make this Smoking Infuser a versatile all-purpose Food Smoker.

Adjustable Smoke Levels: updated design, in the switch position, we set two levels. You can adjust the concentration of smoke according to your taste needs.

Simple and Efficient: Our smoke infuser easy to assemble, disassemble and transport. After assembling the main body, just put 2 AA batteries (not included) and press the button to start using. Smoking Infuser is suitable for your home kitchen, bar, restaurant or outdoor use as barbecue, picnic, hiking, fishing, etc.

Convenient and Portable: Our smoking Infuser are compact, durable and space saving. including filters, sawdust, a screwdriver, and a small brush for cleaning the sawdust. Portable smoking Infuser compact, can be placed directly on the palm, Easy to carry for travel, barbecue and camping. This smoke infuser is for you.

Perfect Machine for Your Kitchen: If you like smoky flavors and want to add it to your home cooking without having to fire up the grill, this smoke infuser is for you. Let's make it a fun addition to your kitchen!
Barhomevip food smoking Infuser suit for meat, vegetable, cheese, dessert ect.
It is a wonderful thing to cook breakfast and dinner for the family with a smoke infuser every day, not only can you eat delicious food, but also enhance your relationship.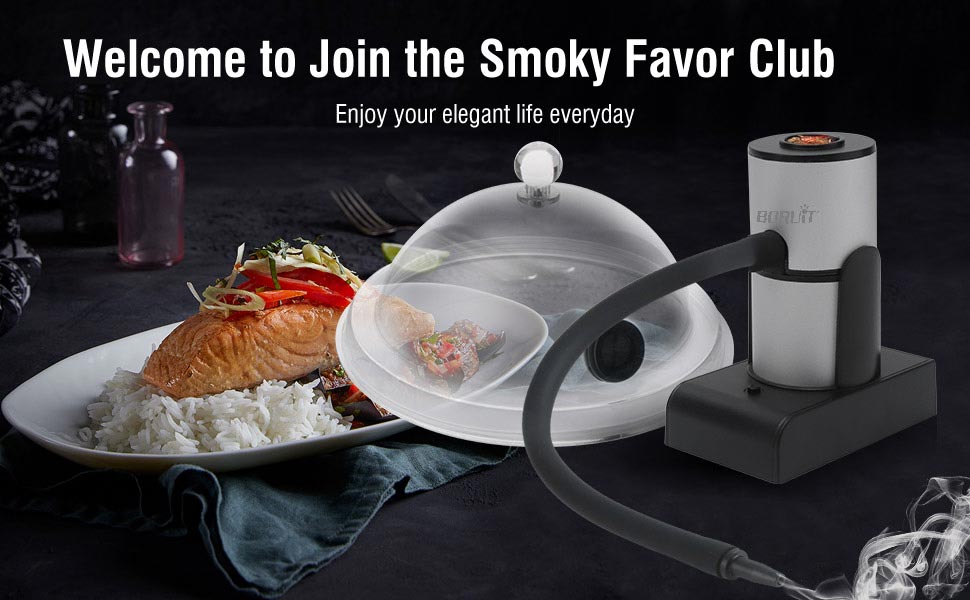 Portable Smoker Kit & Accessories:
1.Comparing with other food smokers, you'll have to purchase wood chips, dome lid or cup lid separately. But our smoking Infuser kit includes smoke infuser, dome lid, cup lid, wood chips, cleaning brush, small screwdriver and replacement mesh. Let's add it to your cart and enjoy it!
2.Our indoor smoker can produce natural cold smoke in seconds! Surprise your guests and yourself with table-side smoking!
3.Keeping you house and kitchen away from high temperature and smoke all around.You can enjoy the smoky flavor food or drinks at anytime and anywhere!
4.The smoking Infuser powered by 2 pieces of AA batteries, not included in package.
5.Clean the ash and the oil generated after each use with the cleaning brush or dish soap. Replace the mesh when the mesh is blocked or perforated.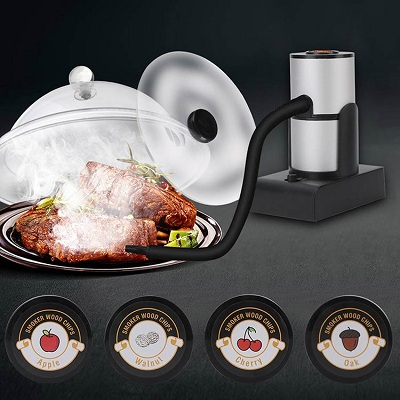 How to Use Handheld Smoking Infuser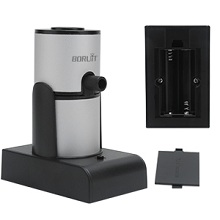 Assemble and Insert Batteries
Assemble the smoker Infuser with the rubber tube and insert 2 AA batteries.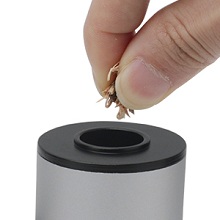 Choose Your Favorite Wood Chips
Choose your favorite wood chips or spices and add them into the burning chamber.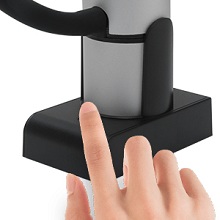 Turn the Smoking Infuser on
Please remind to turn on the smoking Infuser before you light the wood chips on.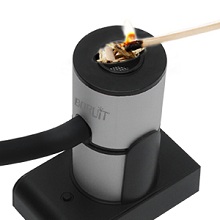 Ignite Wood Chips
Use appropriate igniter to light the wood chips, like match or common lighter.

THANKS FOR COMING TO Barhomevip
WRITE YOUR OWN REVIEW
YOU'RE REVIEWING: Adjustable Level Portable Smoke Infuser Kit, Handheld Smoking Infuser with Wood Chips
HOW DO YOU RATE THIS PRODUCT?