Smoker Wood Chips for Smoking(Apple, Cherry, Walnut, Oak)
$ 22.99
4 Flavors Wood Chips Set: This Wood Chips Set includes 4 X1.4 oz Natural Apple Cherry Walnut Oak Smoking Wood Chips. Use your favorite smoking gun to add aromas of apple, cherry, walnut and oak for your food and drink, you can also DIY mix different flavors.

Natural Smoker Chips: Our wood chip smoking fuel is handmade from natural wood, woods chips are air dried for 16 to 24 months or kiln dried to 8% humidity, to optimize the flavor extracted from the wood. These natural wood chips is suitable for most people, no matter you are amateur bartender, casual chef or professional, this smoky sawdust can brings the most pure smoky scent for you.

Quickly Ignite: These fine shavings ignite quickly and burn up to 100%, creating a delicate smoky flavor. Can be used with any portable smoking gun, hand-held smoke infuser , smoker box or cocktail smoker kit. The resulting cold smoke adds a true smoky flavor to food or drink without changing its texture.

Widely Used: Each box of chips weighs 1.4 oz and is portable and lightweight, very easy to carry, allows you to enjoy the smokey anywhere anytime, whatever in your home, kitchen, garden or outdoors.
Reusable wood chips set for smoker with different flavors (apple, cherry, oak, walnut), 100% pure wood material, no harmful fillers, a perfect match for smoked food and drinks, infusing delicious flavors with natural smoke.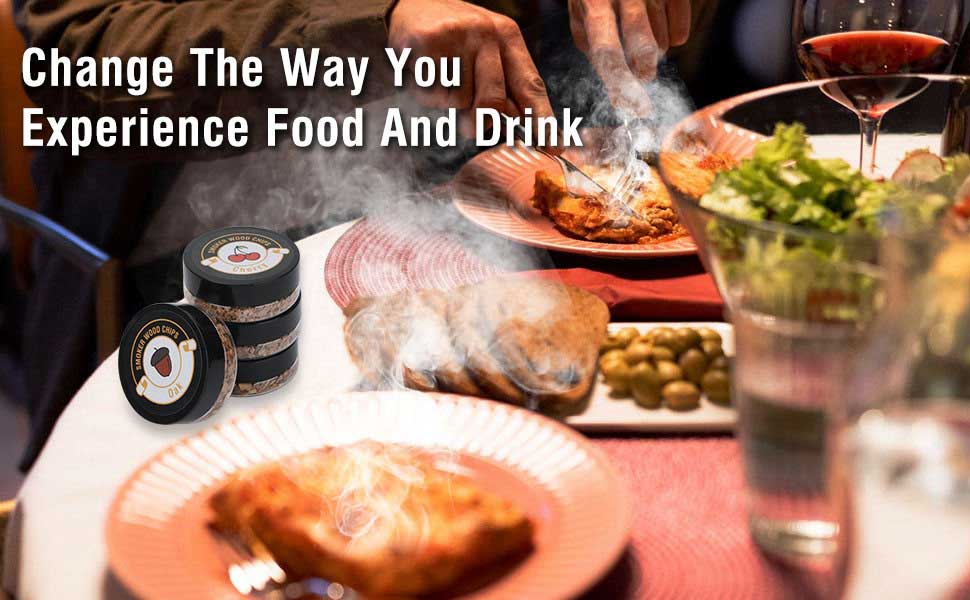 4 Packs of Wood Chips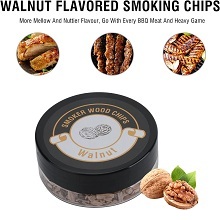 Walnut Wood Chips
Cherry Wood Chips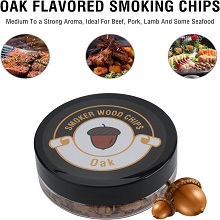 Oak Wood Chips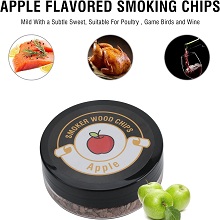 Apple Wood Chips
Features of Smoking Wood Chips Set:
1.Hand Make With Love: Our wood chip is hand crafted by our master, carefully selected high-quality wood, herbs, spices modulated from.
2.All Natural: Extracted from pure natural wood without added any other substances, the wood is air-dried for 16-24 months or kiln-dried to 8% humidity, best for the extraction of flavors from the natural wood.
3.Various Flavors: Package come with 4 diffrence style wood clips,which can add an authentic, rich smokey flavor to your favorite.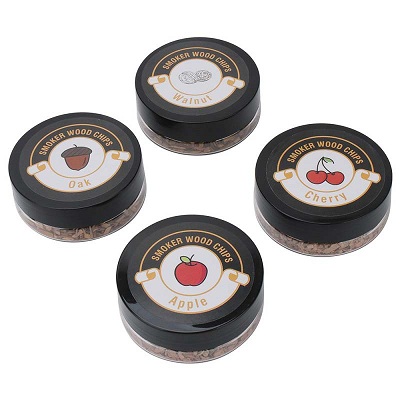 THANKS FOR COMING TO Barhomevip
WRITE YOUR OWN REVIEW
YOU'RE REVIEWING: Smoker Wood Chips for Smoking(Apple, Cherry, Walnut, Oak)
HOW DO YOU RATE THIS PRODUCT?