Adjustable Level Portable Smoking Infuser with 4 Packs of Wood Chips, Handheld Smoke Infuser for Food and Drink
$ 58.99
Complete Smoking Infuser Kit: This Smoker Kit includes 1 Smoking Infuser, 1 Flexible Hose, 1 Cleaning Brush, 2 Filter grid, 1 Small Screwdriver, 1 Dome Lid, 1 Cup Lid, 1 User Manual, 4 Packs of Wood Chips. Flexible hose and specially designed nozzle make this Smoking Infuser a versatile all-purpose Food Smoker.

Adjustable Smoke Levels: updated design, in the switch position, we set two levels. You can adjust the concentration of smoke according to your taste needs.

Add Real Smoky Flavor in Minutes: Our smoking Infuser will produce fancy and natural cold smoke in seconds. Gentle enough for use on steak, salmon, cheeses, desserts, fruits and vegetables without changing texture or temperature. Smoked food, here we go!

Portable & Durable: Our smoke infuser is compact and lightweight enough to be used with only one hand, so it can be used tableside to add a bit of dramatic flair to your meal. You can smoke for your favorite foods or cocktail at anytime and anywhere!

Perfect Machine for Your Kitchen: If you like smoky flavors and want to add it to your home cooking without having to fire up the grill, this smoke infuser is for you. Let's make it a fun addition to your kitchen!
Barhomevip portable smoke infuser is engineered to the perfect size for smoking your meals and drinks with cool indoor smoke, transforming your gourmet kitchen skills. It's probably going to be your favorite kitchen gadget.
Why Choose Barhomevip Smoking Infuser?
1: Our portable smoking Infuser is a beautiful perfect alternatives tools for BBQ Stoves and other big or heavy smoking tools, lightweight & convenient!
2: Adding smoky flavor and aroma to your food or drinks easily, quickly, away from strong fire burning and smokey, much natural and healthier!
3: Keeping you house and kitchen away from high temperature and smoker all around, much cleaner!
4: You can enjoy the smoky flavor at any time and anywhere you like, indoor or outdoor both possible.
This smoke infuser offers two different adjustable smoke volumes. You can control the amount of smoke according to the needs of food to achieve the best smoking effect. At the same time, it has a Wide Mouth, so it is more convenient to operate and produce smoke.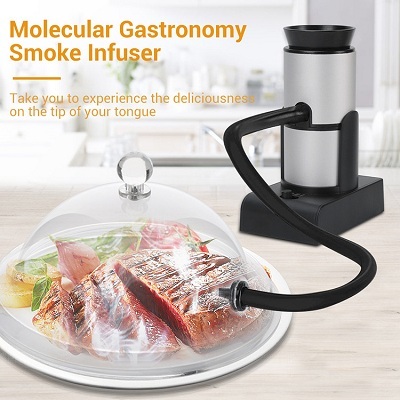 4 Packs of Wood Chips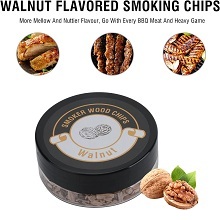 Walnut Wood Chips
Cherry Wood Chips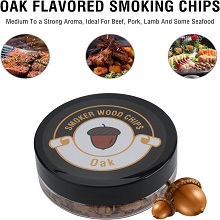 Oak Wood Chips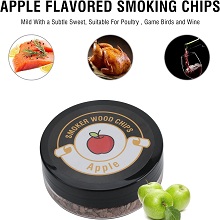 Apple Wood Chips
Barhomevip smoking Infuser details you need to know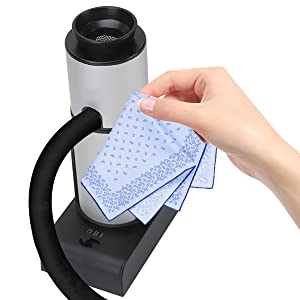 Easy to Clean
The smoker is made of high-end aluminum alloy, the surface and interior are neat and smooth, and it is very easy to clean.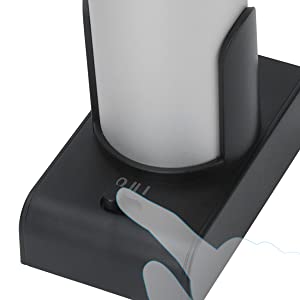 Two-speed Wind Switch
The upgraded version of the smoker adopts a two-speed wind switch, which can effectively control the smoke effect.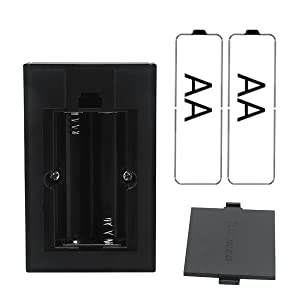 Use 2*AA Batteries
The smoker has low power consumption and uses 2*AA batteries, which can be bought in convenience stores.
Our portable, handheld smoker fixes that in a couple minutes. Smoking Infuser quickly uses various types of sawdust, tea, herbs, spices, hay, dried flowers to smoke. Smoking you like - Fish and seafood, molecular cuisine, cocktails, nut snacks, etc.

THANKS FOR COMING TO Barhomevip
WRITE YOUR OWN REVIEW
YOU'RE REVIEWING: Adjustable Level Portable Smoking Infuser with 4 Packs of Wood Chips, Handheld Smoke Infuser for Food and Drink
HOW DO YOU RATE THIS PRODUCT?