Smoker Wood Chips for Smoking and Grilling (Apple, Pecan, Cherry, Oak)
VOLUME:
4 Flavors
Apple Flavor
Oak Flavor
Pecan Flavor
Cherry Flavor
$ 30.99
Resealable & Storable Package: Packed in 4 resealable container, convenient to use and store. Size : diameter 70mm/2.75in, height 85mm /3.34in, 90g 100% all-natural wood chips of each box, real wood, no harmful fillers.

High Quality Wood Chips: Ignite quickly and com-bust 100% to create a delicate smoky flavor. Ideal for use with smoking gun cocktail smoker, other smoke infusers, smokers grills and smoke boxes.

4 Flavors Natual Wood Chips for Smoking: Apple Pecan Cherry Oak Wood Chips ,4 different taste for smoking meat ,fish ,whisky, providing you perfect balance of the right amount of smoke for an unmatched smokey flavor. Now get ready to enjoy flavors that will make you salivate.

Enjoy Your Own Flavors: Smoking wood chips quickly and easily adds natural cold smoke flavor and aroma to meat, fish, vegetables, sauces, and cocktails in about 30 seconds, without using heat. Just enjoy natural and authentic smoked food or drinks.
Barhomevip wood chips (apple pecan cherry oak flavors ) are 100% natural fuel source that contains no chemicals, additives or preservatives. Our wood chips eliminates any added calories or fat, but doesn't compromise an ounce of flavor. Use our natural wood chips to add smoky flavor and aroma to your food or drinks ,much natural and healthier.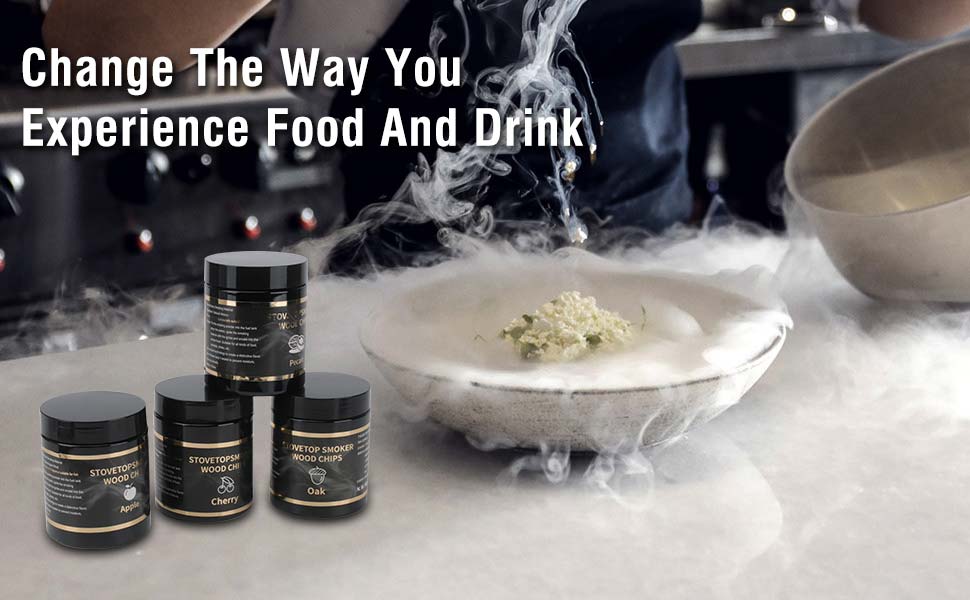 4 Packs of Wood Chips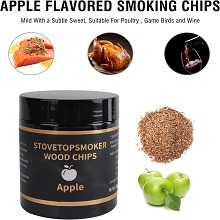 Apple Wood Chips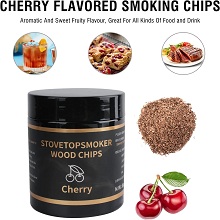 Cherry Wood Chips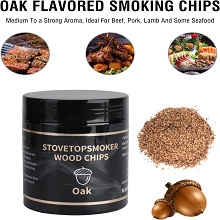 Oak Wood Chips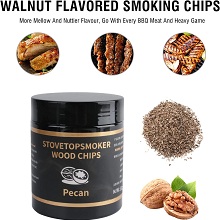 Pecan Wood Chips
Why Do You Need Wood Chips Set for Drinks or Food?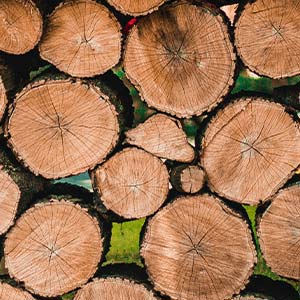 Natural Wood Chips
100% natural wood chips, only vanilla is added to enhance or balance the flavor, does not contain any chemicals or preservatives. The aroma of smoky natural wood chips will definitely leave your mouth watering and unforgettable.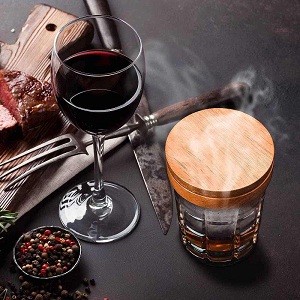 Perfect Match for Smoky Drinks
These carefully prepared wood chips can perfectly match various beverages such as cocktails and whiskey. The smoky flavor is poured into the drink and then to the mouth, and then to the body, you can be clear feel the smell of smoky natural wood, leaving you endless aftertaste.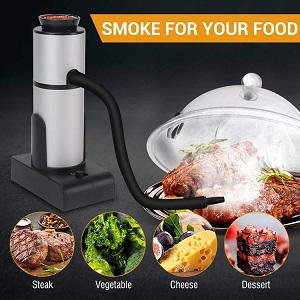 Add Smoky Flavor to Food
We have added spices, herbs and tea to the wood chips, so that the wood chips can not only maintain the original taste when smoking meat, but also add a refreshing feeling, thereby reducing the greasy feeling of the meat, so our wood chips is very suitable for Smoked meats.
THANKS FOR COMING TO Barhomevip
WRITE YOUR OWN REVIEW
YOU'RE REVIEWING: Smoker Wood Chips for Smoking and Grilling (Apple, Pecan, Cherry, Oak)
HOW DO YOU RATE THIS PRODUCT?