10 Piece Perfect Bartender Kit Bar Shaker Tool Set (Silver)

7 reviews
VOLUME:
25.3 oz (750ML)
23.7 oz (700ML)
18.6 oz (550ML)
11.8 oz (350ML)
$ 39.99
Complete Bar Accessories: This bartender kit includes 10 Pieces bar tools, which meet all your needs to make delicious drink by yourself. This mixology bartender kit comes with 1 Bamboo Stand, 1 Ice Tongs, 1 Spoon, 1 Double Jigger, 1 Corkscrew, 1 Muddler, 2 Pourers, 1 Strainer, 1 Drink Shaker(Select Available Shaker Volume: 25.3 oz /750ML, 23.7 oz/700ML, 18.6 oz/550ML, 11.8 oz/350ml).

Stylish Bamboo Base: The bartender kit stand is made of renewable bamboo, which has a sturdy construction. With a well-designed and fantastic Bamboo Stand, all the bar parts could stay orderly. This beautiful drinks shaker set can also be used as a decoration to beauty your room.

Premium and Durable Stainless Steel Material: This Bartender Set is made of SS304 Stainless Steel, which does not rust. Besides, the cocktail shaker won't leak once shook. The built-in strainer is convenient for filtering. It is easy for novice bartenders to use.

Enjoy Your Fantasy Drinks: This Bar Set is a great tool to help you make a delicious blend of drinks. This Bartender Kit lets you experiment with martini, mojito, and all drinks to the happiness of your guests at the parties.

Perfect Gift For Friends: This bartender drink shaker set comes with a beautiful packing box. The mixology bartender kit is a wonderful gift for your friends and selfmade drinks enthusiasts. Buy it as a housewarming, anniversary, wedding, and birthday gift for the people you love.
Do you want to be a professional bartender? Do you have own a pro bartender bar tools kit?
If not, you had better look through
Barhomevip
to find the one that suits for your level of making drinks.
If you expect to begin as a novice bartender, you can choose this 10 Piece Perfect Bartender Kit Bar Shaker Tool Set (Silver).
Here is the complete accessories of
10 Piece Perfect Bartender Kit Bar Shaker Tool Set (Silver)
in this picture. You can figure out the name of each accessory from it.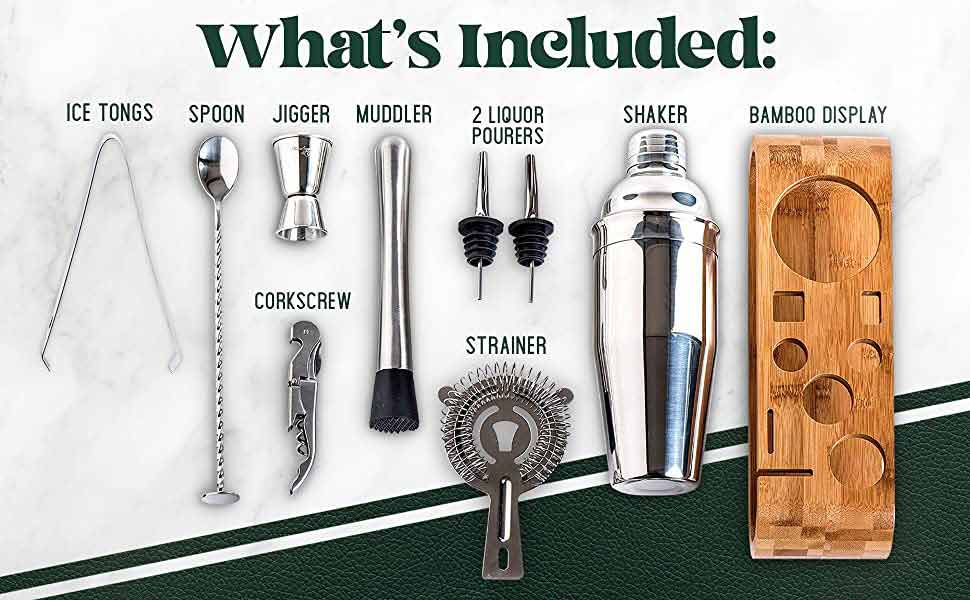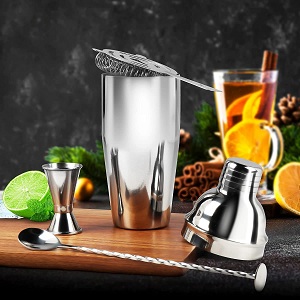 Executing a winning drinks takes equal parts bartending skills and high-quality tools. The 10 piece bartender kit takes care of the latter. Each piece of the kit is designed to help you craft drinks like a pro.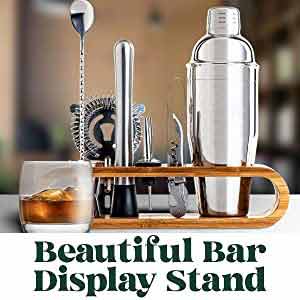 Forget the clutter of hiding your tools in the drawer. Stylish and sturdy, the bamboo display stand has convenient tool slots and a water-resistant finish that lets you proudly showcase your kit on any countertop or bar cart.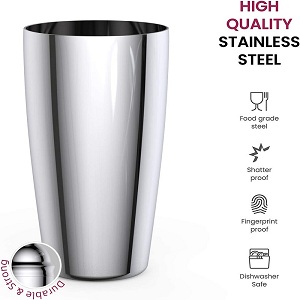 The stainless steel shaker lets you mix drinks without the mess. With a maximum capacity of 25.3 oz, it's large enough to make three drinks at once. Its leakproof design makes it perfect for professional bartending and entertaining.
Why Barhomevip's Products Are More Premium Than Other Brands?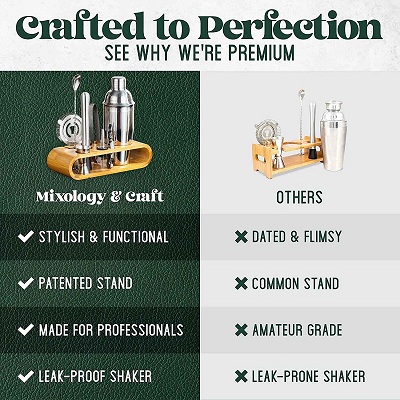 Advantages of 10-Piece Premium Bartender Bar Tools Set (Silver):
1. We offer customers the stylish and functional bartender kit to help them to make delicious drinks at home or any place.
2. The unique bamboo stand makes this pro bartender kit attractive towards guests or friends.
3. This 10-Piece Premium Bartender Bar Tools contains the whole accessories, customers can be trained to become professional bartender via this good kit.
4. The leak-proof shaker helps customers craft drinks smoothly and you don't care about the leak drinks from the bottle.
5. We use the best stainles steel to make the whole bartender kit which makes it away from scratches and rust all the time.
6. We also provide the best services for customers to let you enjoy shopping on Barhomevip website.

Each function of Accessories of 10-Piece Premium Bartender Bar Tools Kit (Silver) Shows:
Stylish Bamboo Display - To hold all of the bar tools neatly and stylishly.
Drinks Shaker - To whip up classic drinks and experimental mixes.
Liquor pourers - To streamline the flow of liquid from a bottle.
Strainer - To remove the chunky ice from mixed drinks.
Muddler - To mash or muddle ices, fruits, herbs, and spices.
Double Jigger - To precisely measure your ingredients pre-pour.
Corkscrew - To easily uncork bottles with a two-step lever.
Ice Tongs - To transfer ice cubes or blocks into a glass.
Mixing Spoon
- To mix and emulsify your concoctions.

THANKS FOR COMING TO Barhomevip
WRITE YOUR OWN REVIEW
YOU'RE REVIEWING: 10 Piece Perfect Bartender Kit Bar Shaker Tool Set (Silver)
HOW DO YOU RATE THIS PRODUCT?
---
JENNIFER

16 Aug 2022

Cocktail shaker set

Cocktail shaker easy to clean and great value

Marioth

10 Aug 2022

Good cocktail shaker

It was what I expected I've been using this bartender kit for some home made cocktails and I like it a lot

Warren

01 Aug 2022

Great set

A perfect set for making cocktails. It has everything you need. It has been made with high quality material and it's very stylish. I highly recommend it. Enjoy your drink!

Mr Esmond A Johnson

23 Jul 2022

nice service

Had a slight problem with the shaker, spoke to the company. Sent a replacement. Customer service excellent as is the cocktail set.

Chris

10 Jul 2022

GREAT PRODUCT!!

This product is great! The craftsmanship of the products are top notch and the wooden stand is perfect because it provides enough weight that the items feel secure but doesn't take up too much space. The customer service provided by this company was perfect

Mark Swinden

01 Jul 2022

Great Beginner Set

This set is solid and well made. I love the gun-metal finish. For what this set is...a beginner set, it's as close to perfect as you can get for this price point. My only concern to this point is the durability of the actual finish, as it's still too early to tell how long it will last. I will update this review after I get some decent use under my belt.

Jeff

09 May 2022

Better than expected.

The bar tools in the kit are well made, the stand is sturdy and looks great, while keeping everything in place.
You May Also Like 10 Piece Drink Shaker Set Mixology Bartender Kit With Stylish Bamboo Stand

4 Review(s) 10 Piece Perfect Bartender Kit Bar Shaker Tool Set (Gold)

4 Review(s)