Bar Mixing Spoon, Stainless Steel Bar Long Spoon with Spiral Pattern

1 reviews
VOLUME:
$ 3.99
Long Length & Twisted Middle: 8 inch or 10 inch Bar Mixing Spoons are available for you to select. Thin size can reach to the bottom of almost any cup size, so you can go wild and create some giant tasty masterpieces! Spiral Pattern Design for better control and grip, allow you to spin effortlessly. Smooth coil for comfortable stirring.

Multipurpose Utensil: Application for bar, coffee shop, milk tea shop, restaurants, home, party, etc. Versatile utensil fits virtually any cup size. Mixing and stirring desserts, ice tea, malts, beverages, milkshakes, and juice to aid in your drink preparation and without getting your fingers in the drink! Make flavorful drinks with ease!

Premium Stainless Steel: Made of premium grade stainless steel for superb durability and corrosion resistance, easy maintenance and dishwasher safe. Makes it easy to mix like the pros do, a mixing Spoon, that you can use over and over again.

Why & How to Stir: Stirring does a better job in retaining the clarity and rich texture of your drink. Hold the bar spoon between your thumb and first two fingers, allow it to rotate itself.
Bar mixing spoon, a great tool to add to your bar collection or bartender supplies.
The durability and functionality makes its appearance like an old buddy when you want to enjoy a break and take a sip.
You gonna have a bit of an authentic drink maker 's thrill when you start to stir the drink in front of you slowly with this spoon.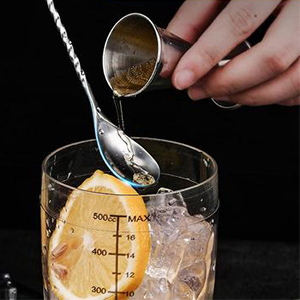 Premium Material
Made of high quality food grade stainless steel, sturdy and durable, will not rust. Polished and smooth surface gives it an elegant look.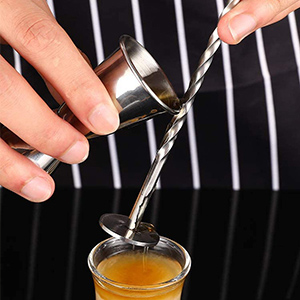 Spiral Design
Twisted middle for better control and grip, designed to spin effortlessly. Perfect for mixing drinks, cocktails, smoothies or milkshakes.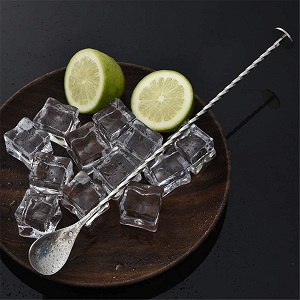 Professional Mixing Spoon
With its professional stainless steel look and high quality design, this bar spoon can effortlessly mix and combine cocktails with a simple stir, allowing you to create tasty and beautiful looking drinks.
THANKS FOR COMING TO Barhomevip
WRITE YOUR OWN REVIEW
YOU'RE REVIEWING: Bar Mixing Spoon, Stainless Steel Bar Long Spoon with Spiral Pattern
HOW DO YOU RATE THIS PRODUCT?
---
phillip simpson

09 Nov 2022

good bar mixing spoon

The mixing spoon is a good tool for me mix the drinks in the glass, it is made of premium stainless steel. Nice spoon.