2-Piece Boston Shaker Tins Stainless Steel Bar Shaker For Bartenders
VOLUME:
23.7 oz (700ML) / 20.3 oz (600ML)

20.3oz (600ML) / 15.2 oz (450ML)
$ 14.99
Beginner-Friendly: Once you're up and running, you'll appreciate the highly leak-proof nature of our boston shaker set, allowing you to confidently rustle up shaken or stirred drinks on demand, while the tin on tin shaker is easy to seal and open.

Made to Last: Upgraded 304 stainless steel boston shaker tins is your best bet, which is specially thickened to protect itself from rust for lifetime and remain shiny and new after years of shaking, and it can withstand lots of rough and tumble, even being dropped, without letting you down.

For Everyone: Whether you're an amateur bartender or master mixologist, our bar shaker set has all the bar tools you need to whip up impressive drinks for your guests.

Top-Notch Gift: This liquor boston shaker is the best gift that everyone at the party will be talking about, it comes in a stylish, package for that special gift opening experience, giving a plenty of inspiration to get started, even if never made a drink before. A thoughtful bar shaker gift for friends, family, colleagues, clients, and business partners that proves your good taste.
Barhomevip provides a hand-crafted, rust-proof Boston shaker for your bartender kit!
Tips About Using Boston Shaker Tins For Making Drinks
1. Employ the larger half to mix together the ingredients, add ice and put on the smaller half at an angle.
2. Give it a good smack to make sure it doesn't fly away while you're shaking.
3. To unseal this boston sjhaker, you have to tap the side of the metal tin. The water sealing must be done carefully and perfectly.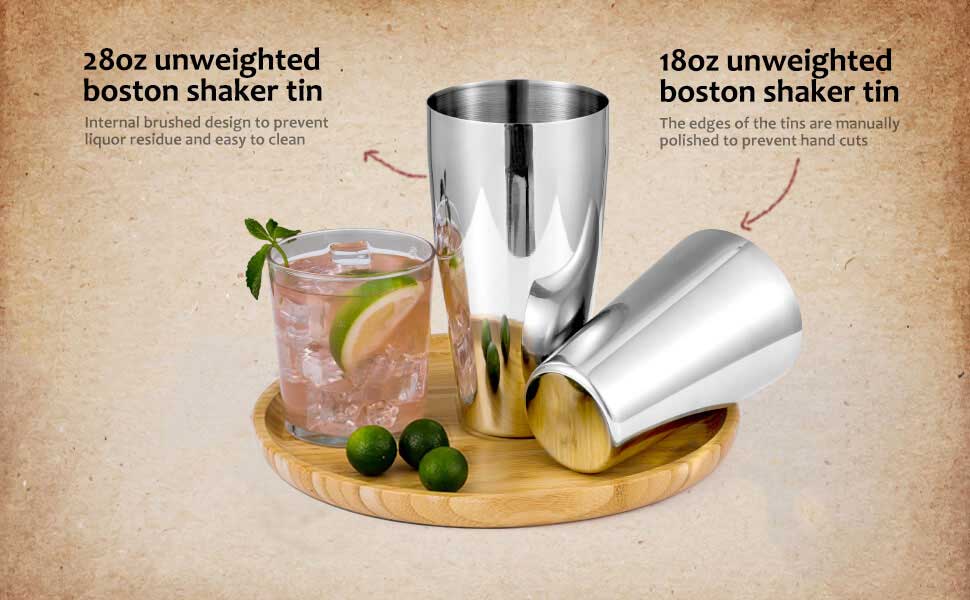 Features of 2-Piece Boston Shaker Tins Stainless Steel Bar Shaker
Highest Quality: This boston shaker tins are made from food-grade 304 stainless steel so you don't have to worry about rusting– and they're safe for easy cleaning.
Leakproof: In terms of shaking or pouring, you should enjoy a drip-free experience. This boston shaker tins come with everything you need for mixing your favorite drinks. This boston shaker set is the perfect addition for your home bar or Man Cave!
Perfectly Paired: These Boston shaker tins are designed to nest together for easy storage and seal perfectly when it's time to shake a drink.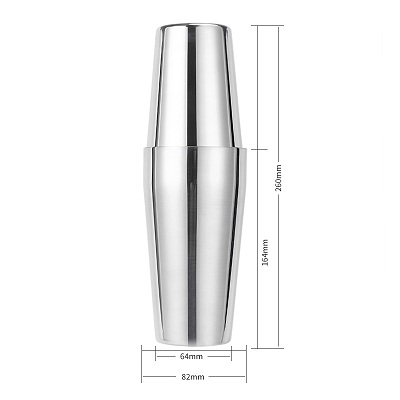 THANKS FOR COMING TO Barhomevip
WRITE YOUR OWN REVIEW
YOU'RE REVIEWING: 2-Piece Boston Shaker Tins Stainless Steel Bar Shaker For Bartenders
HOW DO YOU RATE THIS PRODUCT?